Akki roti recipe – akki meaning rice in kannada, rotti refers to a flat bread cooked on a griddle. Akki roti is made with rice flour and is an everyday food from karnataka cuisine. It is served with a chutney either for breakfast or lunch. Even beginners can make these and it just takes 15 minutes. There are few different versions of these akki roti based on the regions of karnataka.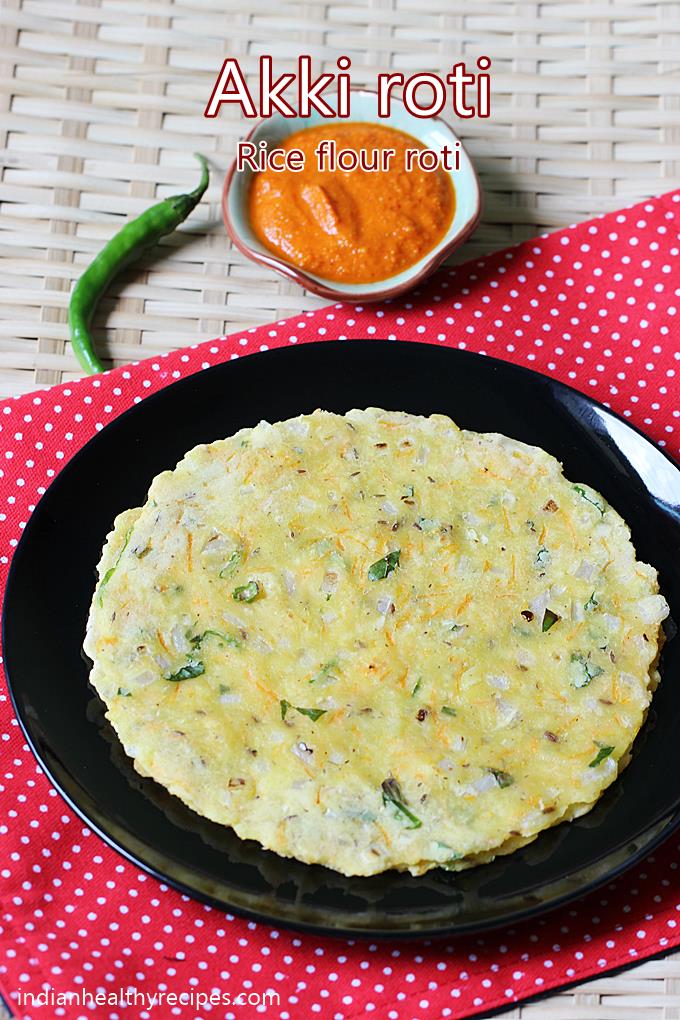 I am sharing a simple akki roti recipe. It can be made on the pan directly or on a cotton cloth, foil or banana leaf and then cooked on tawa/ pan. Since i made this only for myself and younger son, i made it directly on the tawa.
If making for the entire family i make them on a greased foil, which works wonderfully good. If you are accessible to banana leaf you can use it. Traditionally it is made on a white cotton cloth or on a banana leaf.
Rice roti can be made thin or thick to suit your taste. Getting them thin and uniform comes just out of practice. This recipe will help you to make soft akki roti.
Traditionally to make akki roti, ingredients like Chana dal, fresh coconut, chopped onions, coriander leaves, green chilli, jeera and rice flour were used. However veggies like grated carrot, cucumber, bottle gourd, capsicum, sabasige soppu (dill leaves) are also used in some regions or to suit ones liking. In some parts of karnataka these are made only with rice flour, coconut, green chili and cumin.
More recipes from karanataka cuisine
Ragi roti
Bisi bele bath
Vangi bath
Ragi mudde
Set dosa
Chakli
Potato sagu
Karnataka style akki roti recipe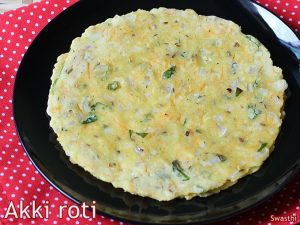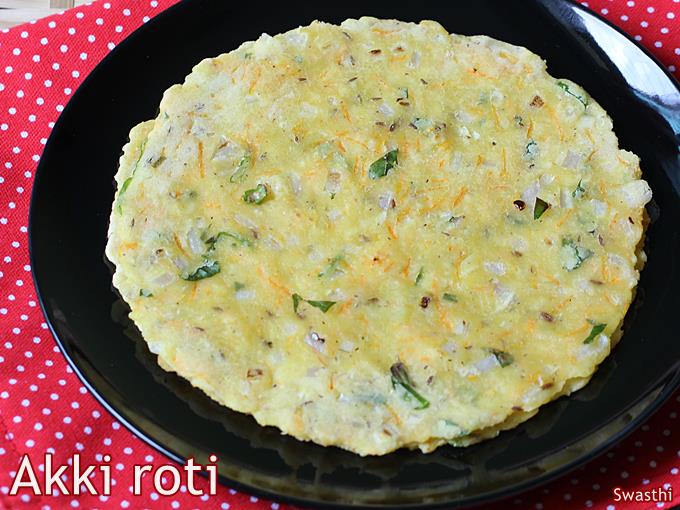 Akki roti
Karnataka akki roti are simple flat breads made with rice flour, mix vegetables and cumin. Akki translates to rice and roti to flat bread in Kannada. These rice flour flat breads are eaten for breakfast or a meal with chutney.
Ingredients (240 ml cup used)
Ingredients for akki roti
1

cup

rice flour

(akki hittu)

1

small

onion

chopped very finely

3

tbsp

coconut

fresh grated (optional)

½

carrot

grated (can substitute with bottle gourd, optional)

2

green chilli

deseeded

2 to 3

tbsp

coriander leaves

or 1 sprig curry leaves chopped

½

tsp

cumin

or jeera

Salt

as needed

½

tsp

ginger grated

water

as needed

oil

as needed
optional
2 to 3

tbsp

sabsige soppu

(dil leaves)

1

tbsp

chana dal

soaked
How to make the recipe
Preparation for akki roti
Wash and chop very finely - onions, chilies and coriander leaves. Grate the carrots & ginger. If using sabsige, rinse well and chop finely.

Add 1 cup flour to a large bowl along with salt, cumin, chopped onions, chilies, coriander leaves and carrots. Mix everything well. If using coconut & dill leaves add them too.

Pour water little by little and make a soft dough. The dough must be smooth and moist.

Divide the dough to 4 equal balls. Roll to smooth. Keep the bowl covered to prevent drying up.

You can make akki roti on a greased banana leaf, moist handkerchief, foil or parchment paper.
How to make akki roti - method 1
Place a ball on the moist cloth or foil or greased banana leaf.

Begin to spread it lightly with your fingers to make a round roti. If the edges of akki roti crack, then dip your fingers in water and spread it.

It can be made thick or thin to suit your taste. If making thick, make finger sized wholes with one and half inches apart.
Toasting akki roti
Heat the greased tawa on a medium high flame. Lift the banana leaf or parchment paper and reverse it on the hot tawa. Gently peel off the leaf.

When the base firms up, flip it. Toast it on both the sides. After flipping it sprinkle some oil to prevent dryness.

When brown spots appear, akki roti is done. Do not over cook it may turn hard.

While you toast the akki roti, make another one on the leaf or cloth. Transfer to the tawa after the first one is done.
How to make akki roti - method 2
If you are making directly on the tawa then you will need 2 tawas to use them alternately. Or cool the tawa completely and then spread the next roti.

Lightly grease a cool tawa. Place the ball on the tawa and spread it directly to a thin akki roti. Place the tawa now on the stove and cook until the base firms. Then flip & cook on the other side until done.

To make the next akki roti either use another cool tawa or wait until the first one cools completely. If you try to spread the dough on the hot tawa it will get stuck and not spread at all.

Serve akki roti with chutney
Recipe Notes
Dil leaves or sabasige soppu have a very strong aroma. So use in moderation as the flavor may not go well with everyone.
Nutrition Facts
Akki roti
Amount Per Serving
Calories 250
Calories from Fat 72
% Daily Value*
Total Fat 8g 12%
Sodium 79mg 3%
Potassium 158mg 5%
Total Carbohydrates 38g 13%
Protein 3g 6%
* Percent Daily Values are based on a 2000 calorie diet.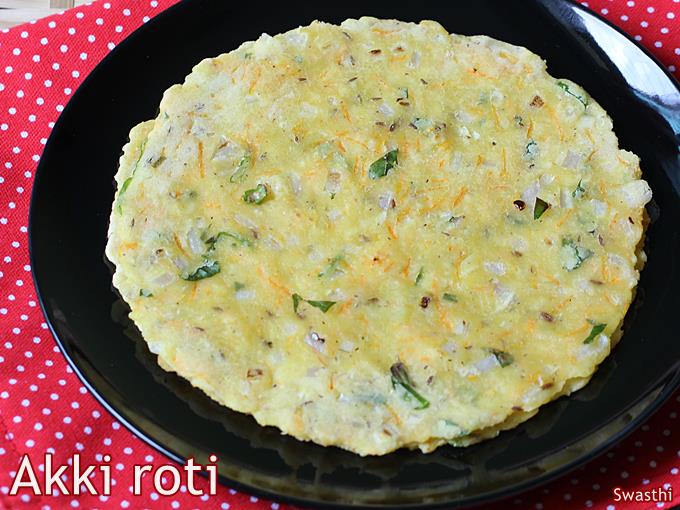 Serve with
coconut chutney
pudina chutney
peanut onion chutney
Preparation for akki roti recipe
1. Add rice flour, salt, coconut, cumin, green chili, coriander leaves, finely chopped onions to a bowl. If you prefer thin rotti, then make sure to chop onions finely.
Grated carrot, cucumber, bottle gourd, ginger and curry leaves can also be added. If using chana dal soak them for about 30 to 45 minutes in hot water and use.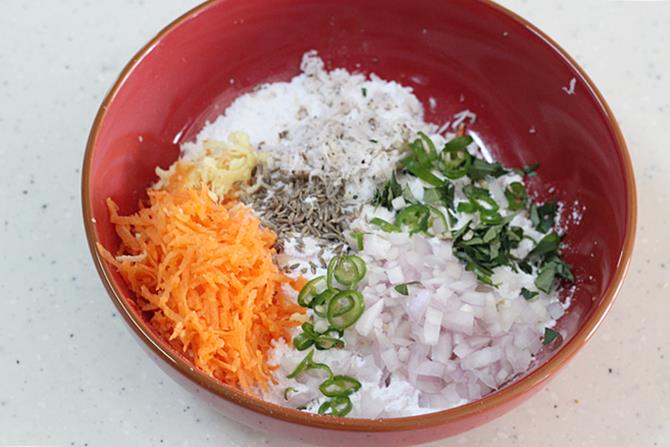 2. Mix them all well.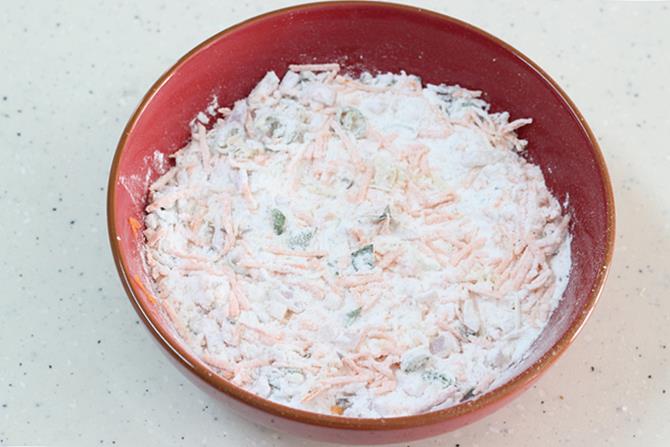 3. Add water little by little and knead it.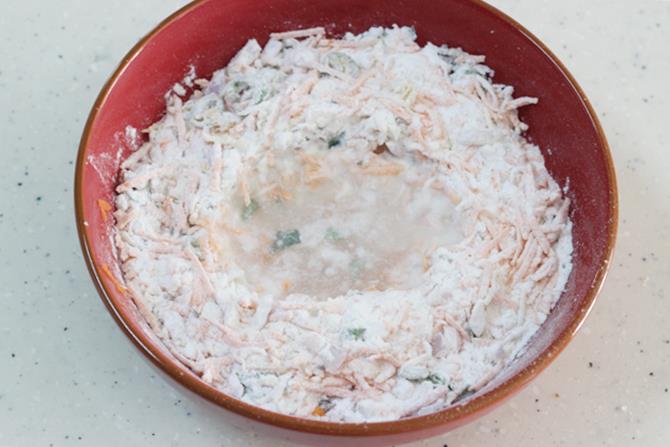 4. Make a moist ball of dough. The color of the dough changed due to the carrots.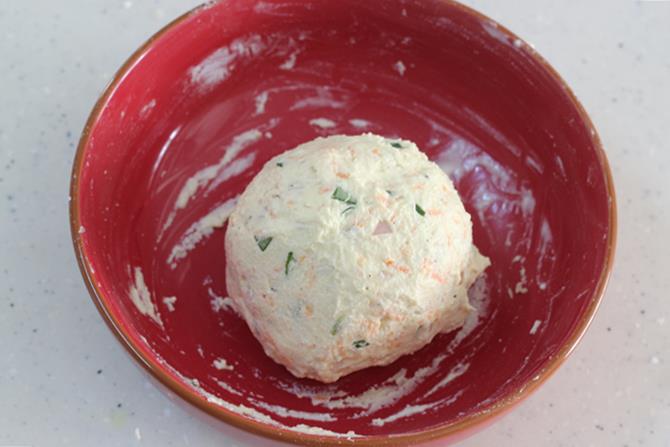 5. Divide the dough to 4 equal balls.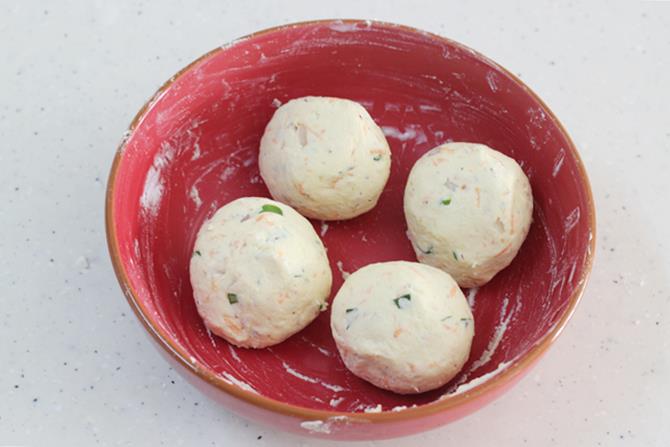 Spreading akki roti dough
If making in large quantity, then you can rinse 2 white cotton cloths or use foil or banana leaf to spread the akki roti. Squeeze up the cloth, it must be just moist with no dripping water. Spread the cloth and place a ball over it. Gently spread the dough with your fingers.
Heat a pan, just lift the roti with the cloth gently and place the roti on the tawa(roti side onto the tawa). Gently dab on the the pan. Slowly remove/lift up the cloth. Cook it on both the sides as shown below.
Since I made just 4 rotis, I used 2 pans and made the akki roti directly on the cool tawa. Note the tawa has to be cool.
How to make akki roti
6. Grease a cool pan if not using a nonstick. Place a dough ball on the tawa, begin to flatten it evenly.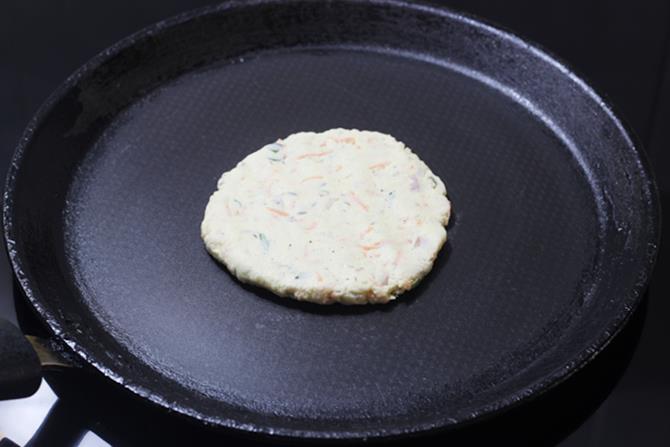 7. If there is enough moisture in the dough, it spreads easily and evenly. Keep a bowl half filled with water aside. If needed dip your fingers in the water and spread the dough. This also helps to keep the rotti soft. If making thick roti, make few wholes on the rotti every 2 inches apart for even cooking.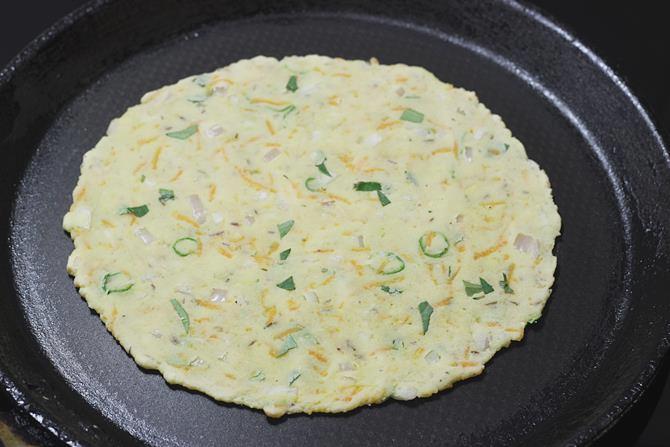 8. Flip it and cook on the other side as well until light brown spots appear. Add oil on the inner side and cook once more.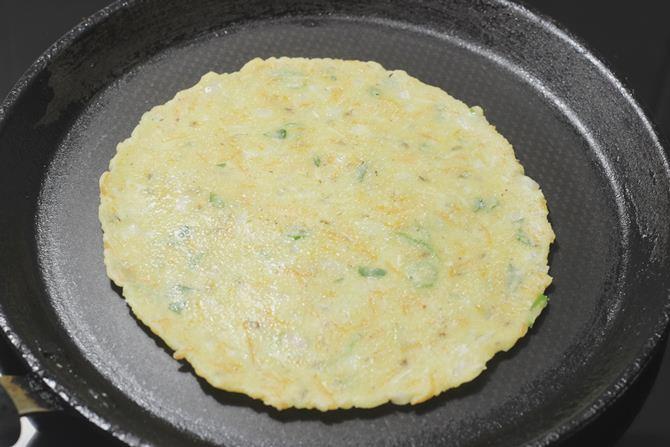 9. To make the next roti, either we have to cool this pan completely and then use. Or make use of 2 pans, use alternately until the other one cools.
Serve akki rotti with chutney.