Set dosa recipe – learn how to make set dosa with step by step photos. Dosa is a South Indian thin lentil crepe popular across the globe. There are so many kinds of dosas that are made regularly in most South Indian homes. To know more check this restaurant style masala dosa recipe and this collection of crispy dosa recipes too. Set dosa is a popular breakfast served in most fast food or tiffin centers in Bangalore and other parts of Karnataka.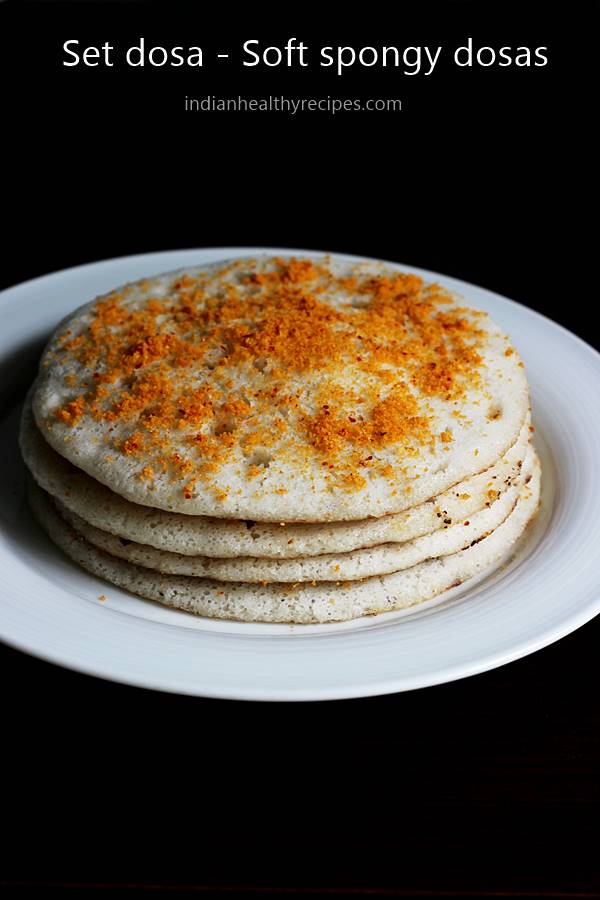 A set of soft and thick spongy dosas are served together with coconut chutney and sagu. This is a basic set dosa recipe that can even be used to make dosas without oil on a nonstick tawa. These turn out to be soft, mouth melting and spongy with a delicate texture. These are different from the poha dosa called as atukala dosa in telugu.
To make good set dosa, proper fermentation of the batter is very important otherwise they don't yield porous and spongy dosa. Urad dal, rice, fenugreek seeds and poha are the ingredients that are used to make the batter.Fermentation time varies or depends on the climatic conditions or season. Due to the cold weather, this time i had to ferment it for 18 hours to raise the batter well, but the batter did not turn sour.
Set dosa can be served to babies over 10 months, make sure you do not use sour batter if making for baby.
For more Dosa varieties,
Neer dosa
Oats dosa
Cheese dosa
Wheat dosa
Egg dosa
Set dosa recipe or sponge dosa recipe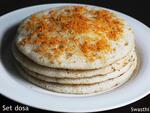 Set dosa
Sponge dosa or set dosa is one of the popular breakfast served in fast food centers or tiffin centers in bangalore and karnataka.
Ingredients (1 cup = 240ml )
Ingredients for set dosa
2

cups

dosa rice

or ponni rice

1

cup

poha

medium attukulu or avalakki

½

cup

urad dal

or skinned black gram

1 ½

tsp

fenugreek seeds

or menthulu or methi

salt as needed

non iodised

oil or butter

as needed
Instructions
Preparation for set dosa
To make set dosa recipe, wash rice and soak in ample water for about 5 hours.

wash and soak urad dal and fenugreek seeds in ample water for about 5 hours.

Wash poha just before grinding the batter.

Add urad dal, salt, fenugreek seeds and aval to a blender jar along with 1 cup water and blend till bubbly. if needed add more water to grind the batter smooth. Do not add too much water, batter should not be very runny.

Transfer the batter to a large bowl.

Add rice to the jar along with 1/4 cup water. Grind to a smooth batter.

pour this to the urad dal batter. Mix everything well till well combined.

Set aside in a warm place for 8 to 12 hours for the batter to ferment and rise well.
Making set dosa
Heat a tawa, mix the batter gently.

pour one ladle full of batter and dab it gently to spread the batter don not spread like a normal dosa. add oil across the edges.

cover and cook for a while until it is cooked inside. you can flip and cook it for a minute on the inner side as well.

To get a crispy set dosa, lower the flame and cook for a while.

Sprinkle idli podi f you have or serve hot with chutney.

repeat making more set dosa on the tawa.
Nutrition
Calories:
98
kcal
|
Carbohydrates:
18
g
|
Protein:
2
g
|
Fat:
1
g
|
Sodium:
59
mg
|
Potassium:
23
mg
|
Fiber:
1
g
|
Vitamin C:
0.3
%
|
Calcium:
0.8
%
|
Iron:
4.7
%
Preparation for set dosa recipe
1. Wash and soak rice and urad dal with fenugreek seeds separately for about 5 hours. Wash poha or aval just before grinding.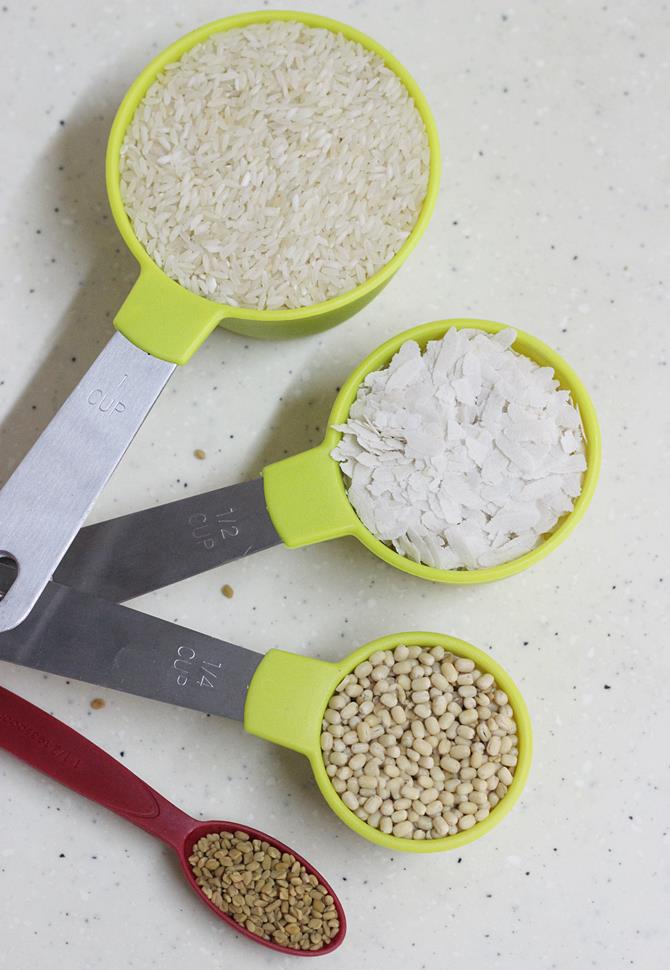 2. Add soaked urad dal, fenugreek seeds, salt and washed aval to the blender jar.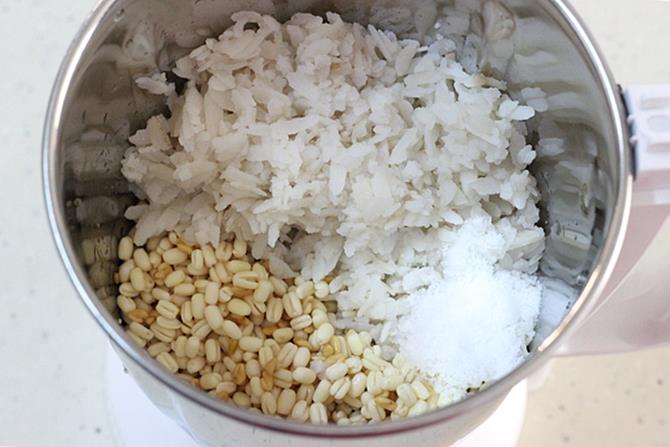 3. Pour 1 cup of water and blend till smooth and bubbly. If needed add more water. i added 1/4 to 1/2 cup more water. Transfer it to a large bowl.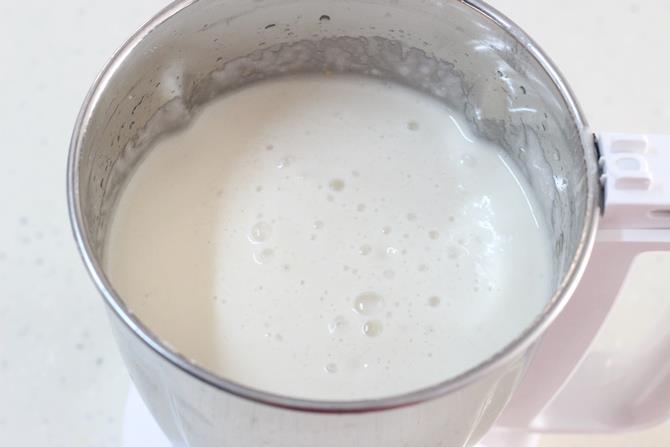 4. Add rice to the blender jar with 1/4 to 1/2 cup water and blend to smooth.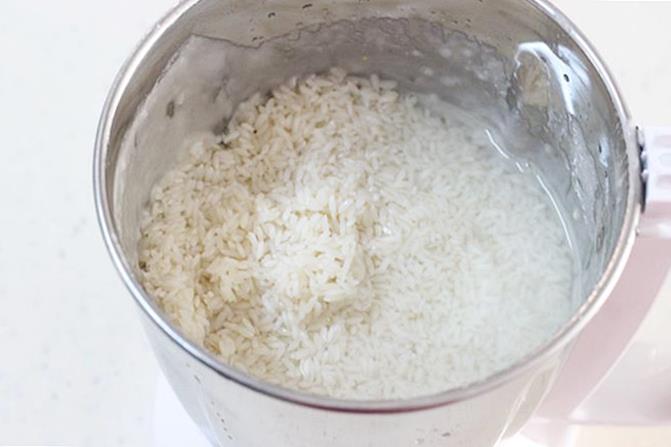 5. Transfer this to the bowl containing urad dal batter. Mix everything well until combined. The batter should not be very thin or very thick else it may not ferment well.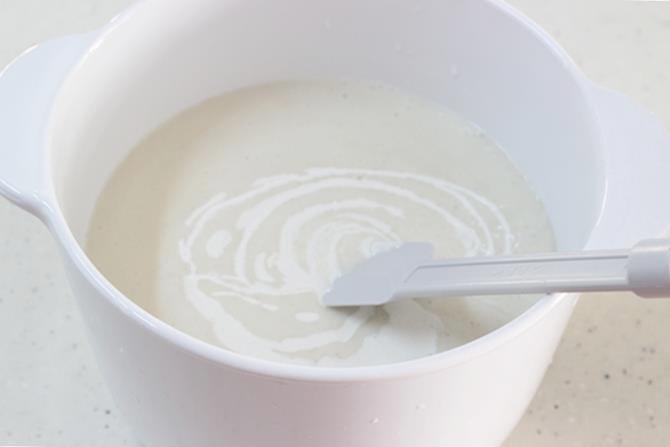 6. Cover and set aside in a warm place till it ferments and raises well. Usually it takes around 8 to 12 hours depending on the temperature.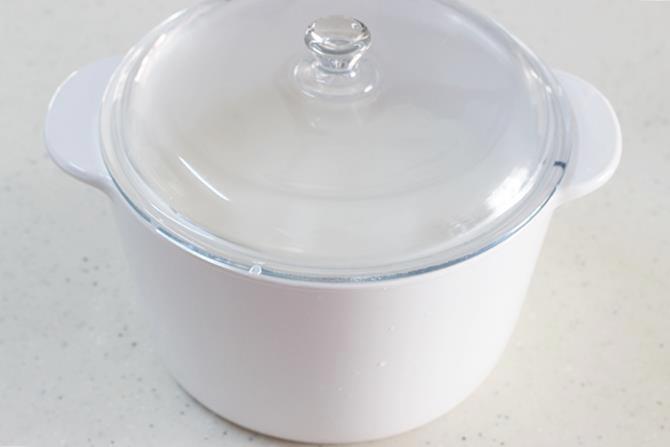 7. After fermentation, it almost doubled.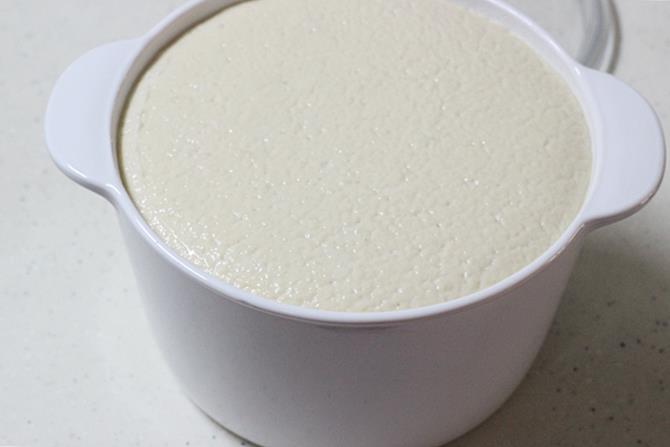 How to make set dosa recipe
8. Heat a tawa, Gently stir the batter for combining everything well. Test by sprinkling little water if the tawa is hot. A hot tawa sizzles, when water is sprinkled.Pour one ladle of batter on the tawa and gently dab it to spread slightly, do not spread like the regular dosa. The size of these dosas will be small. The flame of the stove should not be very high otherwise they turn brown at the bottom without cooking.If the tawa is not hot enough, you may not get a good spongy dosa. Sprinkle oil around the edges, you can skip it as well if you are on a oil free diet.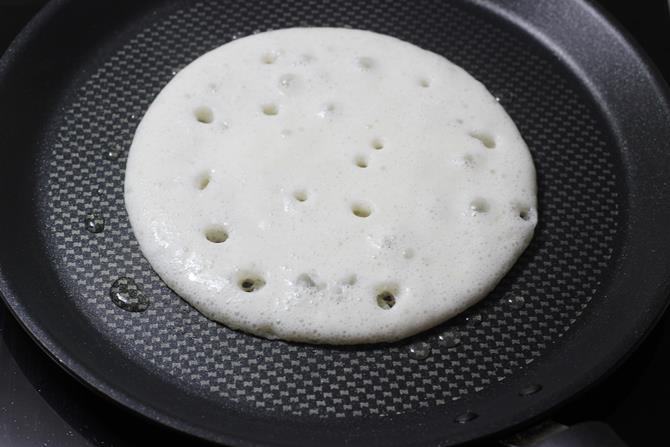 9. Set dosa is not cooked on the inner side, the batter is very airy that cooking it from the bottom, cooks on the inner side as well. However I prefer to cover and cook for a little while and then without the lid, i cook further to make them crispy from the outer side.This is optional. If you are particular about cooking it on the other side, you can flip it and cook on the other side as well.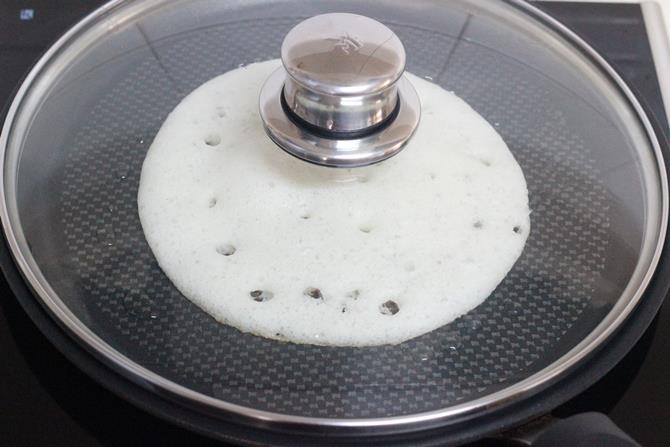 10. To finish off i like to sprinkle idli podi or pappu podi or flax seed podi. This is optional.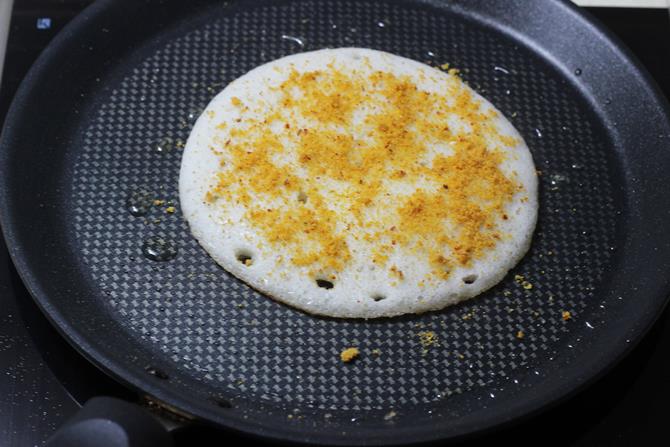 11. Serve set dosa hot with your favorite chutney. We had it with beetroot chutney.