Aloo Pakora Recipe (Potato Bajji)
Aloo Pakora also known as Potato Pakora and Aloo Bajji in the South, are Indian style potato fritters made with sliced potatoes, gram flour and spices. Nutty tasting crunchy exterior with a soft touch of aloo and a subtle hint of spices, these aloo pakora will soon be your go-to Snack, especially if you love everything potato. In India you will find numerous kinds of Pakoras being made everywhere.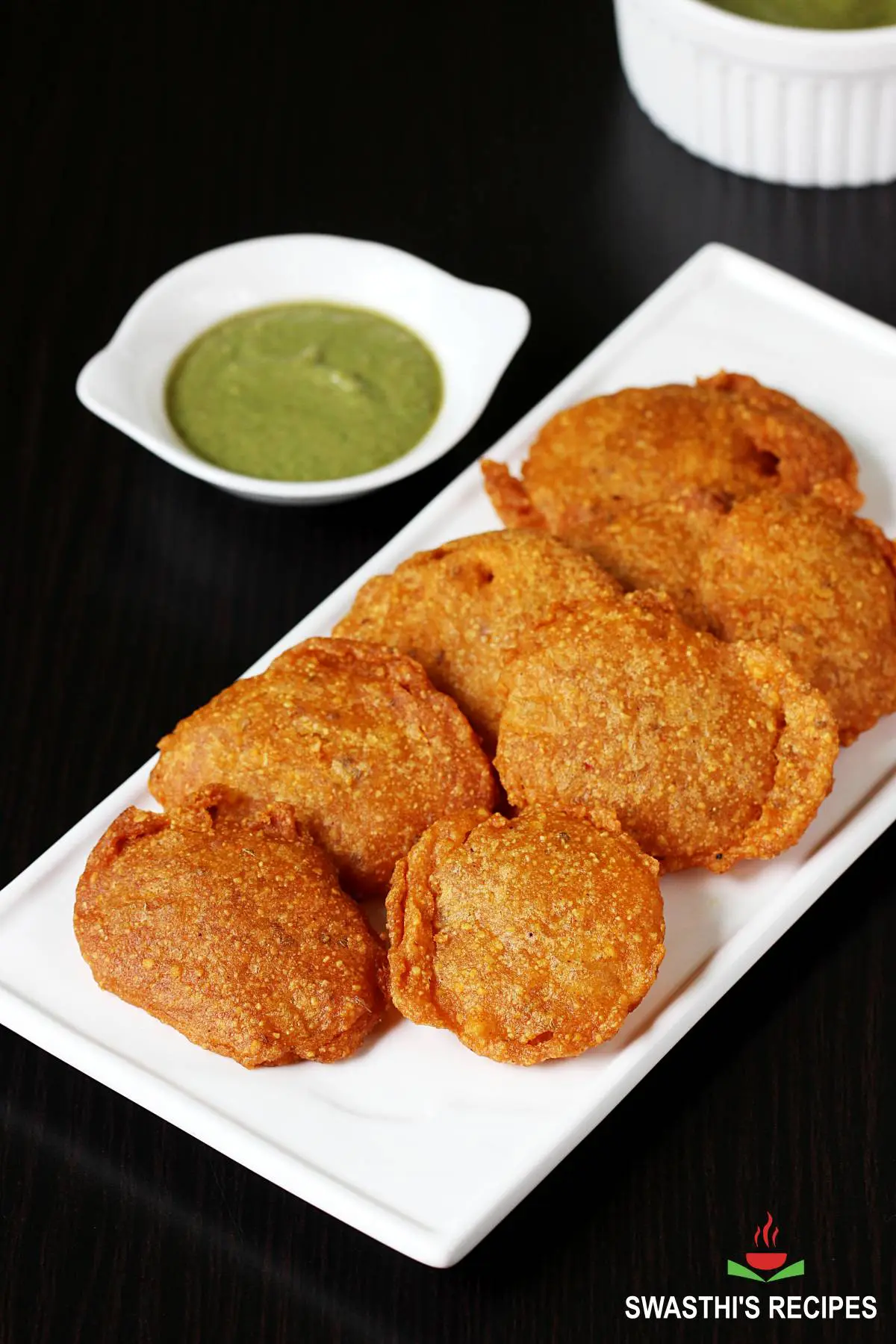 More aside brinjal pakodas! We have a new bajji contender in town.
A bowl of hot bajii, pakora or bhajiya can make a frustrating day instantly feel better. While everyone is familiar with and loves munching on Onion pakoda by the dozen, the aloo version remains a distant third in popularity charts after Chili bajji.
While aloo pakora are traditionally paired with monsoon and a hot cuppa of Masala Chai, you can make these anytime you need something crunchy for snacking. They are super quick to whip up! When visitors turn up unannounced, you don't have to get into tizzy wondering what to serve.
Even the barest of pantries will have some aloo hanging around to be transformed into this crispy delicacy. Fry up a quick batch and dish them out with some tangy or hot chutneys like Green chutney, Garlic chutney or Mint chutney.
About Aloo Pakora
In Hindi "Aloo" means "potato" and pakora are traditional Indian gram flour fritters. Aloo pakora is a popular Indian snack where sliced potatoes are dipped in spiced gram flour batter and deep fried to perfection.
It only needs basic spices like red chilli powder, turmeric powder, garam masala, carom seeds and ginger garlic. Carom seeds known as ajwain is the key spice that is always used in any kind of pakoras. These impart a unique flavor, aroma and mild heat to the aloo pakora.
Apart from that carom seeds and gram flour make for a great combo, complimenting each other's flavors. Carom seeds are well known as a digestive spice and avoids flatulence and stomach troubles.
Traditionally aloo pakora are made with gram flour but my recipe also uses a small amount of Rice flour or semolina which gives that extra crisp texture to the fritters.
In some street side stalls and restaurants, corn starch is added instead of rice flour. Most South Indian home cooks prefer to use rice flour as it is considered a better healthier option than corn starch which is refined.
Whether you sprinkle chaat powder as they do in North India or call it bajji and eat it with Coconut chutney like a Southerner, this fried savory is a simple and easy to make dish.
These aloo pakora are best deep fried and they don't turn out good in the air fryer and in the oven.
More Fritter recipes
Bread pakora
Onion pakora
Cauliflower pakora
Egg bajji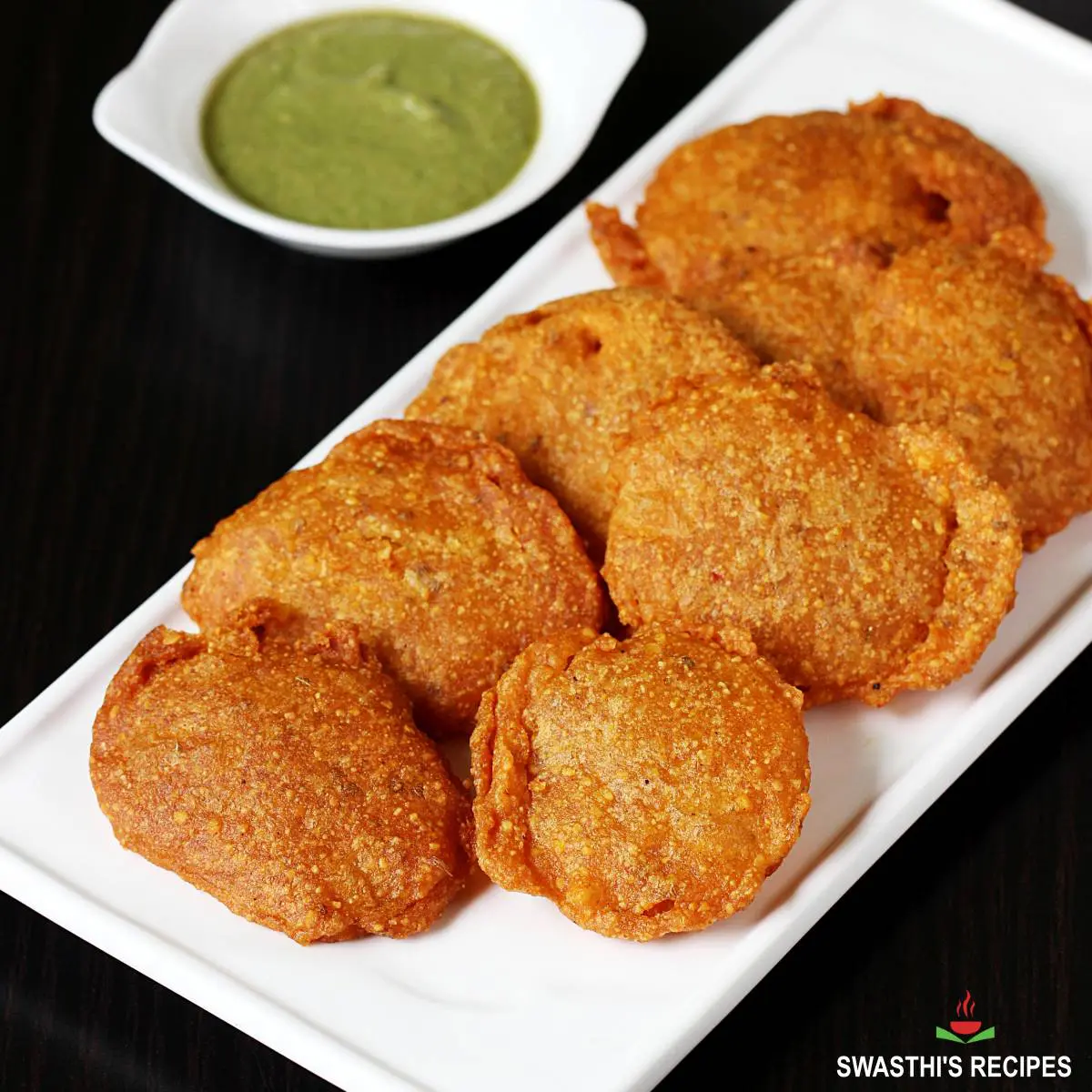 How to Make Potato Pakora (stepwise photos)
Preparation
1. Wash and peel 2 medium potatoes. Slice them moderately thin as seen in the picture below. Thicker slices won't cook well from inside. Keep them immersed in a bowl of water and keep it aside.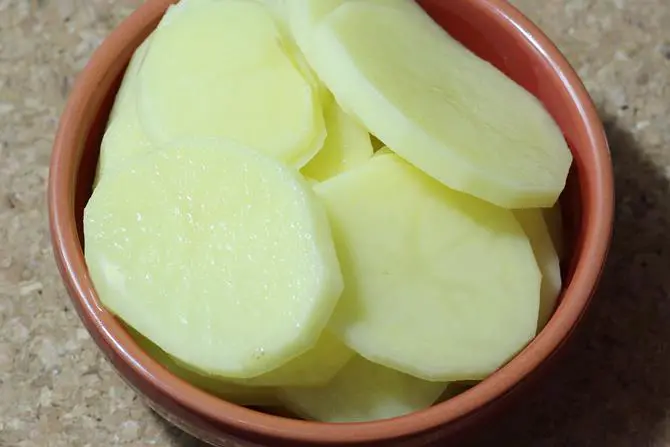 2. To a mixing bowl, add
½ cup besan (gram flour)
2 tablespoons rice flour
½ teaspoon carom seeds (ajwain)
¼ teaspoon garam masala
½ teaspoon red chili powder
⅛ teaspoon turmeric.
½ teaspoon salt
½ teaspoon ginger or ginger garlic paste. You can also make a fine paste of 1 small onion and green chili and add it to the mixture. I have used coarse besan here which yields crunchy bajji. You can also add 1 tbsp of semolina for the crunch. Or You can substitute rice flour with corn flour.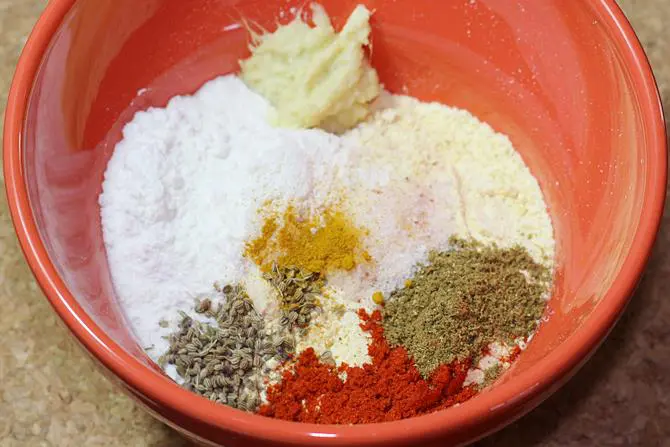 3. Add water little by little and begin to mix to a smooth paste. Start with 4 to 5 tablespoons water and add more to make a batter that is not too thick or too runny.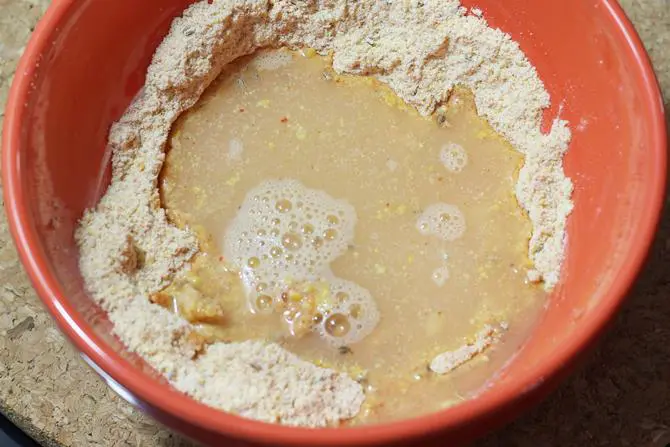 Fry aloo pakora
4. If the batter is too thick it will not coat the potato slices. If it is too runny then the slices will not hold the batter.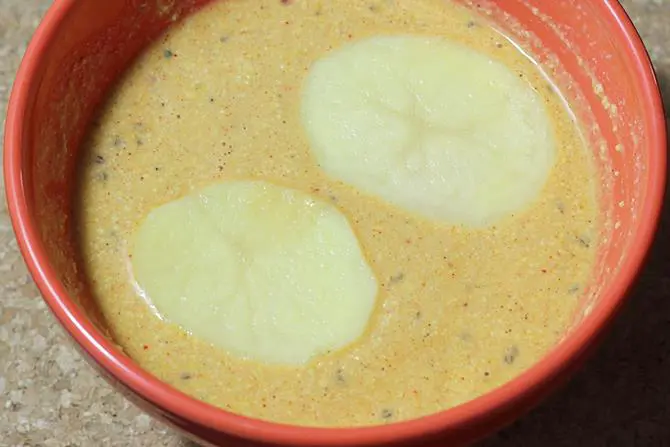 5. If you feel it is too thick, add a splash of water to the batter. If it is too runny, sprinkle some gram flour and mix. This picture should help you adjust the consistency.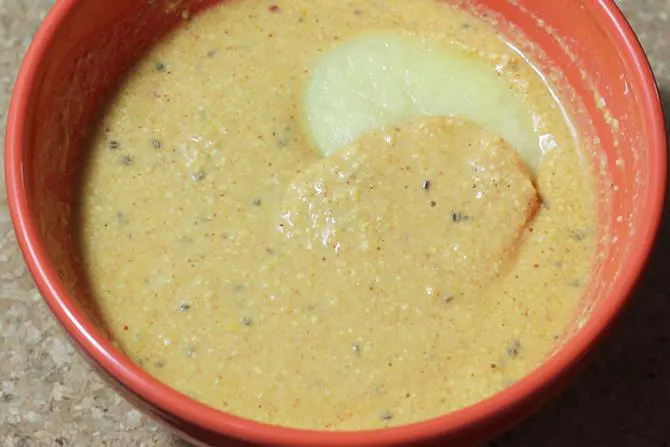 6. Heat oil in a deep fry pan until hot enough. Do a test, drop a small portion of batter to the oil. It should come up without turning brown. This is the right temperature. If it is very hot, aloo pakora will turn brown outside without cooking inside. If it is not hot enough they will soak up lot of oil. So the oil must be medium hot.
7. Dip each slice in the batter and gently slide them in the hot oil. Do not disturb for 2 mins and let the aloo pakora firm up. Later keep stirring and fry until golden. They usually take about 3 to 4 mins to cook well and turn golden. However it may also depend on the thickness of the slices.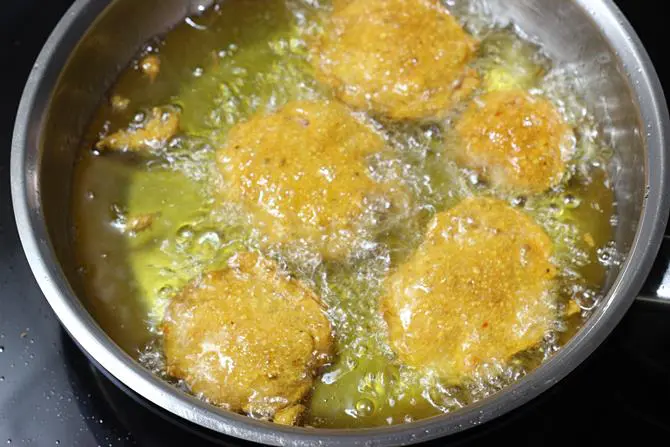 8. Once light golden, turn down the flame to medium low and let them fry until deep golden and crisp. This step will help them to become crisp and less greasy. Remove them from oil. Transfer to a cooling rack or a steel colander.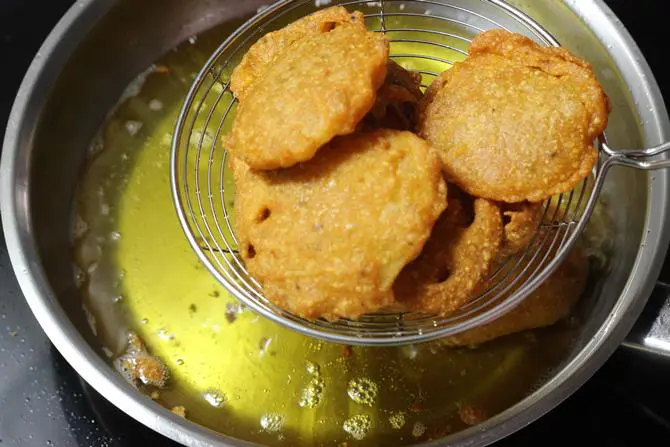 Serve aloo pakora with a cup of hot tea or with any chutney or sauce.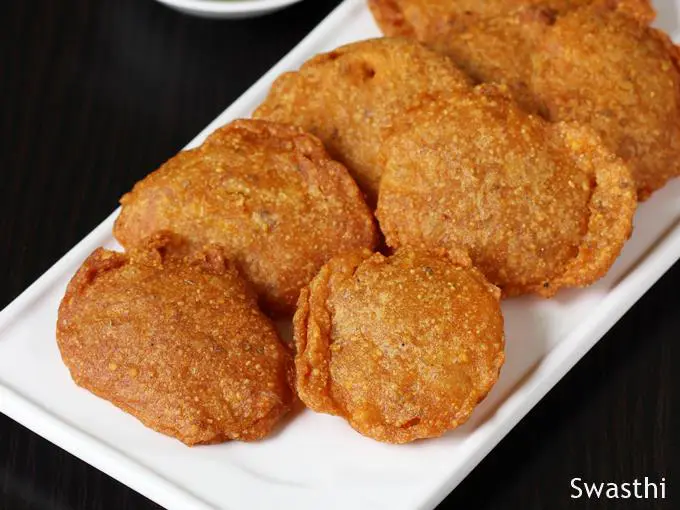 Ingredients
Gram flour: Also known as besan in Indian languages, it is nothing but Bengal gram flour. It is made from skinned and split black chickpeas dal. It is not the same as chickpea flour, which is made from white chana or garbanzo beans.
If you do not want to use gram flour you can use yellow corn flour, though the aloo pakora taste different, they turn out delicious and somewhat good.
Rice flour or Semolina: We always add a bit of semolina or rice flour so the starch imparts that extra crispness. If you do not have both, simply use the same amount of corn starch aka white corn flour or potato starch.
Ginger garlic paste: You may replace the spice paste with ginger and garlic powder but your aloo pakora won't have the same flavor as the fresh ingredients impart the best flavors.
Green chili: I haven't used green chilies to make it kids' friendly. In a lot of fried snacks and pakoras my mom would always add it crushed along with the ginger garlic & even with onion paste. The flavor is great with this paste.
Pro Tips
Slicing Potatoes: Slice the potatoes moderately thin and not very thick or very thin. Very thick slices will not cook well.
Carom seeds (ajwain) is the main spice that is used here. Apart from adding a nice aroma to the aloo pakora, the seeds also help in digestion. If you do not like the seeds you can also add them crushed.
Consistency of batter: Making the batter right is the key to make crisp fritters. The consistency of the batter should not be runny or too thick. But it should be moderately thick enough to coat the potatoes.
Frying: Ensure you fry them on a medium heat. Very high flame will brown the aloo pakora without cooking the potatoes inside. Similarly very low flame will make them very oily as they soak up lots of oil.
Faqs
How can I make my pakoras crispy again?
The only way to crisp up the soft pakoras is either by deep frying again or reheat in the oven or air fryer. Reheating in a preheated oven with the convection settings (Fan On) will give best results. You can also air fry the soft pakoras for 2 to 3 mins at 390 F or 200 C, depending on how soft they are.
Why are my pakoras not crispy?
Runny batter won't make crispy pakoras. If your batter is runny, add a bit os rice flour to make it thicker. This should fix the problem. The other reason can be the oil not being hot. If you fry the aloo pakora in oil that is not heated enough, they will not be crispy. Increase the stove flame and heat your oil enough then fry them.
Why are my pakoras too greasy?
Like any other fried foods, aloo pakora can become too greasy if the oil is not heated enough. Heat the oil well and then fry them. You can reheat the greasy pakoras in oven or air fryer, the excess oil will ooze out easily and they turn much better.
Why are my pakoras soggy?
Too much water in your pakora batter would have made a runny batter that resulted in soggy pakoras. To get perfectly crisp pakora, make a batter that is of medium consistency, not too thick or too runny.
Related Recipes
Recipe Card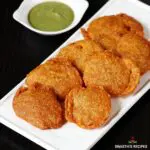 Aloo Pakora Recipe (Potato Pakora, Aloo Bajji)
These Potato pakora are simply delicious and addictive! Also known as Aloo pakora or aloo bajji in India these are a quick to make tea-time snack.
Pin Recipe
Print Recipe
For best results follow the step-by-step photos above the recipe card
Ingredients (US cup = 240ml )
2

medium

potatoes

(1 large)

½

cup

besan

(gram flour)

2

tablespoons

rice flour

or corn starch or semolina

½

teaspoon

salt

(or as needed)

½

teaspoon

ginger garlic paste

or only ginger paste

½

teaspoon

carom seeds

(ajwain)

¼

teaspoon

garam masala

½

teaspoon

red chilli powder

(or 2 green chilli crushed or paste)

⅛

teaspoon

turmeric

oil

as needed for frying
Instructions
Preparation
Wash, peel and slice the potato to moderately thin slices (not very thin slices). (refer picture in the step by step section)

Keep them immersed in water until used. Apart from getting rid of the excess starch, this step helps to cook the potatoes easily.

Add gram flour, rice flour, carom seeds, salt, chili powder, ginger garlic & turmeric to a mixing bowl.

Pour water and make a moderately thick batter. The batter must be of a medium consistency, neither too thick nor too runny. (check the pictures in the step by step section)

If it is too runny you may adjust the consistency by adding little more flour. Taste the batter and add more salt or spice if needed.
How to make Aloo Pakora
Heat oil in a fry pan on a medium heat.

While the oil heats, drain all of the water from the potatoes completely.

Check if the oil is hot enough by dropping a little portion of the batter to the oil. The batter must rise without browning a lot. This is the right temperature.

If the batter sinks it means the oil is not hot enough.

Dip each slice of potato in batter and carefully slide it to the hot oil. If you are unable to coat the potatoes well, sprinkle little water and slightly thin down the batter.

Repeat coating the potato slices in batter and gently slide them to hot oil. Do not disturb them for 2 minutes until they firm up.

Fry them on a medium heat, turning them to the other side as required. Keep stirring in between for even frying.

When the aloo pakora turns crisp and golden, remove them on to a cooling rack or a steel colander.

Repeat making the next batch. Ensure the oil is hot but not too hot.

Sprinkle some chaat masala over aloo pakora or serve it with this mint chutney.
Alternative quantities provided in the recipe card are for 1x only, original recipe.
For best results follow my detailed step-by-step photo instructions and tips above the recipe card.
NUTRITION INFO (estimation only)
Nutrition Facts
Aloo Pakora Recipe (Potato Pakora, Aloo Bajji)
Amount Per Serving
Calories 102
Calories from Fat 18
% Daily Value*
Fat 2g3%
Sodium 408mg18%
Potassium 169mg5%
Carbohydrates 16g5%
Protein 5g10%
Vitamin A 133IU3%
Calcium 9mg1%
Iron 1mg6%
* Percent Daily Values are based on a 2000 calorie diet.
Aloo Pakora Recipe first published in June 2016. Updated and republished in February 2022.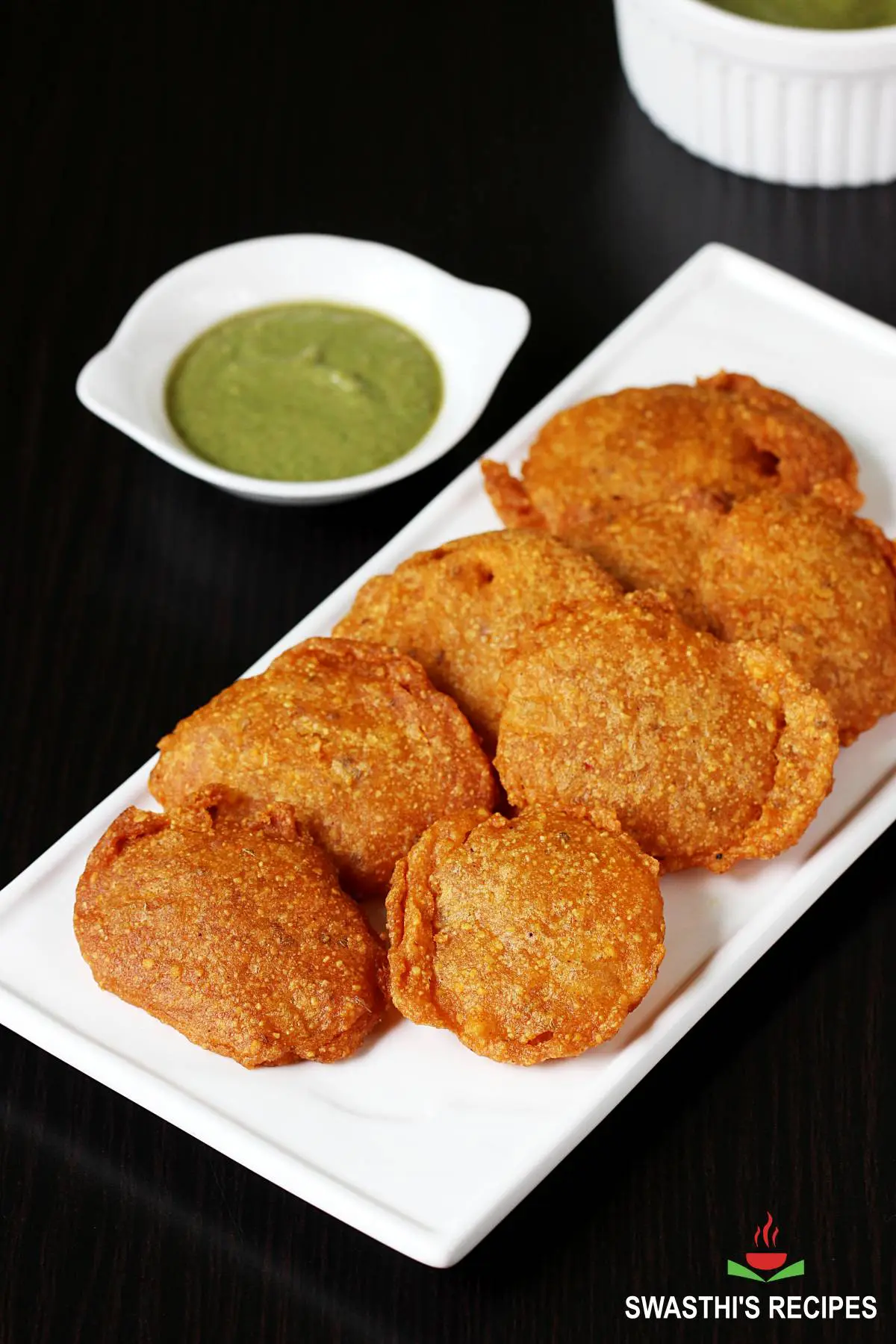 About Swasthi
I'm Swasthi Shreekanth, the recipe developer, food photographer & food writer behind Swasthi's Recipes. My aim is to help you cook great Indian food with my time-tested recipes. After 2 decades of experience in practical Indian cooking I started this blog to help people cook better & more often at home. Whether you are a novice or an experienced cook I am sure Swasthi's Recipes will assist you to enhance your cooking skills. More about me
Follow Swasthi's Recipes