Make delicious Moong Dal Chilla with split mung lentils, vegetables, spices and herbs. These gluten-free and vegan Indian style savory pancakes are loaded with protein, fiber and many vital nutrients. Serve moong dal chilla any time of the day for a quick meal with tea/coffee or chutney. You can also make the batter and even the chillas ahead and refrigerate them.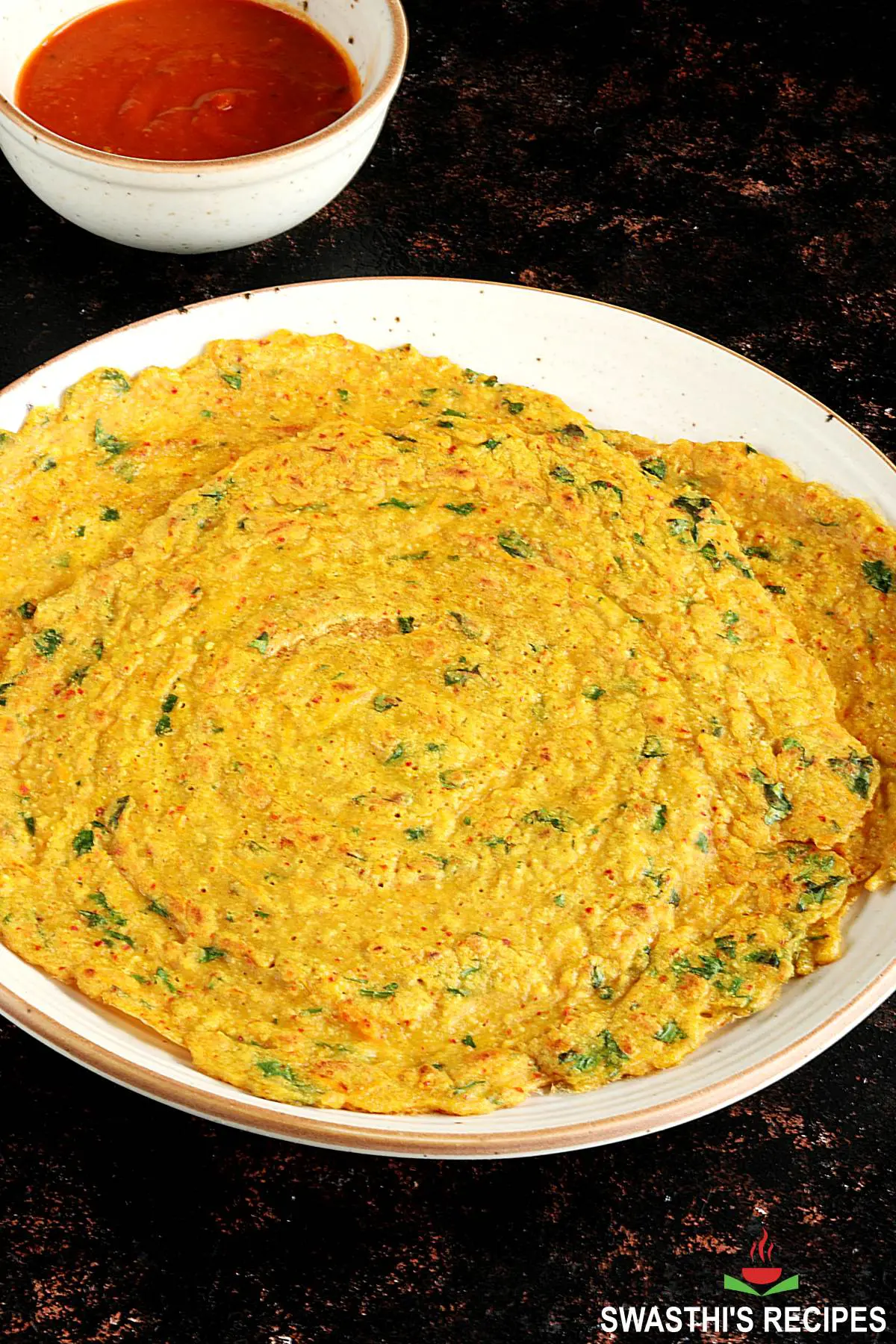 We love our basic Besan Chilla for the ease of making the batter, but these moong dal chilla are a better option since I prefer to minimize store bought flour & use lentils instead. Moong dal chilla are also easier to digest than the besan cheela making them the best even for toddlers.
About Moong Dal Chilla
Moong dal chilla are savory Indian Pancakes made with soaked and ground split mung lentil batter. It is spiced with cumin, fresh ginger and green chilies or red chilies. Further various vegetables like onions, carrots, tomatoes and coriander leaves are added to enhance the nutrition profile. The batter is spreaded to a thin pancake on a hot pan and cooked with ghee or oil.
I would call these a quick breakfast or meal option as you don't need to plan or prepare anything ahead. You just soak the lentils for 15 to 20 mins and then grind them with spices. Stir in the veggies of choice and use the batter right away to make the chilla.
I make these instant Moong Dal Dosa very often. For a change, I love adding some powdered oats to this moong dal chilla batter. The combination of moong dal and oats results in a different texture and taste. They taste delicious and no one will know there are oats in these chilla.
However it is optional to use oats in this recipe. But I highly recommend using them for the health benefits they provide.
These protein packed moong dal chilla are delicious on their own. However you may serve them with any spicy chutney, pickle or just with a cup of tea or coffee.
If you prefer to extend your menu, you may serve them with this Paneer bhurji stuffing. But our personal favorite are these Coriander Chutney, Tomato Chutney, Mint Coconut Chutney and Garlic Chutney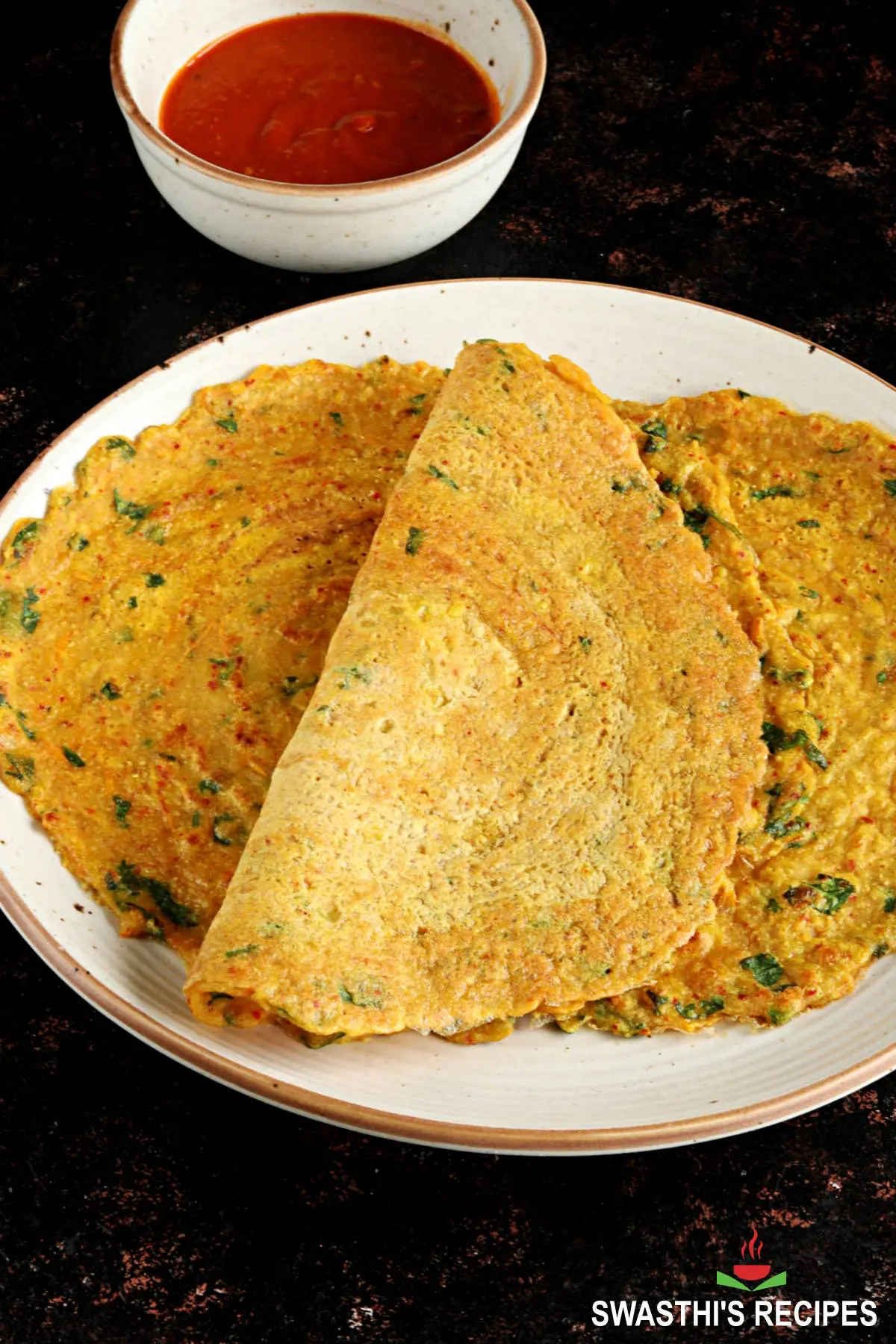 You may make these thin or thick, crispy or soft, however you like. Thick batter often yields thick crisp chillas and runny batter makes thin and slightly softer chilla. If your batter is neither thick nor runny, you will be able to make them thin and crisp. You will know how to adjust the consistency if you make them a few times.
How to Make Moong Dal Chilla (Stepwise Photos)
Preparation
1. Add 1 cup moong dal to a large bowl and rinse them well at least thrice. Pour fresh water and soak them for 15 to 20 mins. While the lentils soak, you may make some chutney to go with this. For a quick no cook chutney, you may try out Coconut chutney, Coriander chutney or Garlic chutney.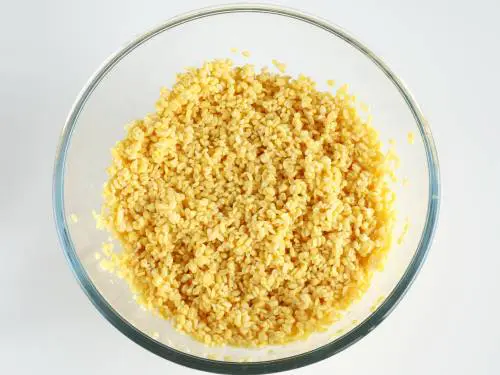 2. As I mentioned earlier, you may skip using oats. While the lentils soak, add 1 cup rolled oats to a blender. You may use instant oats too.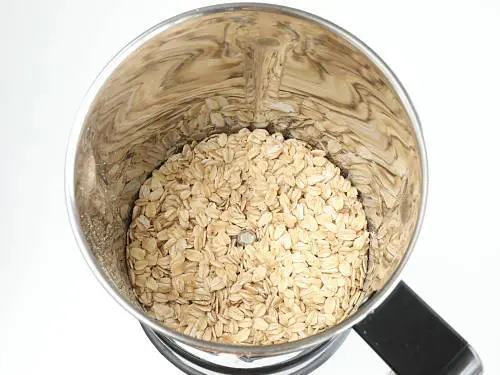 3. Add 2 teaspoons cumin and 3 dried red chilies (optional) or 1 to 2 teaspoons red chilli flakes. I love using low heat red chilies as they are more flavorsome and don't make the chillas too spicy.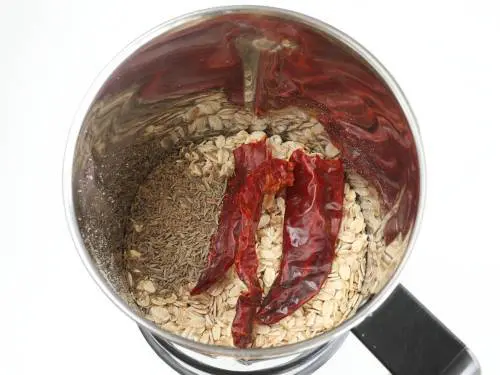 4. Grind to a fine powder. It's okay if it is slightly coarse. Transfer this to a bowl.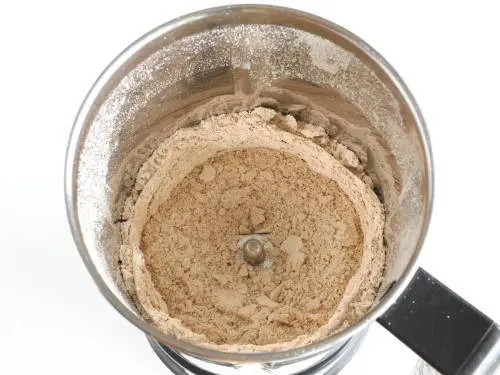 Make Batter
5. Drain the water from the moong dal and rinse well. Add them to the grinder along with 1 inch peeled and chipped ginger, ⅛ teaspoon turmeric (optional) and 1 green chili. I did not use green chilli. Do not skip both green chilli and red chilli. Pour 3/4 cup water.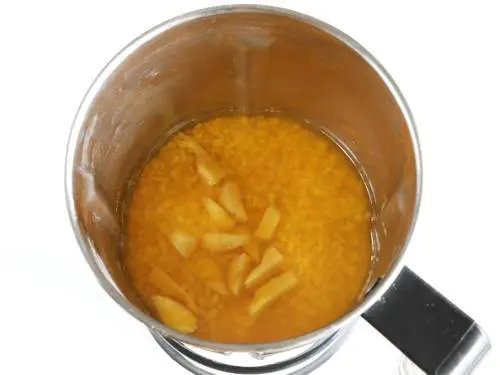 6. Grind to a smooth batter.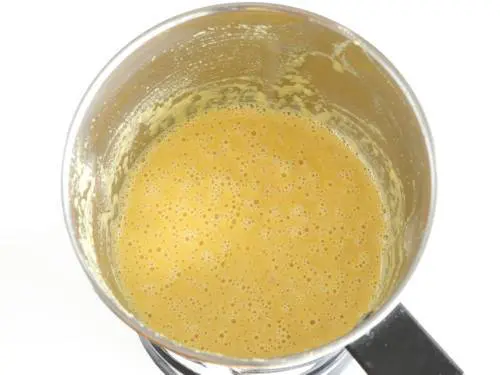 7. Add the ground oats (oats powder) and ½ to ¾ teaspoon salt. Use less salt if you skip oats.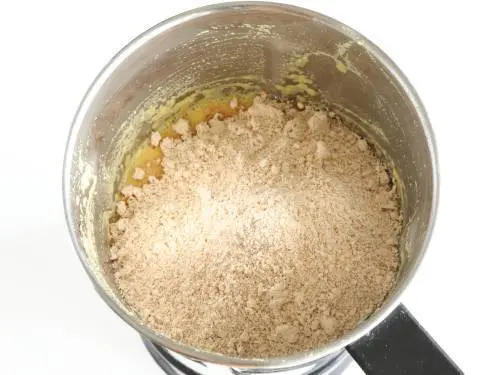 8. Give a good mix with a spatula to make a uniform batter. I use about 1 cup water to bring it to a thick yet pouring consistency. Totally I use 1¾ cup for blending lentils and for adding later). Note that if you soak the lentils longer, you will need less water. (You may need about 1¼ cups water)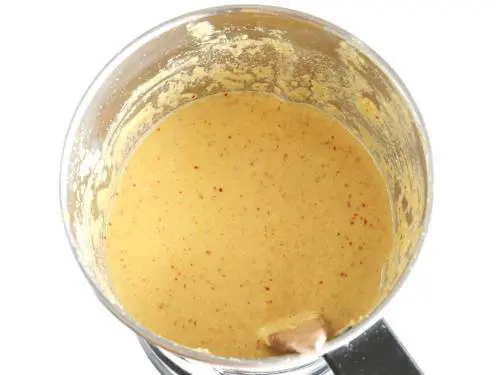 9. Add 1 to 1½ cups grated carrots and ½ cup coriander leaves. You can also use sautéed and cooled baby spinach (fine chopped). Mix well.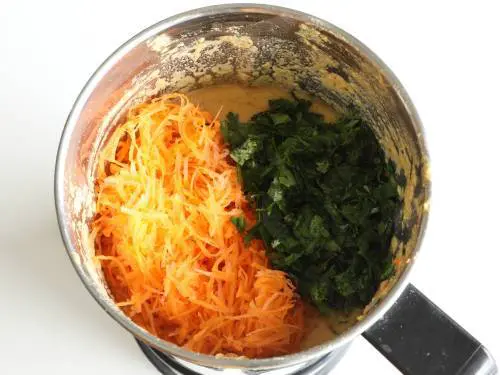 10. This is the consistency of the batter.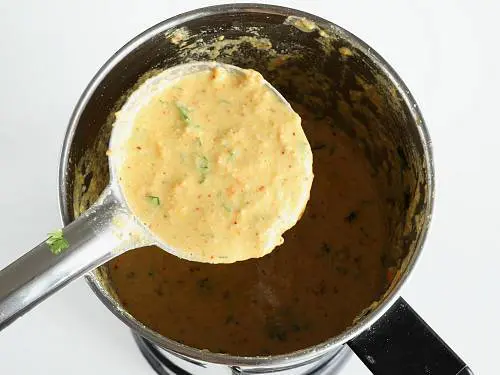 Make Moong Dal Chilla
11. Heat a pan on a high heat. When the pan is hot enough pour 1 ladle full of batter to the center of the pan. Pan should be hot but not smoking hot. Read my pro tips and troubleshooting tips below.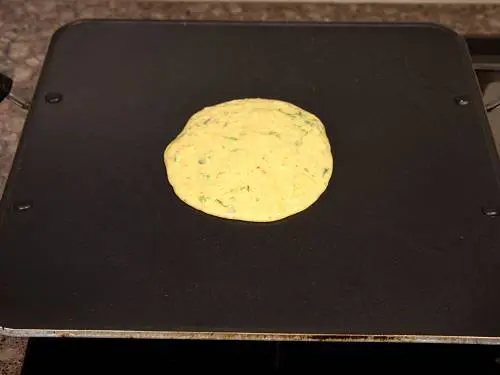 12. Starting from the center spread the batter as thin as you can.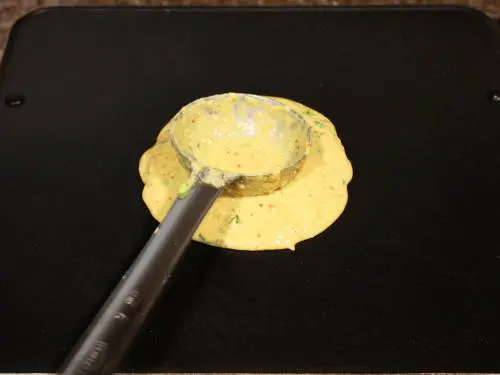 13. You can't get them very thin like dosa but don't make them too thick.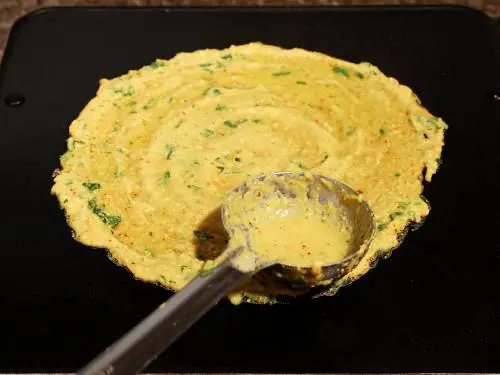 14. Drizzle half teaspoon ghee or oil around the edges of the moong dal chilla.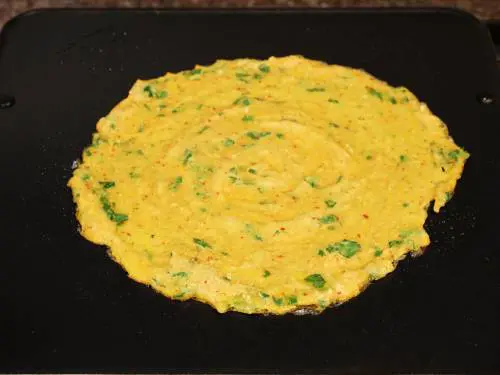 15. When it is cooked, you will see the chilla leaves the edges from the pan. With a spatula turn it to the other side and cook pressing down with a spatula.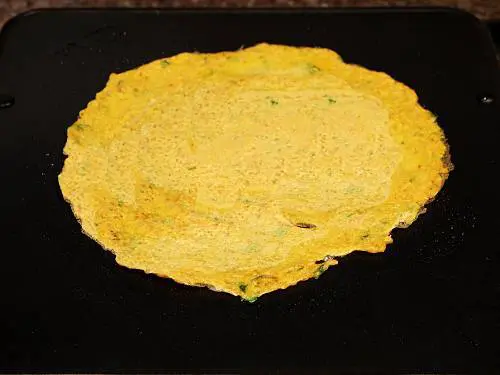 16. Cook it until you see golden to brown spots on both the sides. Remove to serving plate. To make the next moong dal chilla, reduce the heat to low. Mix the batter and pour it to the center. If you have not used oats, the batter will get stuck to the pan if it is too hot. So cool down for a minute or 2 by cooking your previous chilla on a low heat. This will naturally bring down the heat from your pan.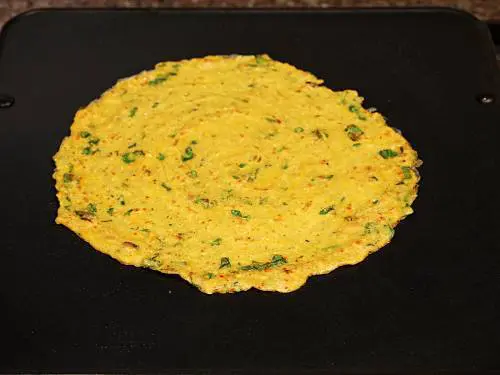 Serve Moong dal chilla with a chutney or just with some tea or coffee. Our favorite is this Tomato Chutney.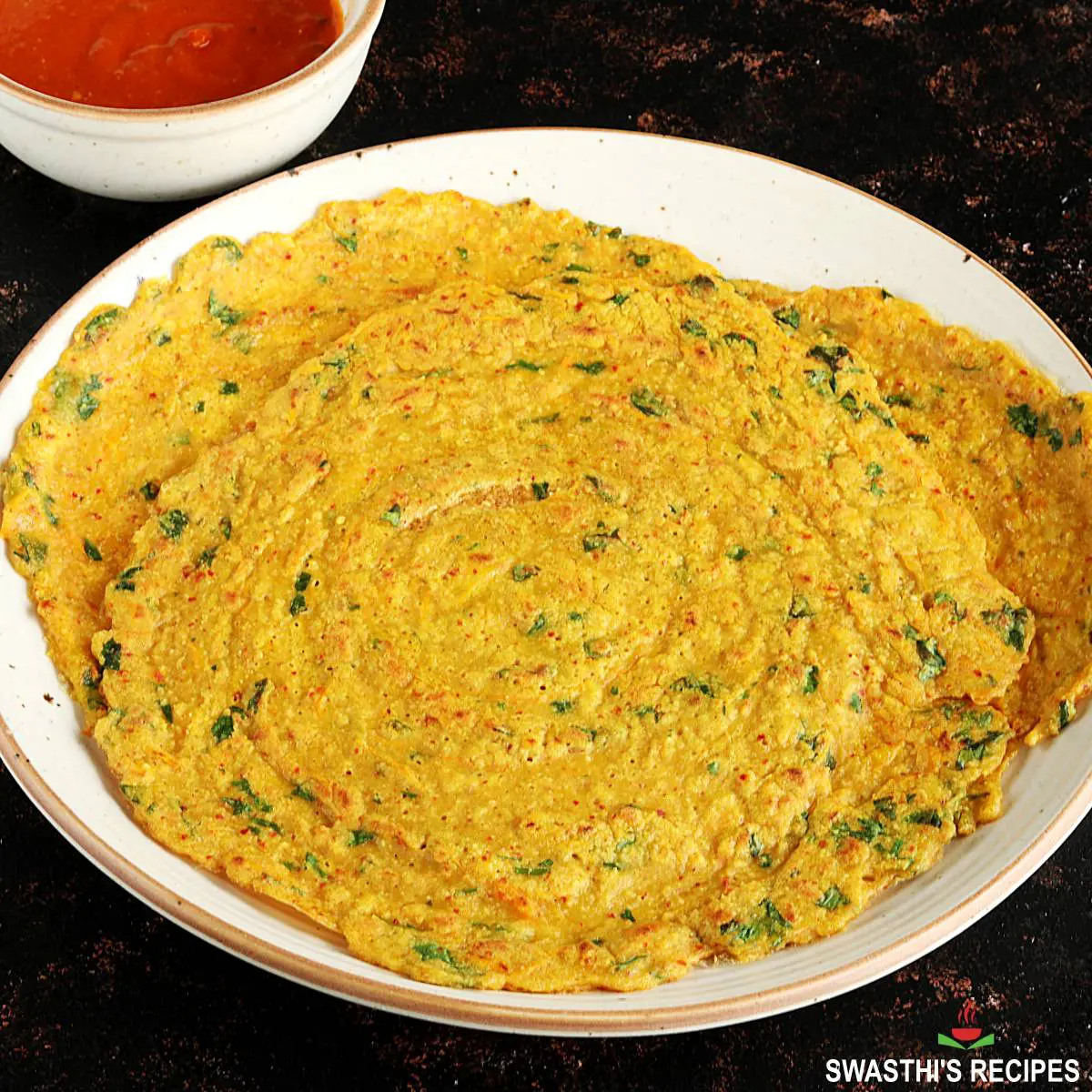 Pro Tips
If you soak the lentils longer, use lesser water. You may only require about 1¼ cups to make the batter.
If you intend to serve these to toddlers or the aged, please soak the lentils in warm water for 3 hours and rinse well. Add the oats as suggested or use 2 to 3 tablespoons of rice flour.
We don't feel bloated or have any tummy issues with shorter soaking time (15 to 20 mins). I believe cumin and ginger help in digestion. If you have digestion issues, please soak them longer for 3 hours and rinse them well.
I have found cooking these on a high flame on the largest burner yields better results and that is due to the addition of oats. However if you skip oats, make sure you cook them on a medium heat.
Make batter ahead: Make the batter (without adding vegetables) and store it in a container. Refrigerate up to 2 days. Leave it out for sometime before you make the chillas. Add the vegetables and stir. If required add a few tablespoons of water to bring it to consistency.
Make chillas ahead: Make the chillas and cool them on a rack or tray. Stack them and store in a steel container (like a roti box). I usually put the whole container with the lid in the Instant pot and steam for 3 to 5 mins, depending on how long they have been in the fridge.. The bottom one gets a bit harder but the rest will be soft.
Reheating Chillas: The other easier option is to heat them in the oven. Preheat your oven to 480 F or 250 C and place 2 to 3 chillas in a prepared baking tray. I do mine in 2 trays. Heat for 2 to 3 mins. The bottom tray takes a bit longer.
Troubleshooting Tips
Unable to spread the batter: If the pan is too hot or the batter is too thick, the batter will clump up and won't let you spread. The pan has to be hot but not extremely smoking hot. Batter has to be thick yet of pouring and spreading consistency. You may splash some water and stir the batter.
Batter sticks to the ladle: If the pan is not hot enough or the batter is too thick, it will stick to the ladle at the bottom.
Related Recipes
Recipe Card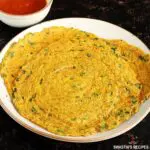 Moong Dal Chilla
These healthy Moong dal chilla are gluten-free, can be made vegan and are protein-packed. Serve them for a breakfast or any mean with chutney or pickle/achar.
Pin Recipe
Print Recipe
For best results follow the step-by-step photos above the recipe card
Ingredients (US cup = 240ml )
1

cup

moong dal

(yellow split skinned mung lentils)

1

cup

oats

(optional, rolled or instant oats)

2

teaspoons

cumin seeds

(1 teaspoon if you skip oats)

1

inch

ginger

(peeled and chopped if necessary)

3

dried red chilies

(optional, low heat variety, adjust to taste)

1

green chilli

(optional, deseeded for low heat)

½ to ¾

teaspoon

salt

(adjust to taste)

⅛

teaspoon

turmeric

(optional)

¾

cup

water

(to blend, or ½ cup if you soak longer)

1

cup

water

(to mix oats)

2 to 4

tablespoons

ghee

or 2 tablespoons oil

1 to 1½

cup

carrot

(fine grated, or use ⅓ cup fine chopped onions)

½

cup

coriander leaves

(fine chopped or sautéed chopped baby spinach)
Instructions
Make Batter
Add moong dal to a bowl and rinse them well at least thrice. Pour fresh water and soak them for 15 to 20 mins.

While the lentils soak, prepare the veggies and the oats powder.

Add oats to a grinder jar along with cumin seeds and red chilies. Powder them as fine as possible. Keep this aside in a bowl.

Rinse the lentils and add them to the grinder along with ginger, green chilies (optional), turmeric (optional) and ¾ cup water. (cut down to half cup if you soak the lentils longer).

Grind to a smooth batter. Stir in the powdered oats and salt. Add more water as required and make a lump free batter that is of pouring consistency, yet thick. (see pics in the step-by-step photos)

Add the veggies and mix well. Taste test and add more salt if required.
How to Make Moong Dal Chilla
Heat a pan/ dosa tawa until it is hot enough but not smoking hot. If using a cast iron pan, season it first and then heat.

Pour the batter in the center of the pan and begin to spread it to a round dosa, starting from the center. Make it as thin as possible. (You won't get as thin as a dosa)

Drizzle some ghee or oil and cook on a high heat (or medium high heat). When it is done, the edges will loosen from the pan on its own.

Turn them to the pother side with a spatula and press down gently all over the chilla and cook until you see brown to deep golden spots. Turn it back and cook on a low heat for 1 to 2 mins so it turns crisp.

Remove to a serving plate. To make the next moong dal chilla, make sure the pan is hot but not smoking hot. If it is too hot, the batter will clump up and won't let you spread.

Towards the end, you may feel the batter has become thick as it rests. So sprinkle some water if required. I usually sprinkle about 2 tbsps before I make the last 3 chillas.
Notes
If you leave out oats from the recipe, you have to use lesser amounts of water, salt, ¾ cup grated carrots, 1 teaspoon cumin seeds.
If you soak the lentils longer start with only half cup water for blending.
Too much water or veggies in the batter will make soggy chillas and they also break while turning around.
Alternative quantities provided in the recipe card are for 1x only, original recipe.
For best results follow my detailed step-by-step photo instructions and tips above the recipe card.
NUTRITION INFO (estimation only)
Nutrition Facts
Moong Dal Chilla
Amount Per Serving
Calories 183
Calories from Fat 45
% Daily Value*
Fat 5g8%
Cholesterol 8mg3%
Sodium 188mg8%
Potassium 908mg26%
Carbohydrates 29g10%
Protein 9g18%
Vitamin A 7711IU154%
Vitamin C 92mg112%
Calcium 180mg18%
Iron 7mg39%
* Percent Daily Values are based on a 2000 calorie diet.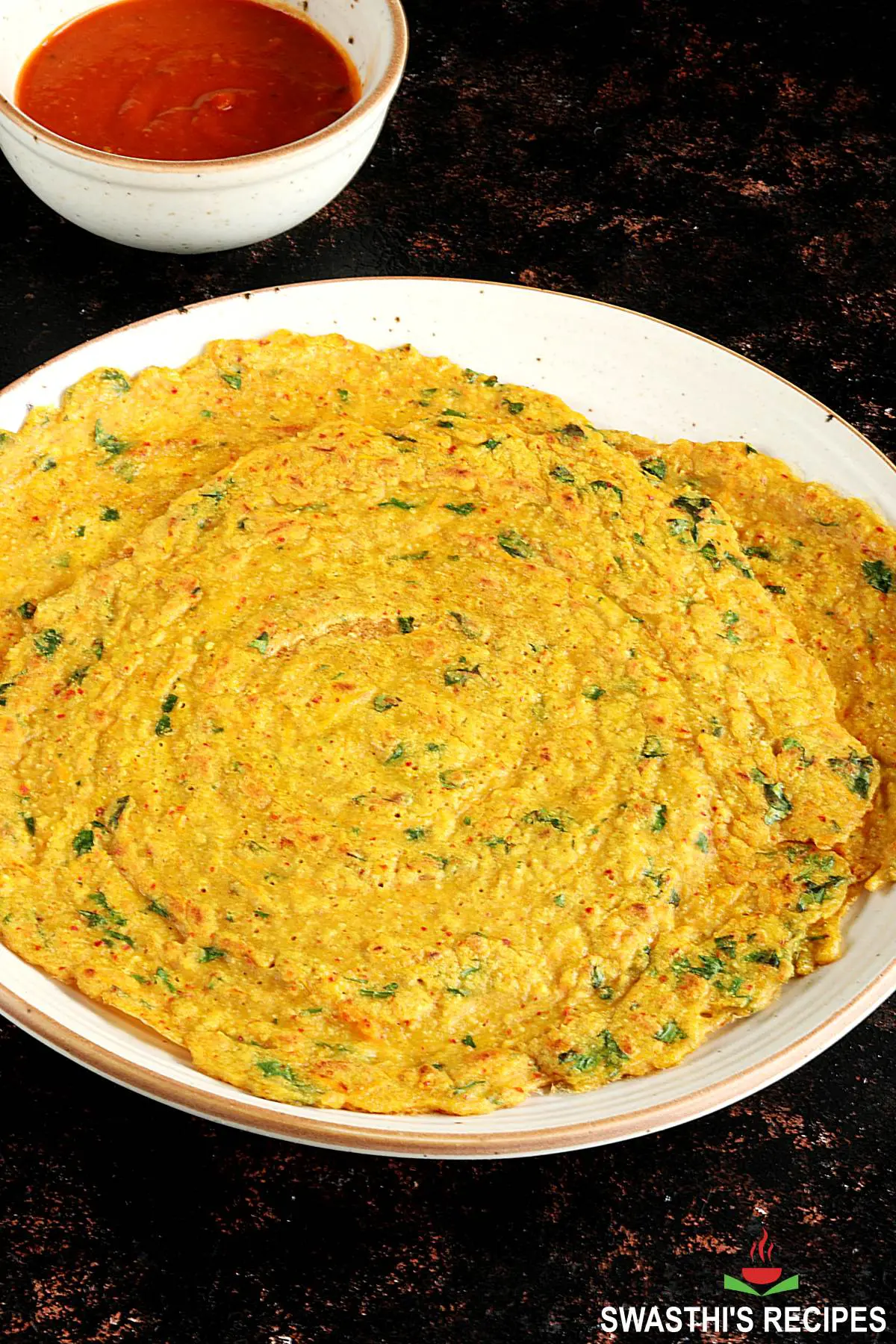 About Swasthi
I'm Swasthi Shreekanth, the recipe developer, food photographer & food writer behind Swasthi's Recipes. My aim is to help you cook great Indian food with my time-tested recipes. After 2 decades of experience in practical Indian cooking I started this blog to help people cook better & more often at home. Whether you are a novice or an experienced cook I am sure Swasthi's Recipes will assist you to enhance your cooking skills.
Follow Swasthi's Recipes