Mushroom sandwich recipe – Mushrooms are a power house of nutrition with the added benefits of being low calorie and fat free plant food. These mushroom sandwiches are an addition to the collection of 18 mushroom recipes on the blog. These are great to have anytime of the day for breakfast, brunch, lunch, snack or dinner. I am sharing 2 mushroom sandwich recipes in this post. For the first recipe I used a French baguette and made a spicy garlic filling, however you can choose any bread you like.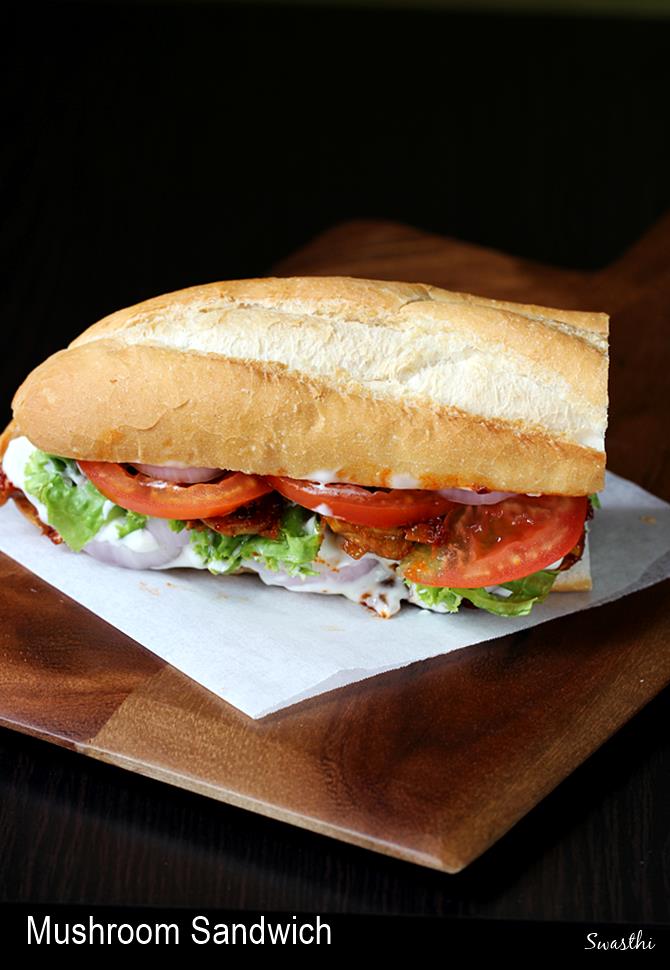 The second recipe is a grilled cheese mushroom sandwich.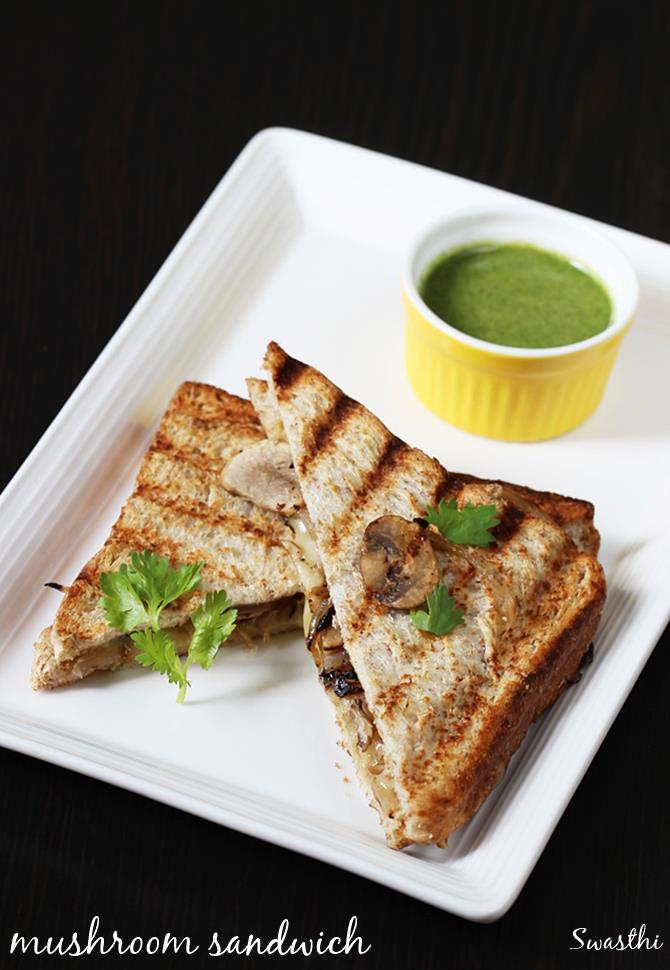 Mushroom sandwich recipe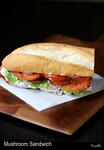 Mushroom sandwich recipe | How to make mushroom sandwich
Bread sandwich made with spiced mushrooms and cheese. It can be served for breakfast or snack
Ingredients (1 cup = 240ml )
2

slices

whole grain bread

or brown

1

tsp

butter

or 1 tsp olive oil

1

tbsp

olive oil

2

garlic cloves

chopped

1 to 2

green chilies

chopped (can deseed and use)

1

onion

medium , sliced thinly

¾ to 1

cup

mushrooms

sliced

Salt

as needed (very little since cheese is salted)

Herbs

of your choice

Cheese

as desired (3 to 4 tbsp grated)
How to make the recipe
Spread the butter over the bread and toast it until golden. Skip this if doing in a sandwich maker.

Heat a pan or grill pan with oil. Saute garlic, green chilies and onions until onions turn golden.

Add mushrooms and sprinkle very little salt. Saute until they are cooked.

Transfer this to the bread and spread the cheese over it.

Place another slice of bread. Grill it in a grill pan or oven or sandwich toaster until the cheese melts and the bread turns crisp.

Cut the mushroom sandwich and serve hot.
NUTRITION
Calories:
246
kcal
|
Carbohydrates:
19
g
|
Protein:
4
g
|
Fat:
18
g
|
Saturated Fat:
4
g
|
Cholesterol:
10
mg
|
Sodium:
205
mg
|
Potassium:
389
mg
|
Fiber:
4
g
|
Sugar:
7
g
|
Vitamin A:
125
IU
|
Vitamin C:
16.9
mg
|
Calcium:
36
mg
|
Iron:
0.6
mg
Method 1 – How to make mushroom sandwich
To make this mushroom sandwich, you will have to make the filling from this garlic mushroom post and then follow from here on. This may be for you if you love spicy foods as this flavorful, hot and spicy mushrooms are going to taste amazing. If hot and spicy foods are not your thing, you can also use this stir fried mushroom and bell peppers or this mushroom omelette for the filling. I have used French baguette here, you can just replace it with any bread you have in hand including a pav or burger bun.
1. Slice and butter the bread and toast it on a griddle or in a preheated oven at 240 C for 5 mins.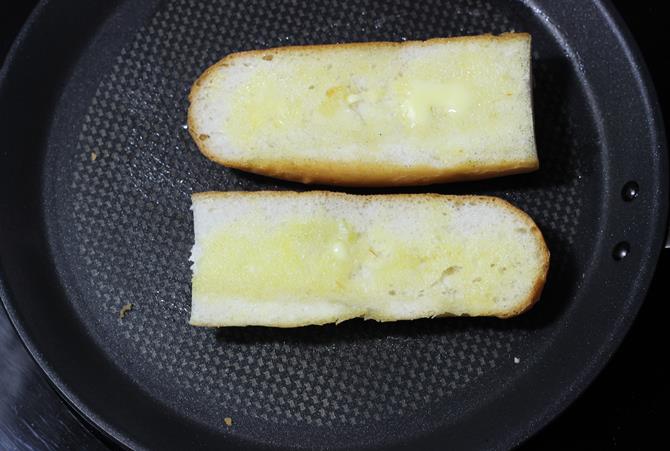 2. Spread you filling evenly.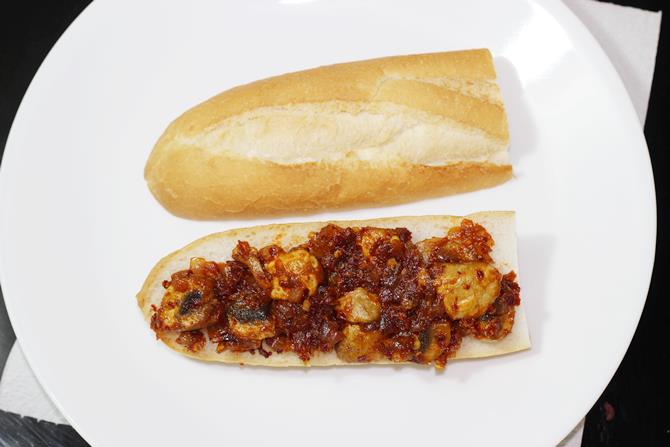 3. Spread mayonnaise. We do not use mayo with eggs and I haven't yet mastered an eggless mayo recipe, so I used this hung curd with mustard & pepper in it like I did for the veg burger.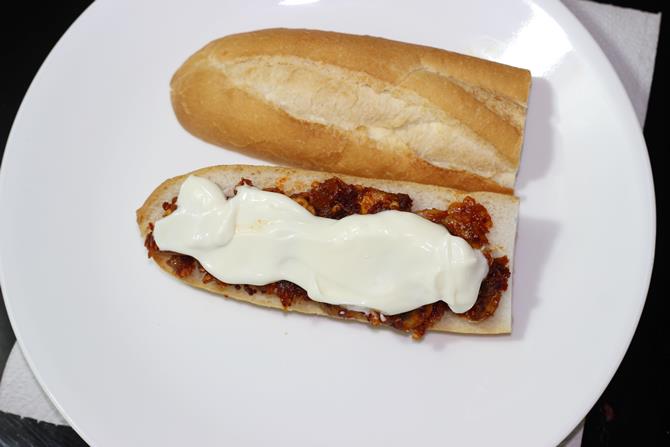 4. Place your shredded lettuce or any greens you like.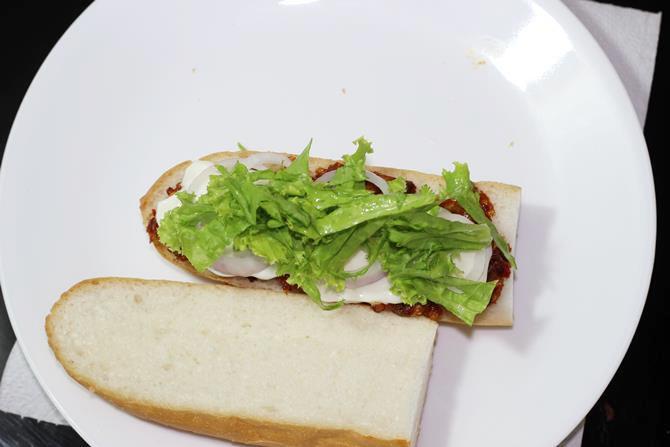 5. Some onions and deseeded tomatoes over it. Little bit of mayo over it again and place your other slice of bread.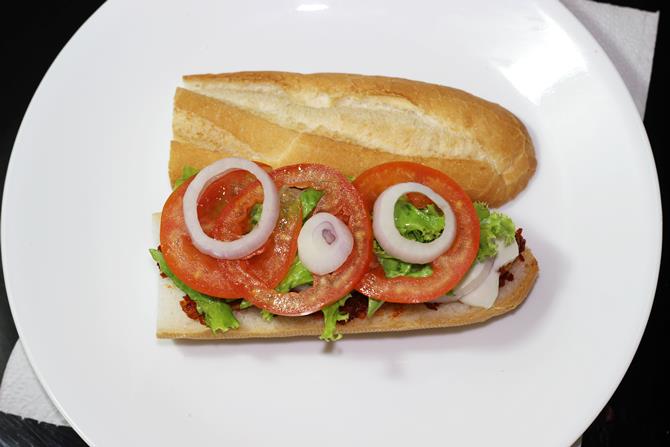 Mushroom sandwich is ready. You can also wrap this and take it to work.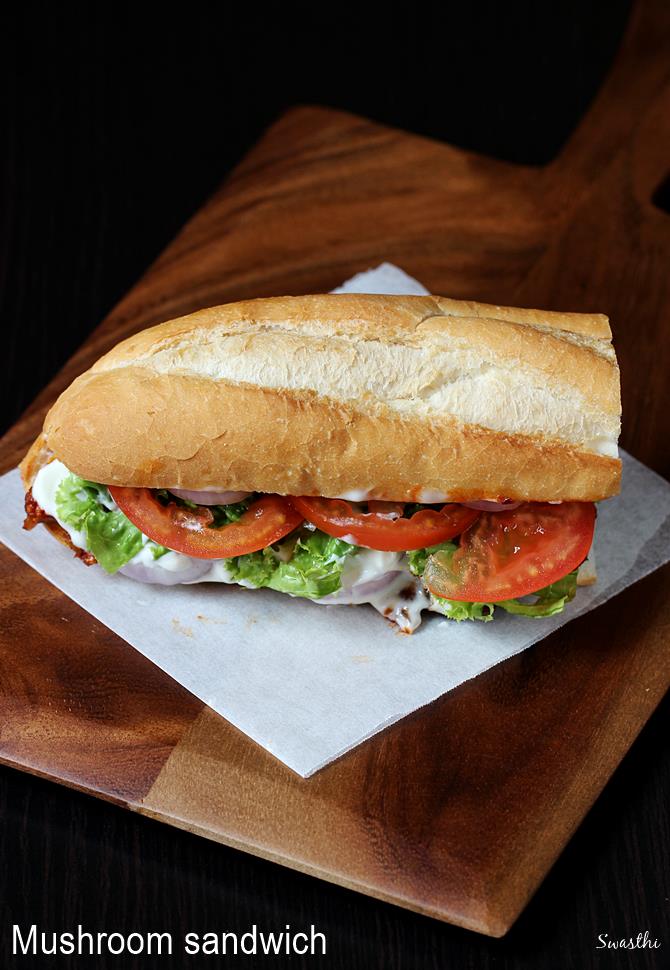 Method 2 – Grilled mushroom cheese sandwich recipe
I have made this in a grill pan on stovetop. But can make it in an oven or in a bread toaster. This is just an idea and you can make many variations to this.
1. Smear butter over your bread and toast it until golden in whatever way you like. I did it in the pan. If making in a sandwich maker skip this step.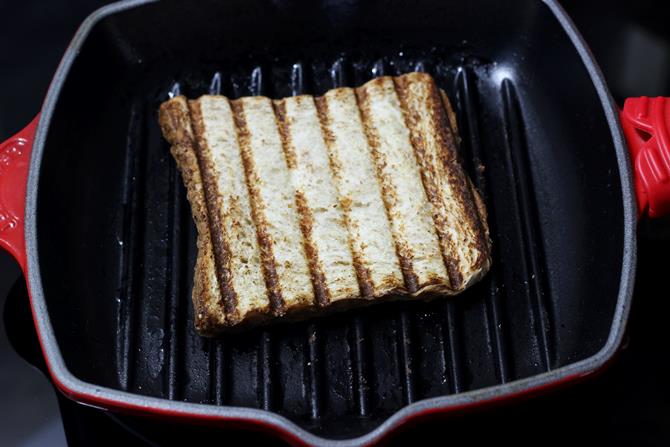 2. Add a tbsp. of oil and saute green chilli, garlic and onions until pink or golden.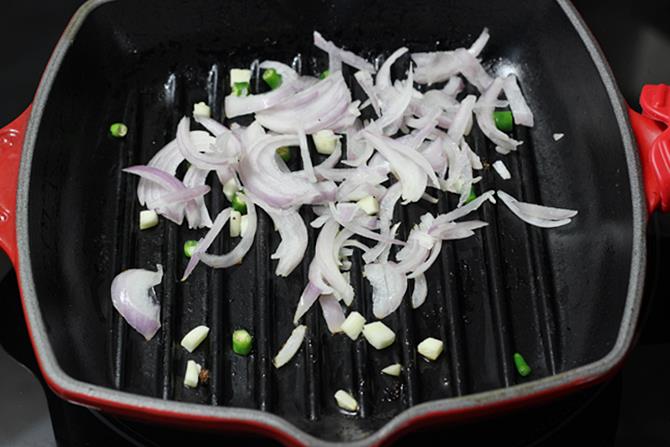 3. Add mushrooms and sprinkle salt.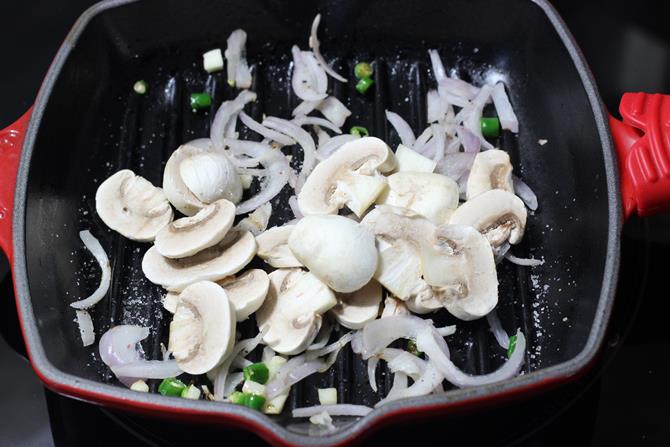 4. Saute until they are cooked to suit your taste. We like to keep them al dente.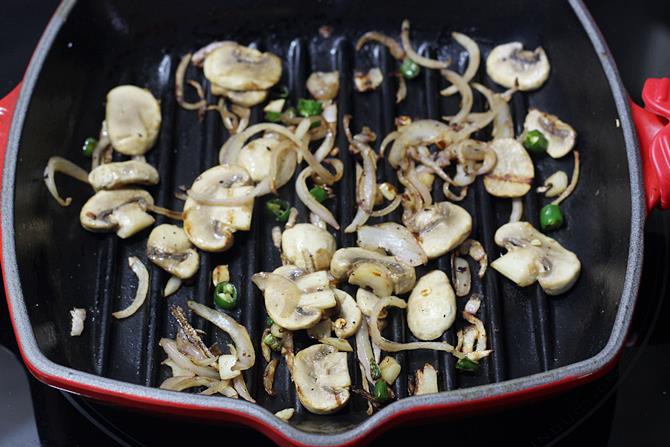 5. Transfer the mushrooms over the bread. Place the cheese over the mushrooms. Place another bread slice.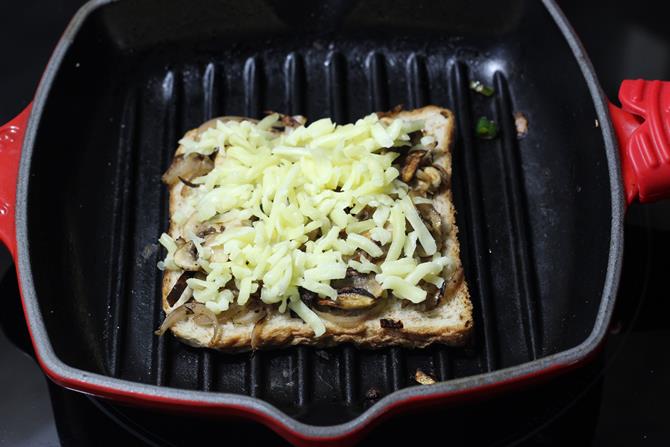 6. Grill it in the oven or toaster. If doing like me in a pan. Then place another heavy pan over the bread and leave it until the cheese melts.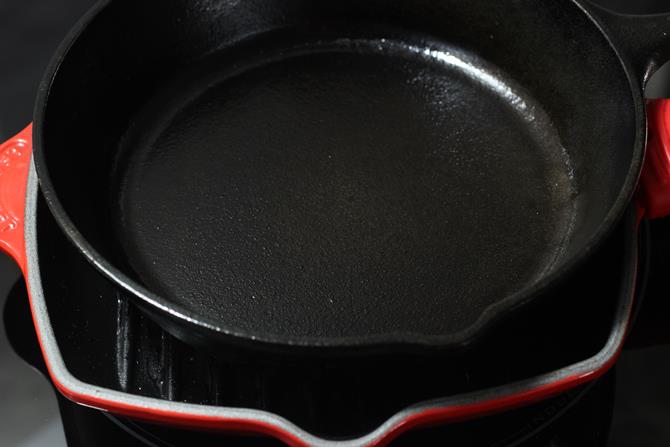 Serve mushroom sandwich hot.