Oats upma recipe – learn easily how to make oats upma in 15 minutes with step by step photos. To make oats upma, regular rolled oats are best. The health benefits of regular rolled oats are more when compared to the quick cook oats. Regular rolled oats have a low glycemic index than the quick cook oats. So those who want to include oats in their diet for health reasons must favor rolled oats.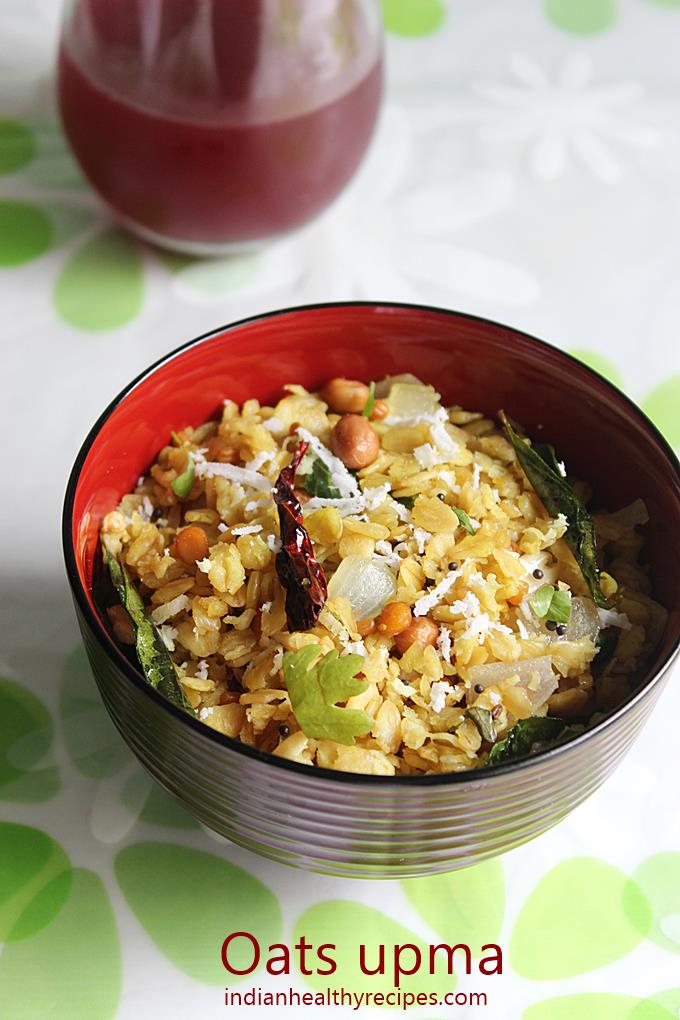 However if you do not get rolled oats in the place you live, you can still use Instant oats or quick cook oats. A bowl of freshly cooked oatmeal or porridge could be one of the healthiest breakfasts.
But not many folks like to begin their day with porridge or granola, for them there are many alternates to enjoying this grain.
I make use of oats in various ways like to make masala oats, lemon oats, oats pongal, oats pesarattu, oats dosa, vegetable oats porridge, oats chivda.
Here are some of them you may like to check.
32 Oats recipes
Oats khichdi
Oats dosa
Masala oats
Oats idli
This oats upma is one of the healthiest & can be prepared in less than 15 minutes.
Tips to make oats upma
1. Rolled oats are best to make oats upma as they do not turn mushy. However you can also use instant oats by dry roasting them well.
2. Vegetables will enhance the nutrition & taste of the oats upma. You can use carrots, beans and peas.
3. Always keep track of the amount of water you use in the recipe to avoid the whole thing turning mushy. Rolled oats work with 1:1 ratio of Oats:water. Instant oats work with 1:½ ratio.
In this post, I have shared how to make oats upma in 2 ways. Please scroll down for the second method.
Oats upma recipe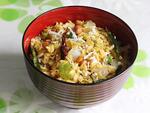 Oats upma
A quick and healthy breakfast made with oats, herbs and basic spices. This recipe can be made using rolled oats or quick instant oats. This post shares 2 ways to make oats upma.
Pin Recipe
Ingredients (1 cup = 240ml )
1

cup

rolled oats

or quick cook oats

1

cup

water

for rolled oats , ½ cup for quick cook oats

1½

tablespoons

oil

1

small

onion

chopped finely or sliced

½ to ¾

cup

mix vegetables

optional (chopped carrot, peas, beans)

1 to 2

green chilies

(slit) or broken red chili

1 to 2

tablespoons

lemon juice

as needed or 1 very small tomato

2

tablespoons

Coriander leaves

for garnish

2

tablespoons

grated coconut

optional

Salt

to taste
For tempering
1

sprig

curry leaves

¼

teaspoon

ginger

chopped finely, (optional)

1

pinch

hing

(optional)

¼

teaspoon

mustard seeds

¼

teaspoon

cumin

or jeera

½

teaspoon

chana dal

(optional)

½

teaspoon

urad dal

(optional)

2

tablespoons

peanuts

or cashews

1/8

teaspoon

turmeric
How to make the recipe
Preparation
Dry roast oats in a wide pan for about 5 minutes until crisp.

They do not become very crisp. Set this aside to cool.

Heat a pan with oil & add cumin, mustard seeds, peanuts, chana dal & urad dal.

Fry them stirring often till the peanuts turn golden.

Next add hing, ginger, green chilies & curry leaves. Fry all of them till the leaves turn crisp.

Then add chopped onions and saute until golden.

Optional – If using veggies. Then add all the vegetables and fry for 2 mins.

Sprinkle 2 tbsp water. Cover and cook until the veggies are done.
How to make oats upma
Next sprinkle some salt and 1/8 tsp turmeric.

If using rolled oats then pour 1 cup water. or if using quick cook oats use ½ cup water.

Mix well and then taste the water.

The water has to be slightly salty. If needed add more salt. Bring it to a boil.

Transfer the roasted oats & give a gentle mix to incorporate the water with the oats.

With in 1 to 2 mins the water will be absorbed.

Cover and cook on a low flame for 2 mins or until all the moisture is evaporated.

Add coriander leaves and 1 tbsp lemon juice. Mix and serve.

You can top it with some fresh grated coconut if you have. It tastes good as it is.

Oats upma is best served with yogurt.
NUTRITION (estimation only)
Calories:
370
kcal
|
Carbohydrates:
43
g
|
Protein:
10
g
|
Fat:
18
g
|
Saturated Fat:
2
g
|
Sodium:
482
mg
|
Potassium:
368
mg
|
Fiber:
9
g
|
Sugar:
3
g
|
Vitamin A:
2350
IU
|
Vitamin C:
32.8
mg
|
Calcium:
51
mg
|
Iron:
3
mg
Notes
You can add pav bhaji masala to make it more flavorful.
If you like the flavour of tomato in the upma , you can use it. But lemon juice goes perfect with this oats upma
If you are a beginner or new to Indian cooking, I highly suggest you to check the supporting step by step photos for best results. Step by step photos with description available below after the recipe card.
Method – 1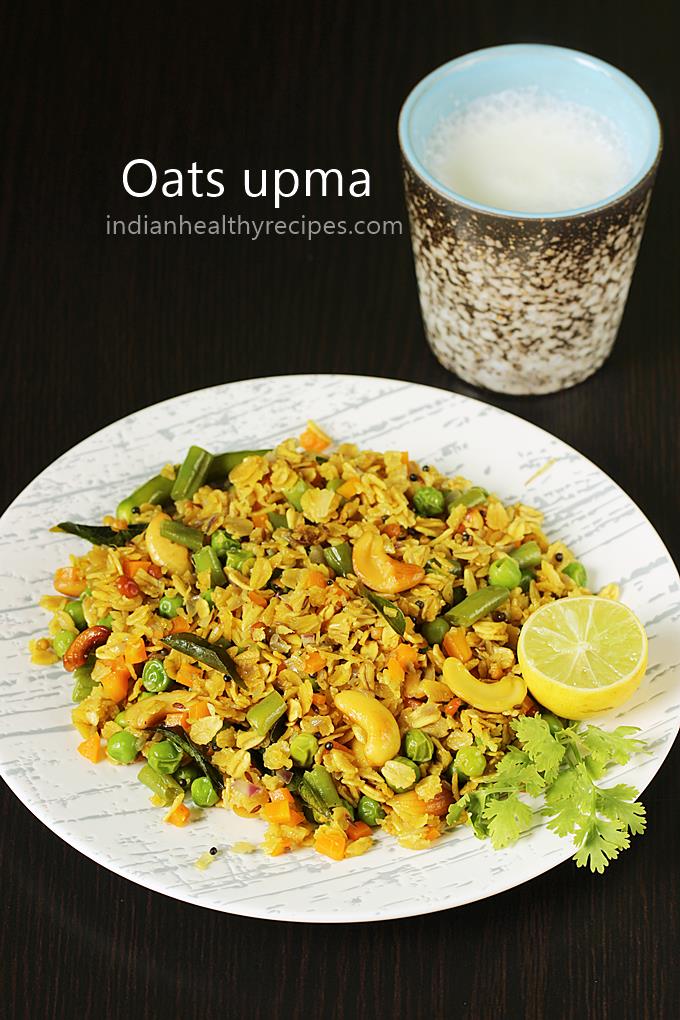 How to make oats upma
1. Dry roast oats until crisp. They do not turn as crisp as poha but a bit. Set these aside to a plate.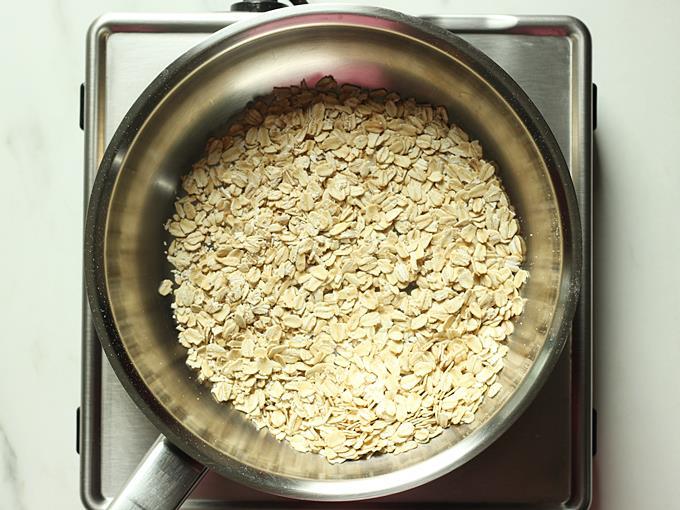 2. Heat oil in a pan. Add mustard and cumin. When the mustard begins to pop, add chana dal and urad dal.
3. Then add peanuts or cashews.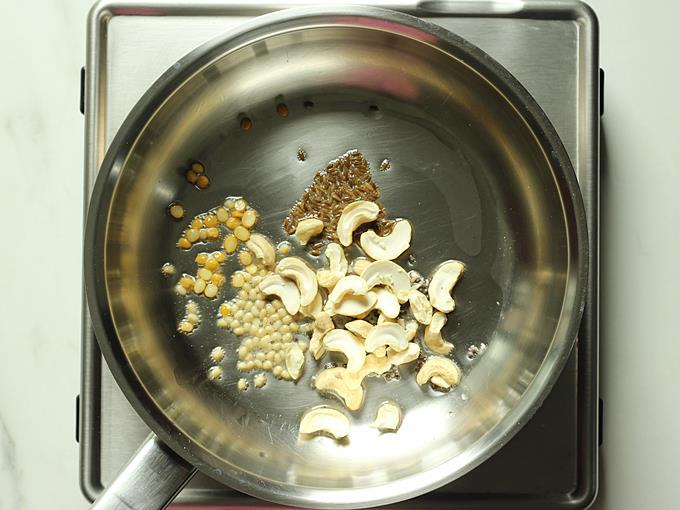 4. Fry until they turn golden. Then add ginger and curry leaves. Fry for a minute.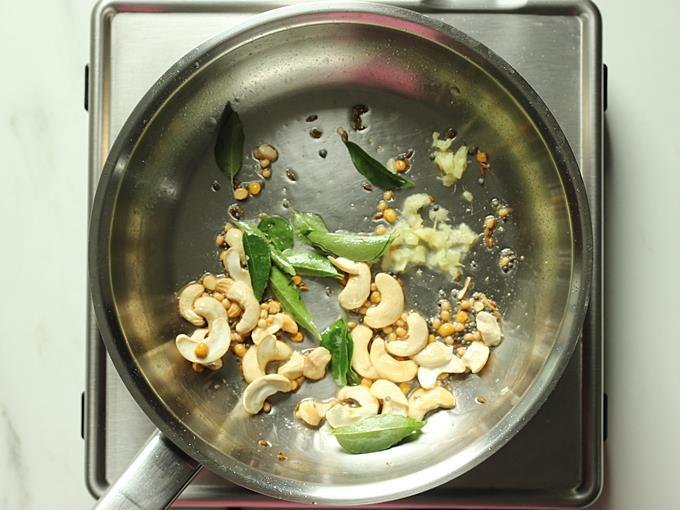 5. Add chopped onions & green chilies.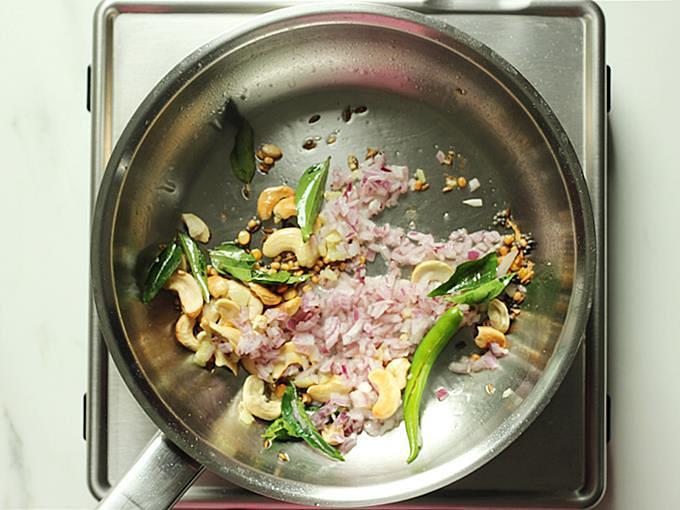 6. Saute until the onions turn transparent.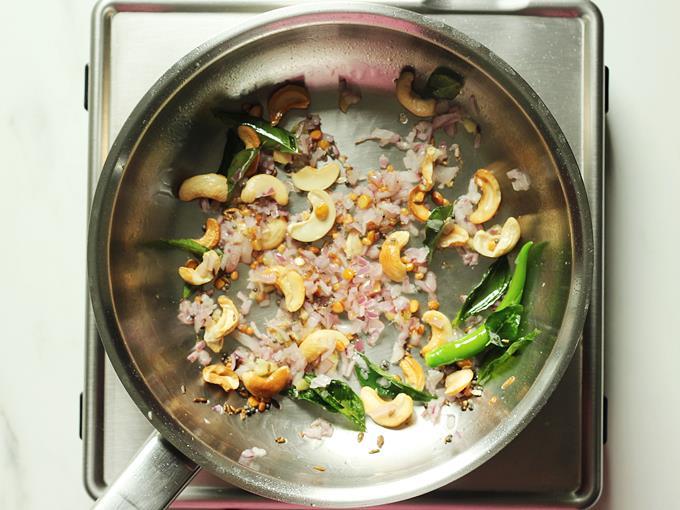 7. This is optional. If using mix vegetables, add them and fry for 2 mins.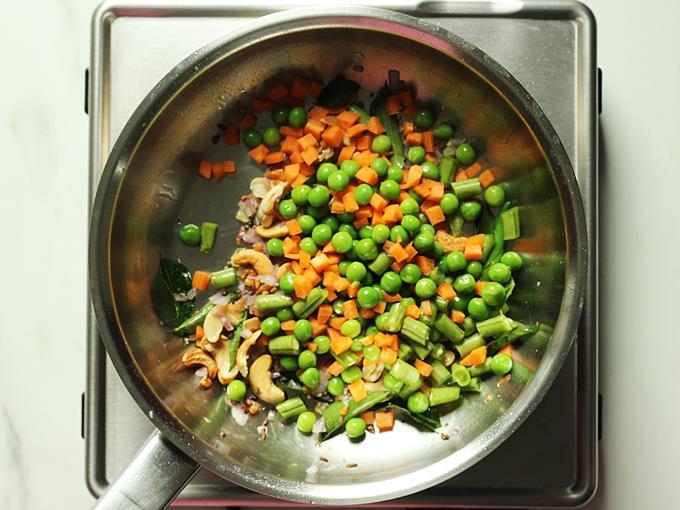 8. Sprinkle 2 tbsps water and cook covered until soft for 2 to 3 mins.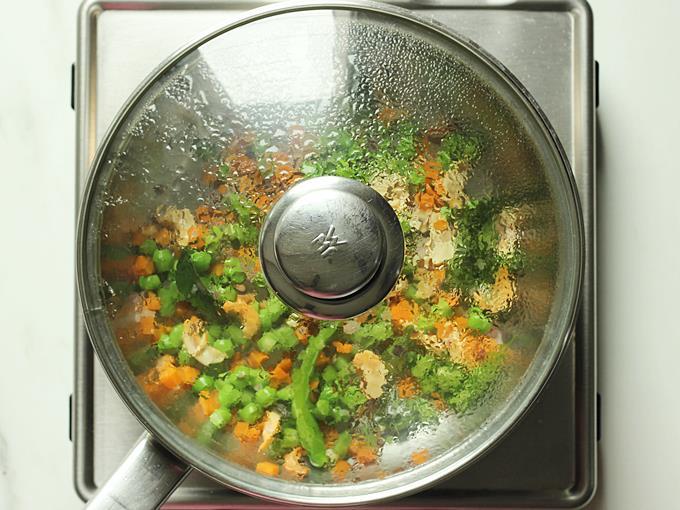 9. Then add turmeric and salt.
Pouring water
10. Pour water and bring it to a boil.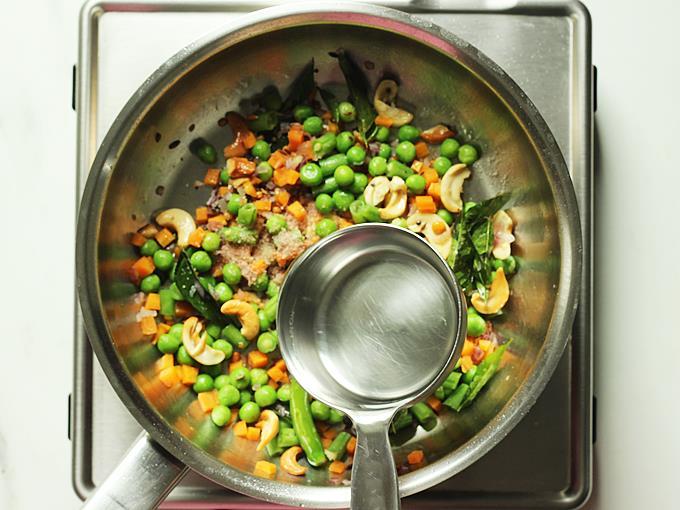 11. Then add oats.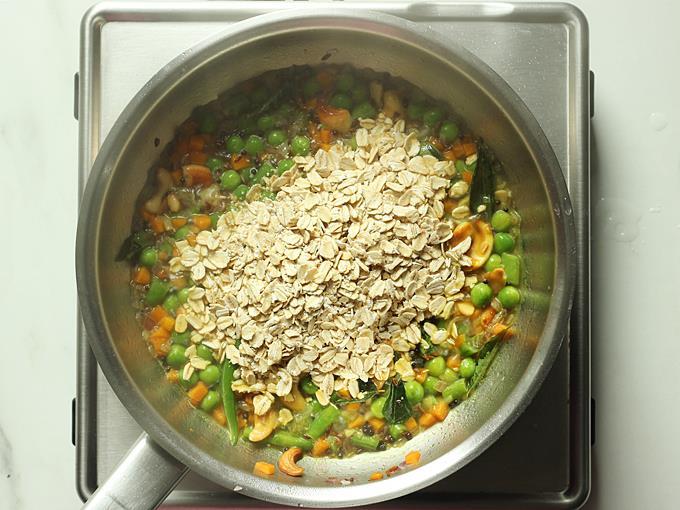 12. Mix well. The water will be absorbed with in a minute or 2.
13. Then cover and cook on a low flame for 2 mins or until no excess moisture is left.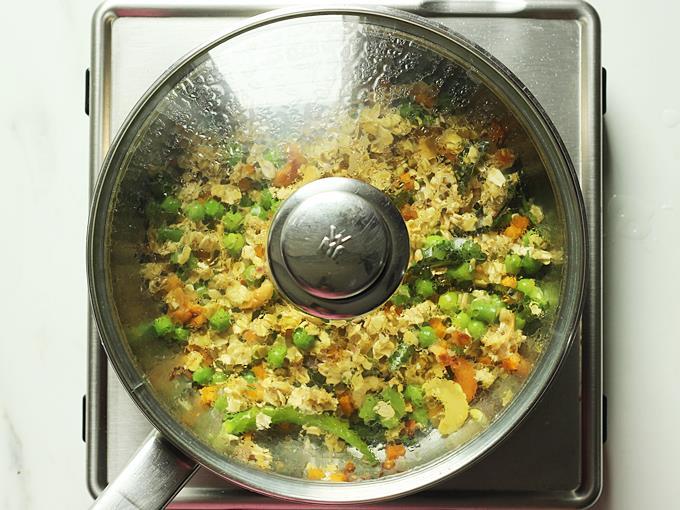 14. With rolled oats it turns fluffy. With Instant oats it turns soft and slightly mushy.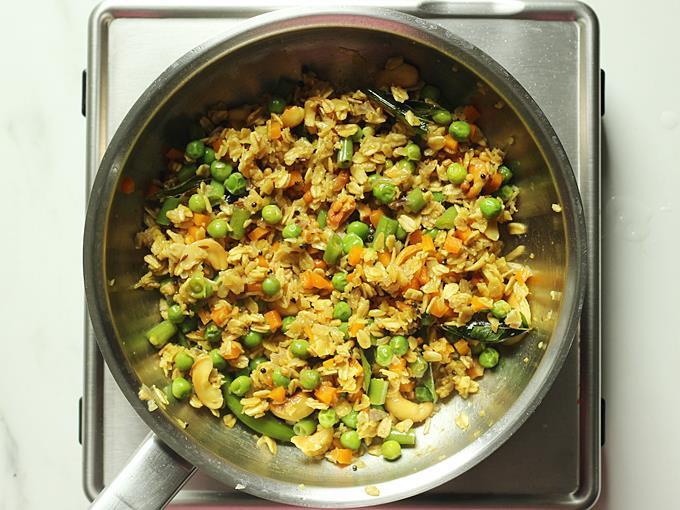 Sprinkle some lemon juice and enjoy with curd.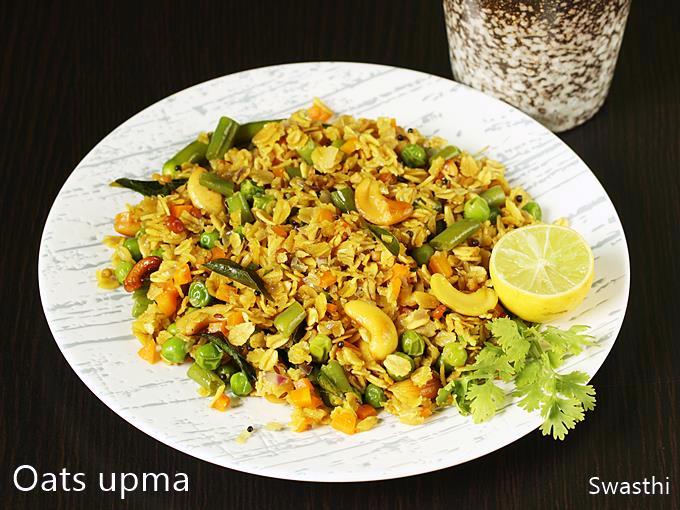 Method 2
Rolled oats upma in 15 minutes
This method works only with rolled oats. Do not use Instant oats.
1. This is an optional step. Dry roast oats evenly in a skillet for 5 minutes. keep this aside to cool. You can make this a day ahead and save it in a airtight jar.
2. Add oil to a pan and heat. Add peanuts, chana dal, urad dal , cumin, red chili and mustard. fry till they turn golden. Skip peanuts if using green peas.
3. Add chili,ginger, hing and curry leaves and fry till the curry leaves turn crisp. Next add onions and fry till they turn slightly pink. Then add chopped vegetables like carrots, peas, beans. Fry till they turn soft. If needed cover and cook.
4. Rinse roasted oats under running water in a colander. Drain off the excess water immediately. Add turmeric to the pan. If using tomatoes add them and fry till mushy. i do not prefer to use them.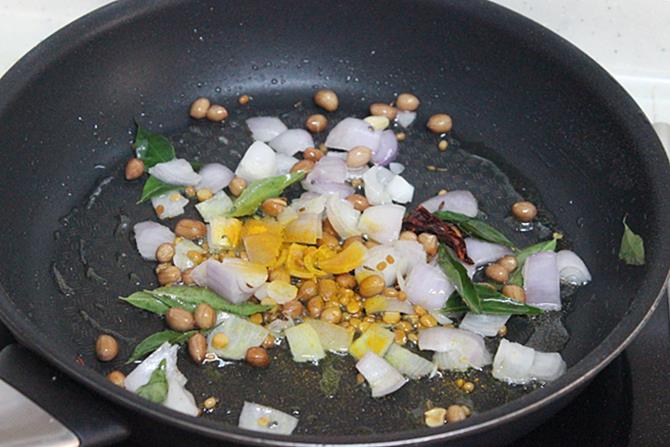 Adding oats
5. Add the rinsed oats.Sprinkle salt, lemon juice if you like. Mix everything well.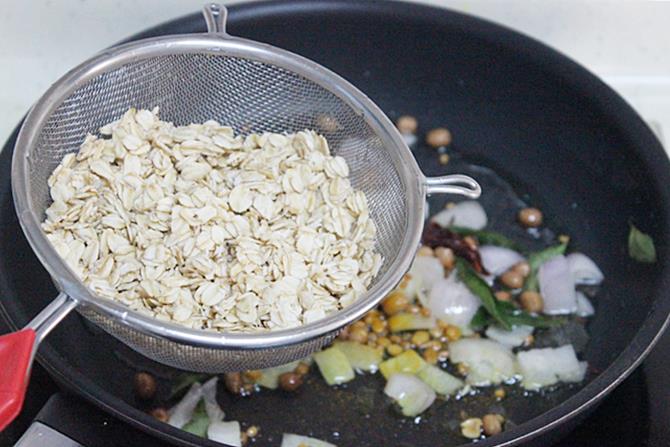 6. Cook covered on a low flame for about 7 minutes.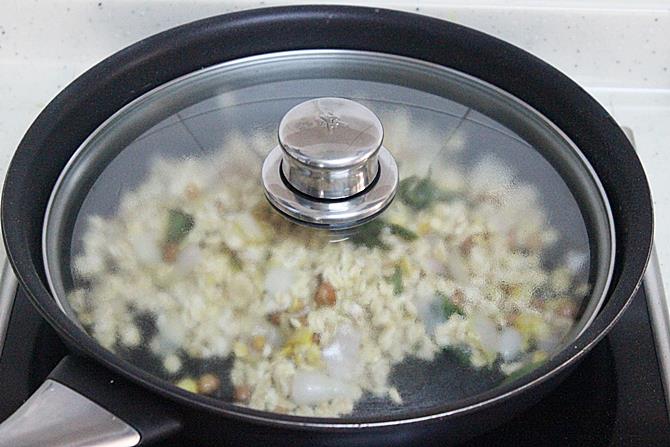 7. Add coconut, coriander leaves and lemon juice (if you have not used tomato). If you like it to be soft and mushy, just sprinkle some water and cook further for another 2 minutes.Mix everything well and serve.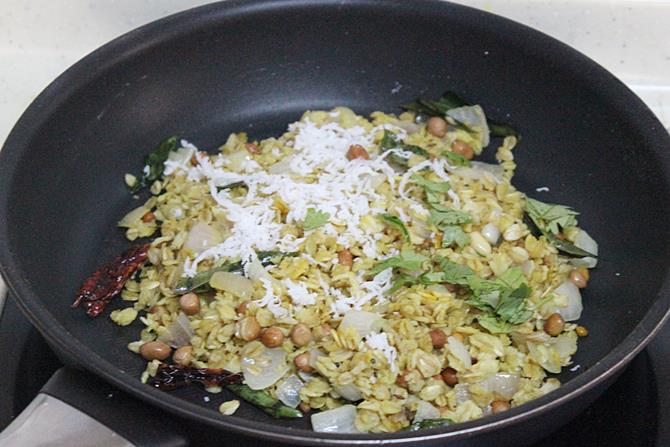 Best served with curd/dahi or chutney podi or flax seeds powder.
To make this oats upma , you can use ¼ cup of chopped mixed vegetables like green peas, carrots, capsicums. I have used peanuts, you can replace them with cashews.