Sweet potato rice for babies & toddlers – sweet potato rice can be made in two ways. One is the salted version similar to the potato rice i shared earlier. The first picture is the salted version, mildly flavored made using sweet potatoes that have orange flesh. The second method is to make a sweet potato sweet rice or sweet khichdi. The savory rice can be served to babies from 6 months and the sweet one from 8 months.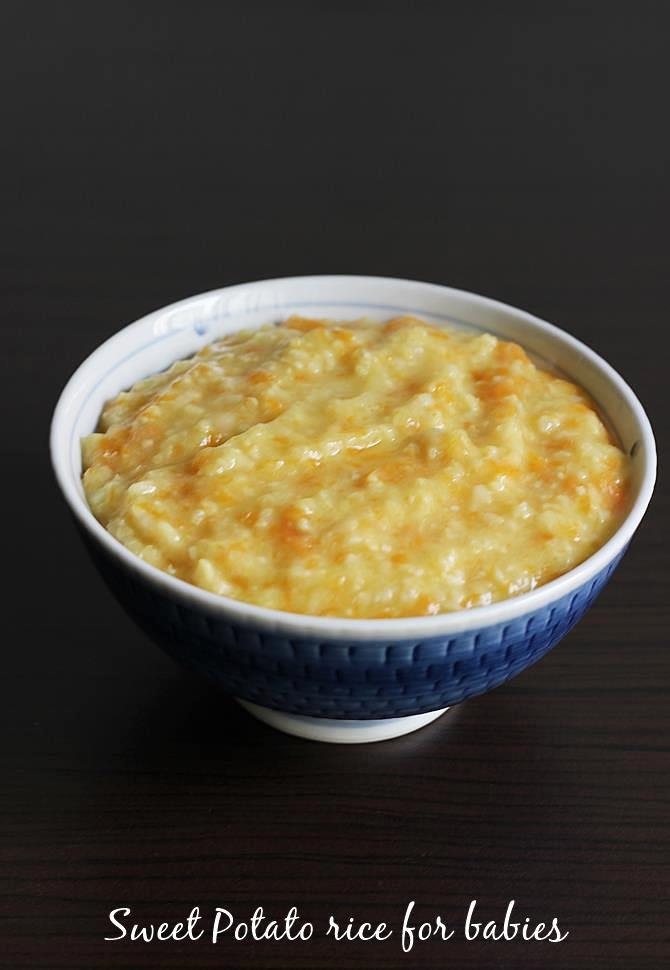 As i mentioned in foods for weight gain in babies post, sweet potatoes help to gain good weight in babies and toddlers. Do not mix them with milk or yogurt. Sweet potatoes go great with white rice or a mix of brown and white rice. Some babies have a lot of colic, i suggest avoiding brown rice in this recipe for such babies. Brown rice and sweet potatoes both have high fibers so they may not digest well for babies with colic. Also it is best to serve this before 1 noon as the digestive fire is high and babies tend to digest well before 1 noon.
I do not have good and complete step by step pictures for this recipe. When i finished cooking it half way i remembered that a reader had asked for this recipe. So i just took the pictures of what ever i could. The first picture was taken almost an year ago but couldn't post it here since i wanted to share both the versions together. To make the savory version, check this post on potato rice.
Do not serve sweetened foods daily to babies, they will get used to it and may not like the savory food. Twice a week should be fine. Do not make the rice overly sweet, there is sweetness from sweet potatoes as well.
sweet potato rice recipe for babies below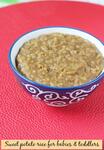 Ingredients (1 cup = 240ml )
1/4

cup

rice

(can use brown and white)

1/2

cup

sweet potatoes

chopped

ghee

as needed

40 to 50

grams

jaggery

(organic)

green cardamom powder

as desired for flavoring

cashews

roasted , as needed for toddlers over 18 months

raisins

as needed for toddlers over 18 months
How to make the recipe
Wash rice and soak for about 30 minutes to 2 hours if using brown rice.

Pressure cook for one to 2 whistles on a medium to low flame.

When the pressure goes off, Mash the rice and sweet potato well. Rice should not be grainy.

Add jaggery to a bowl filled with little water. Melt it and then filter to the rice. Mix and cook till the rice begins to bubble well.

Cool and serve.
NUTRITION
Calories:
184
kcal
|
Carbohydrates:
42
g
|
Protein:
2
g
|
Sodium:
19
mg
|
Potassium:
138
mg
|
Fiber:
1
g
|
Sugar:
18
g
|
Vitamin A:
4715
IU
|
Vitamin C:
0.8
mg
|
Calcium:
22
mg
|
Iron:
0.5
mg
how to make sweet potato rice for babies
to make this sweet potato rice, we will have to soak rice for about 30 minutes and cook it with sweet potato. I used half brown rice and half white rice and soaked it for about 2 hours. Then i cooked it on a low to medium flame until soft for two whistles in a tiny pressure cooker.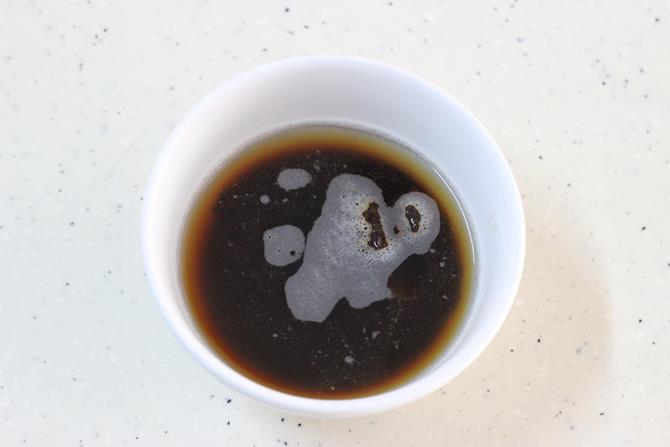 Soaked jaggery in hot water and set aside to melt. Choose aged jaggery or organic jaggery.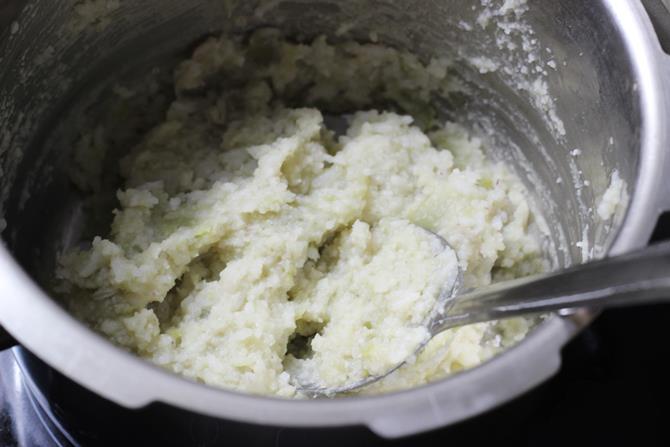 While the rice is still hot, mash it up well with a spoon. Don't worry about the color. Rice gets discolored due to the sweet potatoes like you see in the picture below.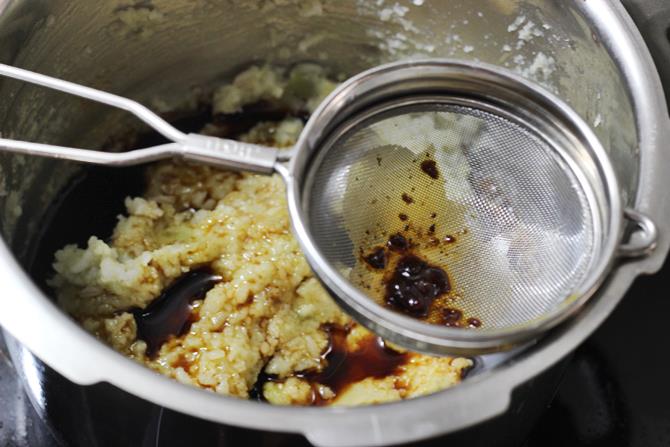 Filter jaggery water to the pot. Make sure the rice and sweet potato is softly mashed before adding jaggery syrup otherwise the rice turns grainy.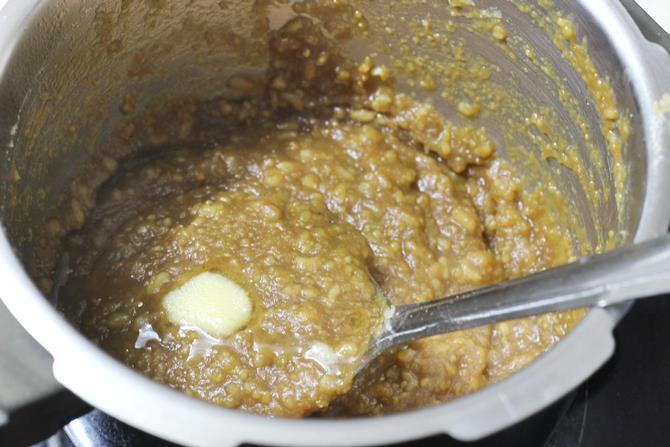 Stir and make a uniform thick mixture. Begin to cook on a low to medium flame till the rice bubbles well. Add ghee. You can also add cardamom powder.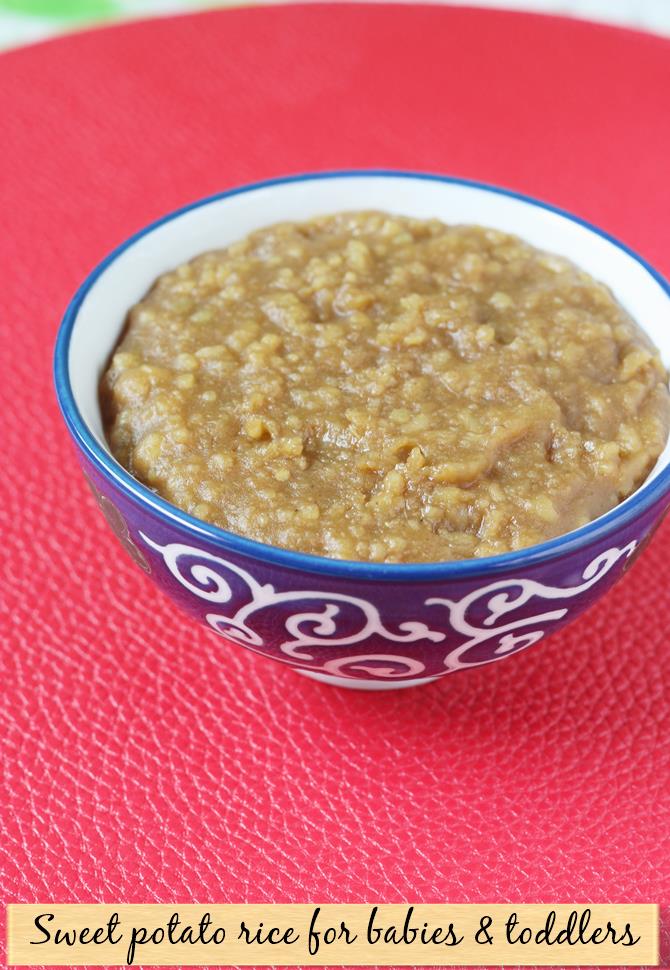 Cool it completely and feed the baby before 2 hours of preparing it. Discard any left over baby food.
I used 1/4 cup rice and half of a medium sweet potato and 40 to 50 grams of palm jaggery. It was good enough for me and my 4 year old since it is heavy and we also added nuts and raisins. So the recipe mentioned below makes a mum and a baby serving or 2 to 3 servings for a toddler. Scale down the quantity of ingredients as needed to prepare less.