Oats halwa recipe – Oats halwa recipe made with jaggery, nuts and seeds. This is one of the healthiest oats sweet recipes I have made. I have made these using pumpkin seeds and nuts that takes off the stickiness from oats. You can skip pumpkin seeds from this recipe.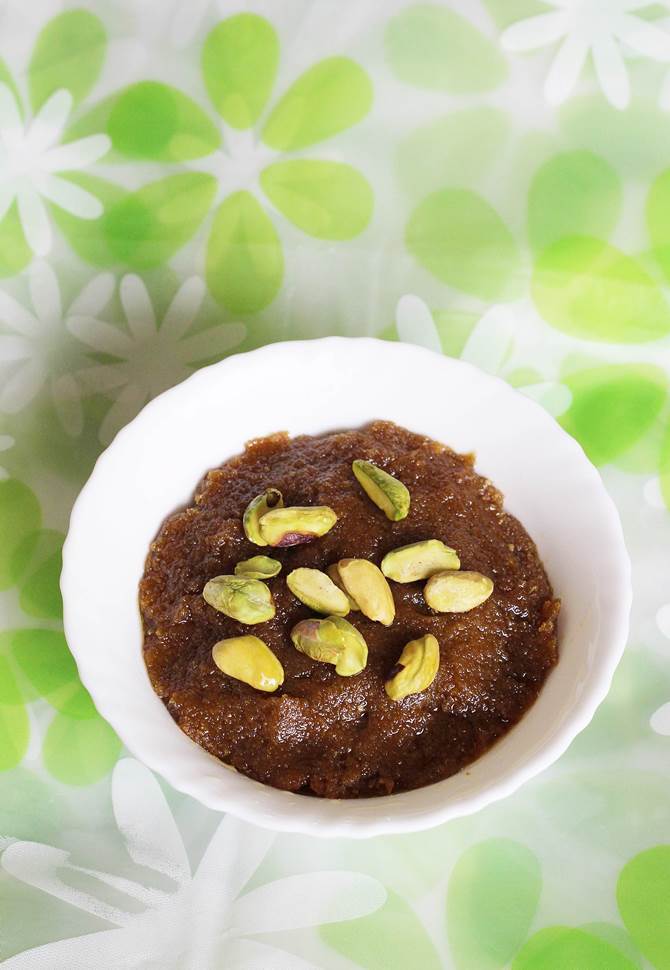 Pumpkin seeds are high in antioxidants and rich in many vitamins (especially vitamin E) and minerals.Traditionally these seeds are used in many countries as a natural remedy for expelling tapeworms and parasites from the stomach. According to studies, they prevent in the formation of stones in kidneys and are beneficial to reduce the inflammation in people suffering from arthritis. These are only a few to mention. Studies are under way to prove that these tiny seeds can be helpful in regulating the insulin, benefitting diabetics and they might even reduce the chances of cancer.
So do grab a pack of these seeds from your grocery store and try to use more of these in your granola, cakes, muffins or any other dishes.
For more sweet oats recipes, you can check
Oats sesame ladoo
Oats ladoo
Dry fruits oats ladoo
Today, I will share a simple oats halwa recipe, which my mom usually prepares. I guess many of us want to use oats with jaggery and not with sugar. If you want to replace jaggery with sugar, you can very well proceed, but we have never tried it with sugar. We have been cooking this with jaggery , karupatti (palm jaggery) and coconut palm sugar, all taste good.
If your karupatti has a strong smell, which you cannot stand, then you can use few drops of rose essence. The reason we use almonds for this recipe is to make it tastier and to balance the flavor of pumpkin seeds which many do not like.
Oats halwa recipe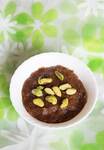 Oats halwa recipe | How to make oats halwa recipe with jaggery
Oats halwa recipe made with jaggery, nuts and oats. A good after meal dessert.
Ingredients (1 cup = 240ml )
1

cup

rolled Oats

(powdered after measuring)

½

cup

almonds

½

cup

pumpkin seeds

(optional)

1

Fistful

walnuts

(optional)

1

cup

jaggery

, grated or karupatti or coconut palm sugar (adjust it can go up to 1.5 cups, depends on what you are using)

¼

tsp

green cardamom powder

2

tbsp

ghee or oil

4

nuts

to garnish
How to make the recipe
Powder the nuts, seeds and oats in a blender jar. Set aside.

Heat a pan with ghee or oil, add nut oats powder. Fry for 3 to 4 minutes.

Melt jaggery with 3 tbsp water and filter to the powder.

Cook till all the moisture evaporates and becomes dry.

Add a tsp of ghee to prevent it looking dry.

If you wish you can grease a tray and transfer this to the tray and spread it evenly. Refrigerate for 4 to 6 hrs and cut to pieces. It is not a burfi but a soft set halwa.

Oats halwa is ready.
NUTRITION
Calories:
483
kcal
|
Carbohydrates:
68
g
|
Protein:
8
g
|
Fat:
20
g
|
Saturated Fat:
6
g
|
Cholesterol:
19
mg
|
Sodium:
2
mg
|
Potassium:
233
mg
|
Fiber:
4
g
|
Sugar:
51
g
|
Calcium:
67
mg
|
Iron:
2.5
mg
Notes
ice water has been used to keep the nut paste cool while grinding, if you grind it continuously with room temp water, the paste can become hot and the taste varies