Sabudana kheer recipe – how to make sabudana kheer with step by step photos. The recipe shared here is the same made during vrat or fasting and is also suitable for babies. Many of the readers ask me if sabudana is healthy? Is sabudana good for babies? Hence updated this post, sharing the facts about it. To find sabudana kheer recipe you can scroll down.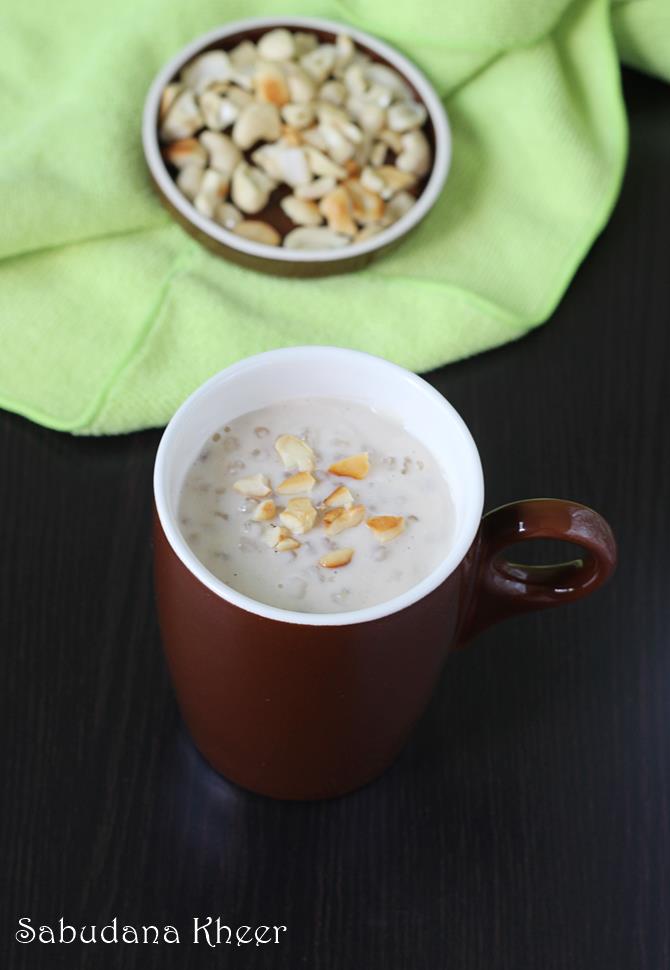 Sabudana is made from tapioca root also known as cassava. It is also known as sago in many languages. In Tamil it is called as Javvarisi, in Telugu sagubiyyam, in kannada sabakki and in hindi, gujarati and Marathi known as sabudana.
Sabudana is used for making kheer, porridge, sabudana khichdi and sabudana vada. These are also used during fasting or vrat for making fasting foods since it provides instant energy as it is high in carbohydrates.
Is sabudana good for health?
Sabudana is a processed food and is a pure starch. It has no other nutrients in it except high carbohydrates and very low protein, vitamins, minerals. Hence it should be combined with something nutritious and cooked.
It is not suitable to folks who are diabetic or in a pre-diabetic stage since sabudana tends to give sugar spikes in the body.
It is also not a good idea to use sabudana for a long time without combining it with a low GI food. The best low GI foods that suit well are lentils like moong or moong dal and then also use a low GI sweetener like coconut palm sugar.
You can find a recipe of sago payasam using jaggery, you can make the payasam same way using palm jaggery/ palm sugar.
According to Ayurveda, sabudana kheer or porridge can neutralize high body temperature and hence makes one of the best summer foods. So consuming this the right way in small quantity may be a good idea.
Sabudana kheer recipe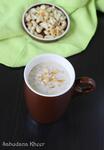 Sabudana kheer recipe | How to make sago kheer or payasam recipe
Sago cooked in milk and sweetener to yield a delicious pudding.
Ingredients (1 cup = 240ml )
¼

cup

sabudana

2

tbsp

sugar

or jaggery (refer notes)

1

cup

water

1

cup

milk

(use more if needed)

2

pinch

cardamom powder

elaichi powder

4

Cashew nuts

as needed

1

tsp

ghee
Instructions
Wash and soak sago for about 15 minutes to few hours. Add 1 cup water to the pot and cook till completely done. It should turn soft. To check bite a grain and check, you should not have a hard feel.

Pour milk to the pot and cook allowing it to thicken .

Add elaichi powder and stir.

Add sugar or jaggery syrup. Stir and switch off.

Garnish sabudana kheer with fried cashew nuts.
Notes
Add jaggery and little water to a small pot. Heat it till it melts and filter to remove impurities. Cook till the syrup thickens. Cool this completely then add to the kheer otherwise the kheer will curdle.
Nutrition
Calories:
227
kcal
|
Carbohydrates:
35
g
|
Protein:
4
g
|
Fat:
7
g
|
Saturated Fat:
4
g
|
Cholesterol:
18
mg
|
Sodium:
59
mg
|
Potassium:
180
mg
|
Sugar:
18
g
|
Vitamin A:
4
%
|
Calcium:
13.8
%
|
Iron:
2.8
%
How to make sabudana kheer recipe
1. Wash sabudana quickly in water. Drain off and soak them for about 15 minutes to few hours. This helps to cook them faster.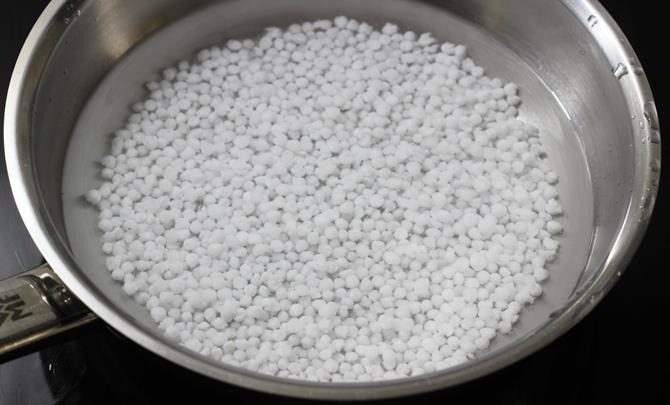 2. Begin to cook till they turn transparent and completely cooked. When you bite in you should not have a hard feel. It should be light.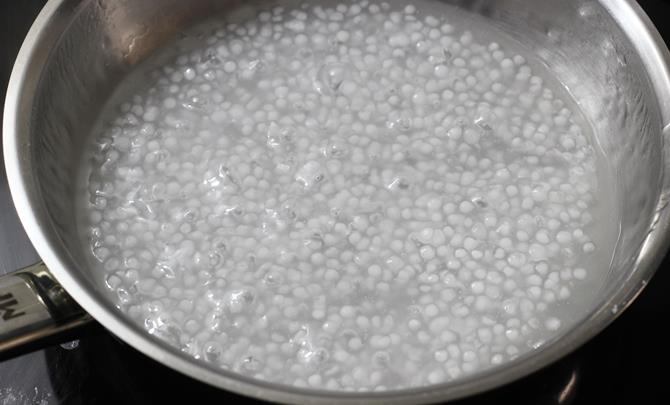 3. It thickens, now add milk as needed to adjust the consistency. Cook on a low to medium flame till it thickens further.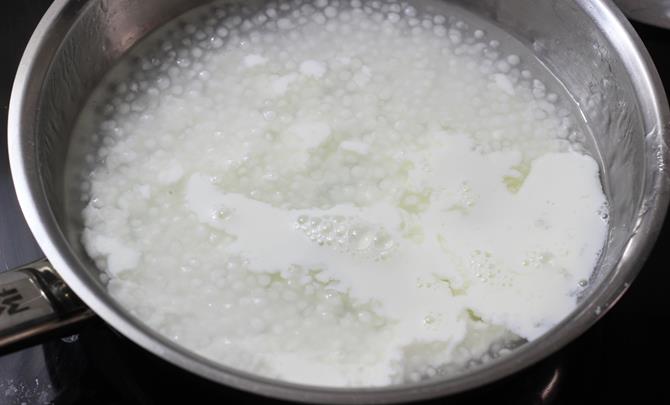 4. Add cardamom powder.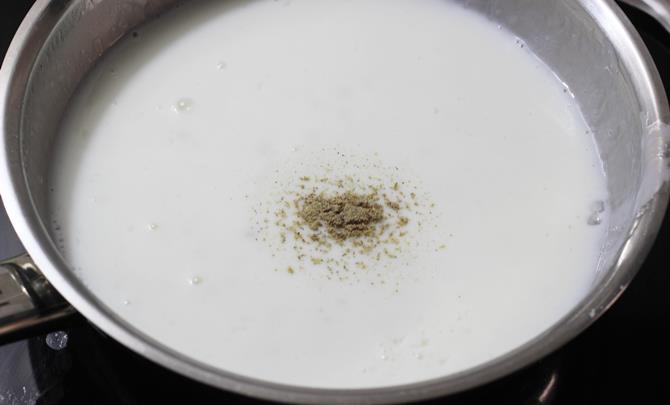 5. Add sugar and or organic jaggery powder. Switch off the stove and stir. Most organic jaggery comes clean without impurities, so can use directly. If you are using normal jaggery, you will have to make a jaggery syrup (included in the recipe below).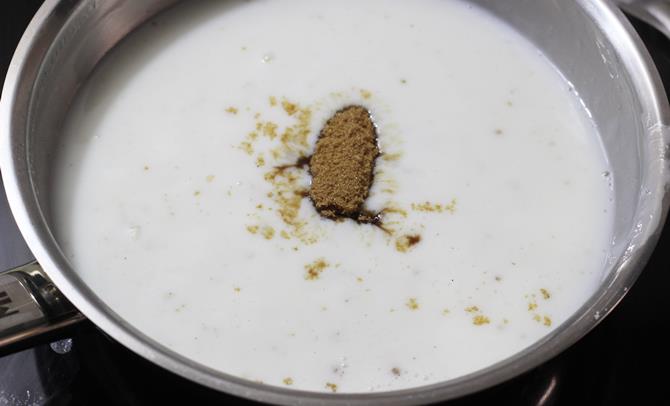 5. Fry nuts in hot ghee. Garnish with nuts.
Serve sabudana kheer warm or cool.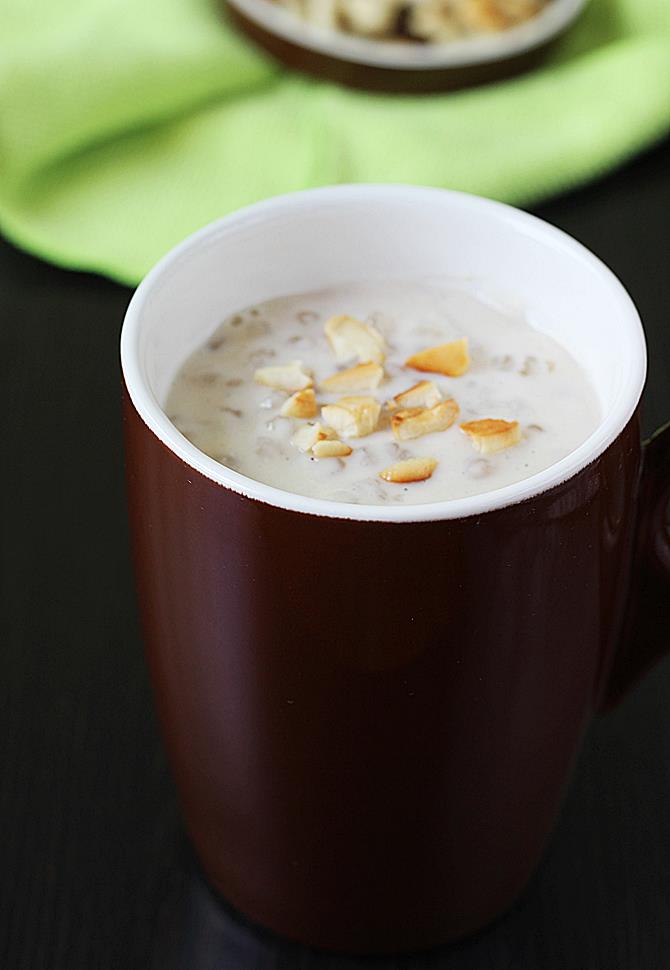 Sabudana kheer for babies – sago payasam is one of the most appealing and tasty breakfast dishes for babies, toddlers and kids. It is very easily digestible and provides instant energy. During stomach upsets it should be given plain cooked in water and sugar. As I mentioned sago is only starch, so to enhance the nutrition, I used to prepare sabudana kheer with almond milk or milk for both my babies. But it must be consumed with in an hour of preparing else, it becomes very sticky and may not be liked.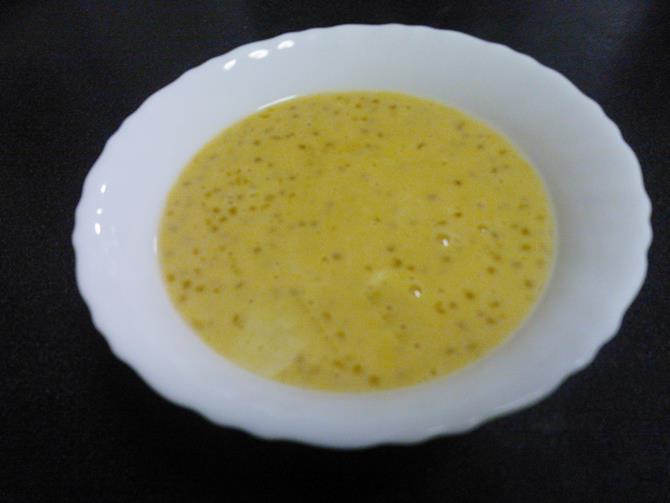 Sabudana kheer can be prepared in many ways for babies. You can dry roast and powder the sagu and then make thin porridge like. But the problem is we cannot wash the sagu which may not be good always. So I would cook till very soft for my babies. But you wish you can grind it to a puree after cooking. Judge and then choose the method.
If you wish you can skip milk and almonds too. You can prepare this kheer with just sago and jaggery. You can even use soaked moong dal instead of almonds.
Both my kids have grown up eating this for breakfast at least once a week till they were 2.
ingredients for sabudana kheer for babies
1.5 tbsp. small sago (sabudana/ sagubiyam)
4 to 6 Soaked Almonds (optional)
45 ml Milk (optional, can use water instead)
1 pinch Cardamom pow
1 tbsp. organic Jaggery or sugar
130 ml Water
method
1. To make sabudana kheer for babies, Wash sago and cook in water till they turn transparent.
2. Grind the almonds with milk and cardamom
3. Pour the almond mixture in the cooked sago and cook it further till soft.
4. Add jaggery and mix well. Switch off the flame. Do not cook after adding jaggery. Serve warm. If your baby cannot eat soft sago, then blend it to a puree in a blender when it cools down.