Lemon rice recipe with traditional & instant pot methods – Lemon rice is one of the most popular South Indian rice recipes. It is a comfort food for many and is most commonly eaten for a meal. Lemon rice has a delicate flavor of fresh lemon juice along with the aroma of the tempering spices.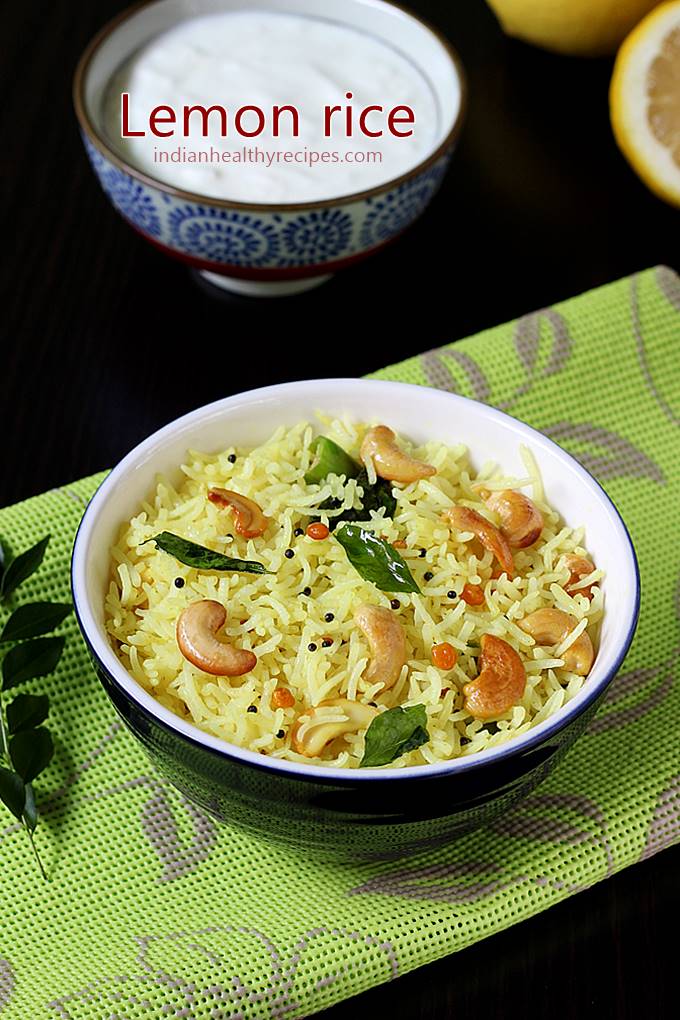 Chitranna & nimmakaya pulihora are the other south Indian regional names to this dish.
Making lemon rice is one of the simplest & is great to begin with if you are a newbie. The entire dish just gets done under 10 minutes if you have some precooked rice ready.
Lemon rice tastes good on its own. However many people love it with plain yogurt or curd, pickle, raita, chutney, salad or kosambari. During festivals or occasions we serve it with some fried snacks like masala vada, papad or pakora.
Back home in India, lemon rice is one of the most common travel foods. Many people pack it for road or train journeys as the dish keeps good for long hours due to the addition of turmeric.
In this post I have shared making the traditional method & also the instant pot version.
Tips to make lemon rice
The addition of fresh ginger, curry leaves & green chilies totally elevate the flavor of the lemon rice. These are the 3 ingredients that are key to making the dish. However if curry leaves are not available in your part of the world just skip them & use some coriander leaves or cilantro.
Traditionally peanuts & a small portion of lentils are used to add crunch to the dish. If you do not have them just replace with some cashew nuts.
Lemon rice can be made with any cooking oil like peanut oil, sesame oil or sunflower oil. I like to add a dash of extra virgin olive oil towards the end. Olive oil doesn't really go well in Indian foods but lemon rice is an exception.
To make a good refreshing lemon rice always use fresh lemons. I personally like the large variety of lemons as they are really flavorful. You can also use limes.
Most commonly short grain rice is used to make this. But any kind of rice just goes well. The rice has to be less starchy as the cooked grains have to be separate & grainy without being sticky or mushy.
More rice recipes on the blog,
Tomato rice
Fried rice
Jeera rice
Coconut rice
Tomato bath
Pudina rice
Lemon rice recipe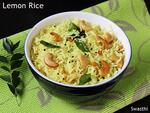 Lemon rice recipe | How to make lemon rice
Quick lemon rice recipe – Lemon rice also known as chitranna or nimmakaya pulihora is a popular south Indian food made for a meal. Lemon rice is made by tempering precooked rice with basic spices, chilies, ginger and peanuts. A generous amount of lemon or lime juice is used to add flavor and tang to the rice. It is served with curd (yogurt) , pickle or papad.
Ingredients (1 cup = 240ml )
Ingredients for lemon rice
1½

cups

rice uncooked

(or 4 cups cooked rice)

2 to 3

tablespoons

lemon juice

or lime juice as needed

½

teaspoon

salt

or as needed

2

tablespoon

oil

¾

teaspoon

mustard seeds

4

tablespoon

peanuts

or cashews

¼

teaspoon

turmeric powder

or haldi

1 to 2

green chili

slit (skip if making for kids)

1

sprig

curry leaves

or kadi patta

1 ½

teaspoon

chana dal

or bengal gram (optional)

1

teaspoon

urad dal

or skinned black gram (Optional)

1

pinch

hing

or asafoetida (optional)
optional ingredients
½

tbsp

ginger

grated or minced or finely chopped

2

dried red chilies

broken
How to make the recipe
Preparation for lemon rice recipe
Wash rice a few times and drain the water completely.

On a low flame cover and cook it in a large pot with 3 cups water.

The rice must be cooked fully but grainy and not mushy.

You can also cook it in a pressure cooker by placing the rice bowl in the cooker. Cook for 2 to 3 whistles.

Cool rice completely. Sprinkle salt, lemon juice and 1 tsp oil evenly over the rice and mix.

This helps to keep the rice grainy & firm. Mix well and check the salt and lemon juice. Adjust as needed.
How to make lemon rice
Heat a pan with oil on a medium to low flame. 

When it turns hot, add peanuts or cashews.

Fry until half done. Add red chili, chana dal and urad dal.

Fry on a medium flame until the dals turn golden.

Add mustard & allow to crackle.

Next add ginger, green chilis and curry leaves. 

When the leaves turn crisp. Add hing and turmeric.

Do not burn the ginger else it will make the lemon rice bitter.

Optional step to soften the roasted dals. Pour 2 to 3 tbsp water to the hot seasoning.

It will evaporate very quickly and soften the dal. You can also add more water to soften the dal.

Once the water evaporates pour this to the cooled rice. Mix everything well. Keep the rice covered for 20 to 25 mins. This helps the fried dal to soften a bit.

Serve lemon rice with plain yogurt, papad or pickle.
Video
Video of lemon rice recipe
NUTRITION
Calories:
516
kcal
|
Carbohydrates:
79
g
|
Protein:
11
g
|
Fat:
16
g
|
Saturated Fat:
1
g
|
Sodium:
409
mg
|
Potassium:
249
mg
|
Fiber:
3
g
|
Vitamin A:
25
IU
|
Vitamin C:
21
mg
|
Calcium:
40
mg
|
Iron:
1.7
mg
Notes
Instant pot lemon rice after the recipe card.
Instant pot lemon rice
1.Wash 1 ½ cups basmati rice at least thrice. Drain and set this aside. Press the saute button. When it displays hot, pour 2 tbsps oil to the inner pot of the instant pot.
2.Then add in 3 to 4 tbsps peanuts or cashews. Also add 1½ tsp chana dal and 1 tsp urad dal. Fry them until lightly golden, then add ¾ tsp mustard seeds, 1 to 2 slit green chilies, 1 sprig curry leaves, sliced ginger & red chilies. Quickly saute until the ginger smells good. Sprinkle a pinch of hing & ¼ tsp turmeric.
3.Immediately pour 2 to 3 tbsp water and deglaze the pot. Scrape off the bits of tempering if any left at the bottom.
4.Cook until the water evaporates & the lentils soften. Remove the seasoning quickly to a plate with a slotted spoon. You can ignore little bit of the seasoning stuff left.
5.Immediately add rice and stir it. Pour 1¾ cups water and add salt. Scrape off the bits of tempering if any left at the bottom. Mix and taste the water. Add more salt if needed.
6.Press cancel button. Secure the lid of the ip with the steam release handle set to sealing position. Press the pressure cook button and set the timer to 5 mins.
7.When the rice is done, wait for natural pressure release for 2 mins. Then place a kitchen towel on the steaming vent & do a quick release.
8.Open the lid and remove the inner pot & set aside. Add the tempering to the rice. When the temperature comes down, squeeze in the lemon juice and gently stir the lemon rice. Do not stir a lot while the rice is hot as it turns mushy. If needed add more lemon juice and salt.
How to make lemon rice recipe
Since this is a simple recipe I had not taken the step by step photos initially. But later I have updated with step by step photos & even with a video. So the main picture is with cashews and step by step pics & video with peanuts.
1. Wash and soak rice in a bowl for at least 15 mins. If you do not have time you can just skip the soaking and cook the rice. On a low flame you can cover & cook rice in a pot with 1:2 ratio (rice:water). or You can also place the rice & water bowl in a pressure cooker and cook for 2 to 3 whistles.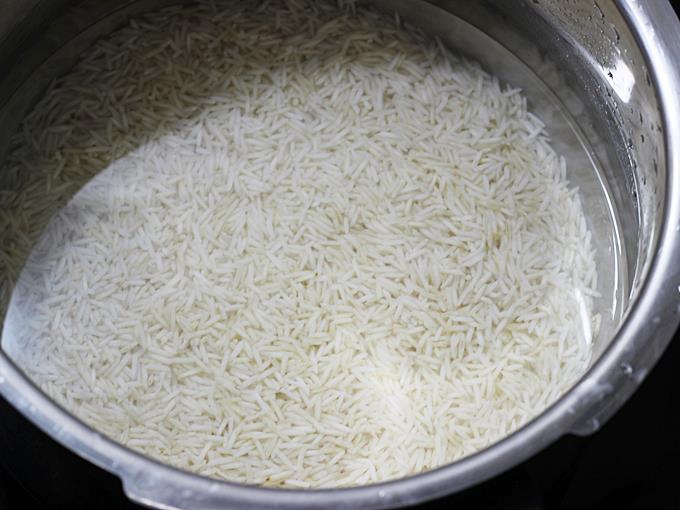 2. Cook the rice to grainy and not mushy. Cool it completely & then fluff up the grains.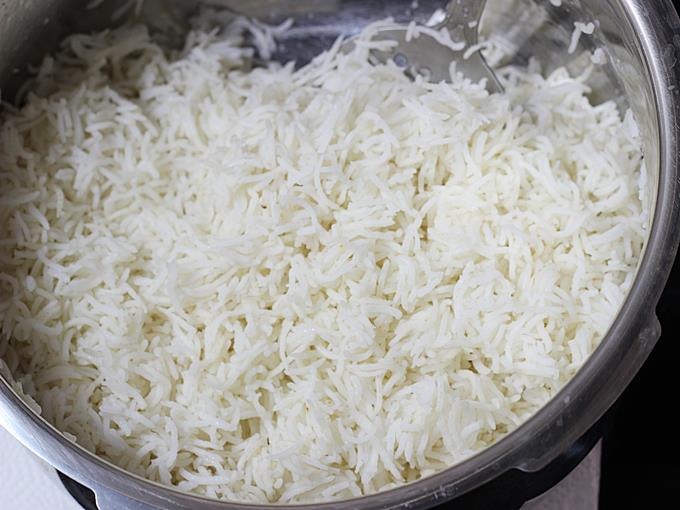 3. Sprinkle salt, lemon juice and 1 tsp oil evenly. Mix lightly. Taste the rice add more salt and lemon if needed. Set this aside.
4. Heat oil in a pan. When the oil turns hot set the stove flame to medium. Add peanuts or cashews and roast them until half done or lightly golden.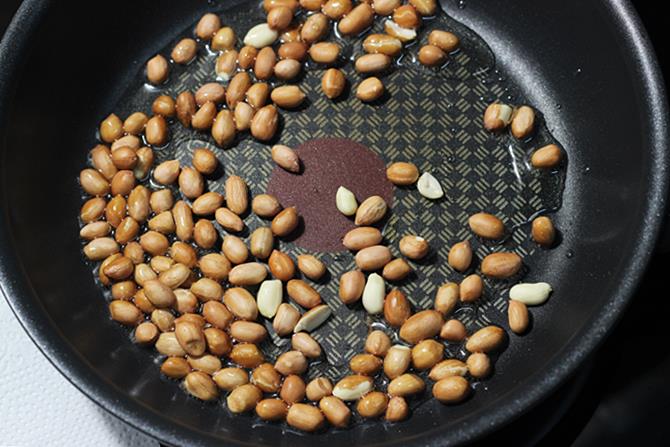 5. Then add urad dal and chana dal. Saute until lightly golden on a medium flame.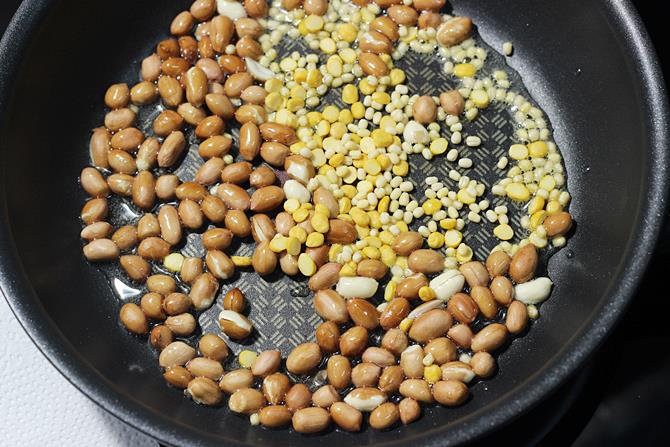 6. Add mustard first and saute until they crackle. Add curry leaves, ginger, green chilies and red chilies.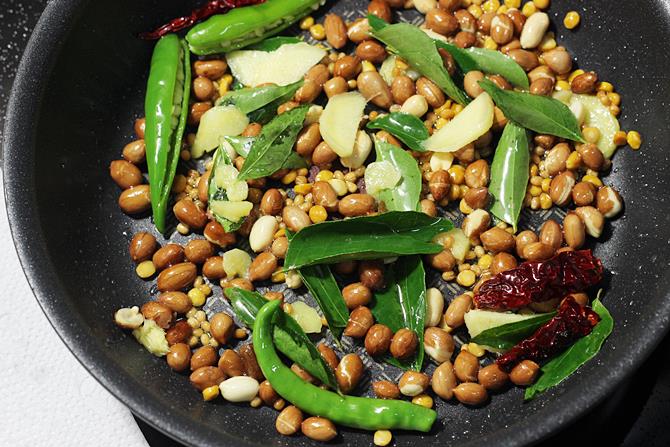 7. Saute until the curry leaves turn crunchy. Add hing and turmeric. This is an optional step to soften the fried dals. Quickly sprinkle 2 tbsps of water & cook covered. The water will very quickly evaporate and will make the dals slightly soft. You can add more water if needed to soften the dal.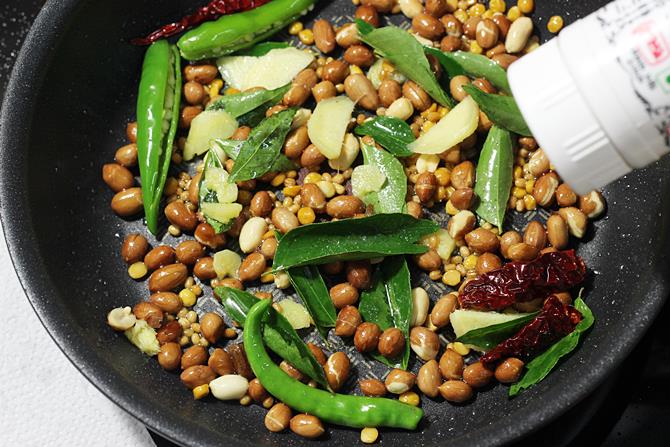 8. When the water evaporate completely, add this to the cooled lemon rice. Mix well.
Serve lemon rice with plain curd.