Badam milk recipe with video & step by step photos – Learn how to make badam milk or almond milk that's suitable to all including babies, kids and pregnant women. Almond milk is one of the most nutritious drinks for all age groups. Almonds are called as badam in Indian language. Badam milk has been traditionally consumed to energize the body, balance the mind, beat debility and improve over all health.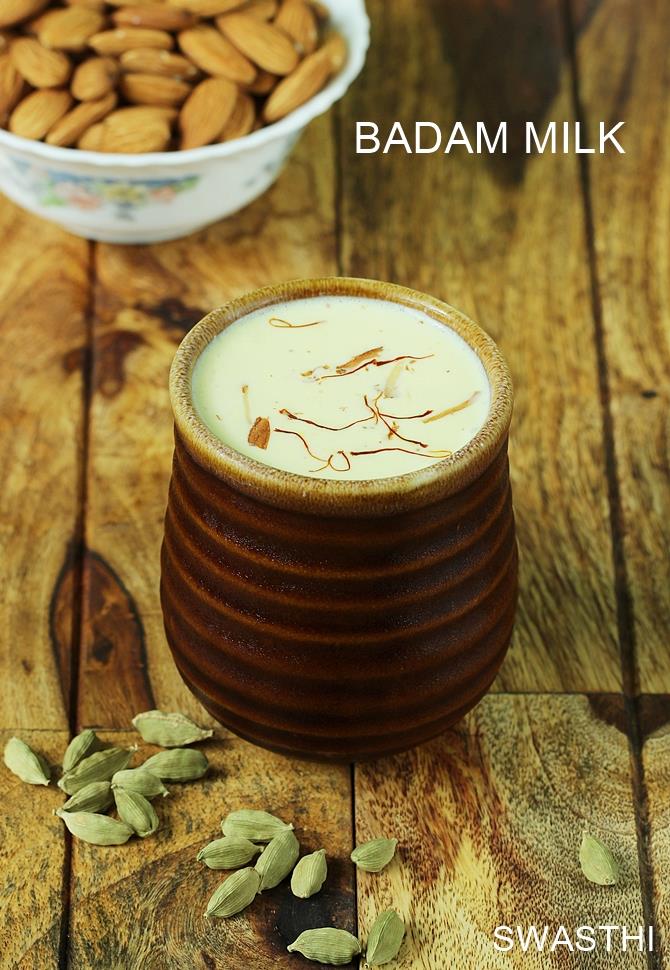 This Indian badam milk recipe is an age old traditional ayurvedic secret to build up immunity in kids, improve eye sight, build stronger bones, remove constipation, and provide adequate nutrition for picky/fussy eaters.
This traditional and ancient badam milk was made by soaking, blending and then adding it to boiled cow's milk. Soaking almonds not only enhances the taste of the nuts but also enhances the nutrition and boiavailabity.
Soaked almonds are easily digestible and nutrients are better absorbed by the body. Almond skin is said to aggravate pitta in the body and can lead to indigestion, so discarding the skin would be better.
I have also shared a recipe on making badam milk powder for making instant badam milk.
Similar recipes
Turmeric milk
Dry fruits milkshake
Chocolate milkshake
Banana milkshake
Raw almond milk recipe
Badam milk recipe or almond milk recipe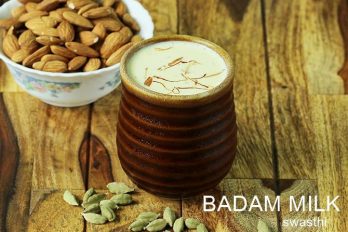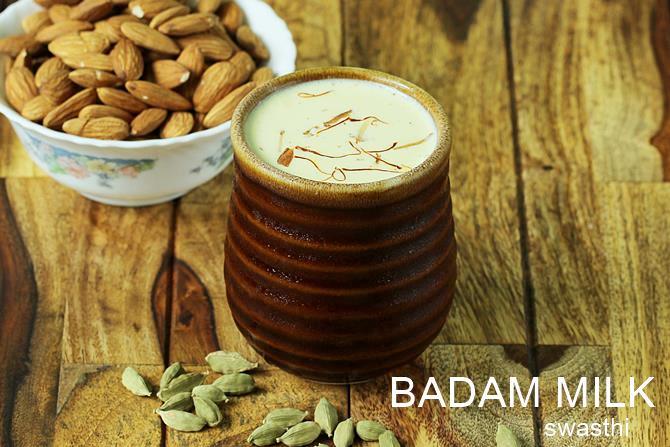 Badam milk recipe | How to make badam milk | Badam doodh recipe
An ayurvedic way to pamper ourselves with an healthy and nutritious drink. Badam milk is a traditional ayurvedic drink that nourishes the body.
Ingredients (240 ml cup used)
20 to 24

almonds

or badam

500

ml

Milk

or 2 cups

2

tsp

Sugar

(optional- skip for babies)

1

pinch

Saffron strands

(optional)

1/8

tsp

Green cardamom powder

or ealichi powder
How to make the recipe
Preparation for badam milk
Wash and soak almonds for at least 6 hours. Peel the skin.

crush saffron with the help of your fingers. Refrigerated saffron easily gets crushed and blends well with the milk.
How to make badam milk
Bring 2 cups of water or milk to a boil, add saffron, sugar and cardamom powder.

While the milk boils, blend the almonds with little water to a smooth paste. you can as well blend sugar saffron cardamom and almonds to a smooth paste.

Add this to the boiling milk.

Simmer for 2 minutes. off the heat.

Let the temperature come down to warm before you serve. If you are serving it to a little kid, you may need to filter to remove the coarse granules. This is optional and depends on your blender.
Recipe Video
Video of badam milk recipe
Nutrition Facts
Badam milk recipe | How to make badam milk | Badam doodh recipe
Amount Per Serving
Calories 226
Calories from Fat 117
% Daily Value*
Total Fat 13g 20%
Cholesterol 25mg 8%
Sodium 107mg 4%
Potassium 400mg 11%
Total Carbohydrates 18g 6%
Protein 10g 20%
* Percent Daily Values are based on a 2000 calorie diet.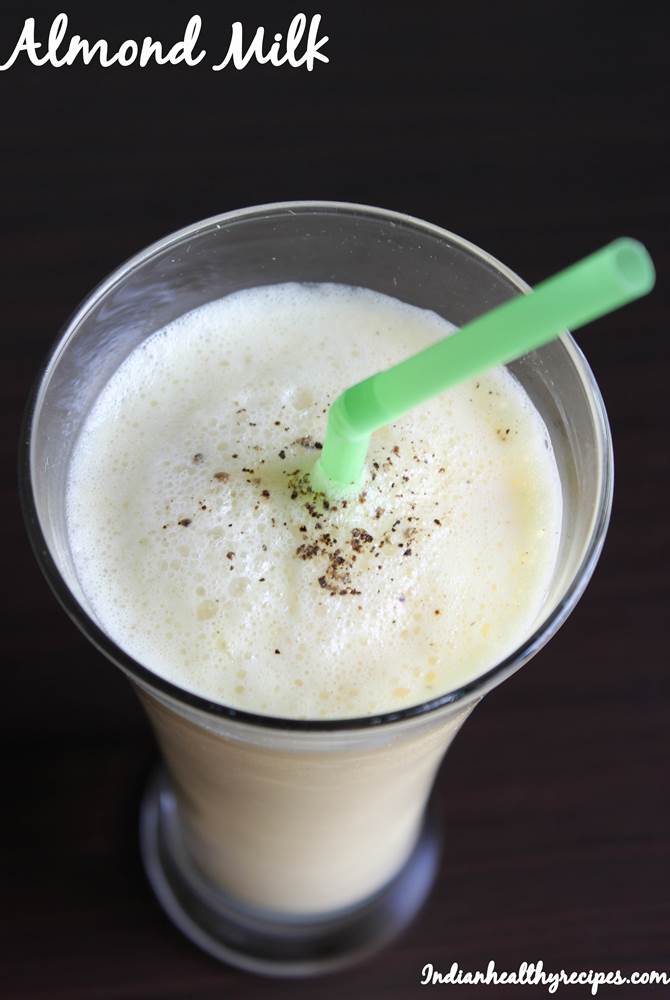 Disclaimer:This badam milk recipe is suitable for babies older than 12 months. It is a generalized recipe for babies, toddlers, kids and for adults too. I suggest avoiding saffron, cow's milk unless the baby is a year old. Please consult your pediatrician before you begin to serve this milk to your baby specially if your baby is allergic to certain foods. The garnishing that you see is a dash of pepper powder which is not suitable for babies and can be used after 18 months and above during winters to prevent accumulation of phlegm.
This recipe can easily be veganised. Just replace milk with water and add 1/2 to 1 tsp. of oats powder to make the milk thicker. Since milk contributes to mucus production, those with phlegm problems can add a pinch of pepper powder or dry ginger powder. Saffron is heating to the body and is used to treat colds and coughs. It expels mucus from the body. One must be cautious while using saffron, too much saffron can be poisonous.
Badam milk or almond milk makes a very good milk substitute for lactose intolerant kids. I started giving this milk to my younger son when he was 10 months old. He was doing well… No colic…..No constipation…..No loose stools. I had tried several formulas for him like NAN, Similac, Mamex gold, Friso etc., but ended up with lot of colic or loose stools. Though he is not lactose intolerant, he could not digest the formula milk because of synthetic nutrients in them. Almond milk (boiled only in water) was the best solution for all these problems. Since he was into eating solids and yogurt well, it did not impact him much.
How to make badam milk recipe or almond milk
1. Soak almond for 6 hours and peel the skin.
2. Bring the milk to a boil in a thick bottom pan/ vessel on a low to medium flame. add sugar, saffron and cardamom powder. If you do not wish to use milk, bring water to a boil, add sugar. If you wish you can skip saffron and cardamon
3. Grind almonds to smooth with little water or milk. Can add saffron, sugar, cardamom pow to the almonds alternately if not added at step 2. (remember smooth paste else it irritates the throat while drinking)
4. When the milk comes to a boil, pour the grinded almond mixture into the boiling milk.
5. Keep stiring else the milk can smell burnt. Let it boil for 2 to 3 mins.Switch off the stove.
6.Filter the milk to remove coarse granules, before you serve your child, if your blender cannot blend the almonds to a smooth paste. As some kids might throw up as the grains irritate the throat.
Serve warm or chilled. Keeps good if refrigerated for no more than 2 days.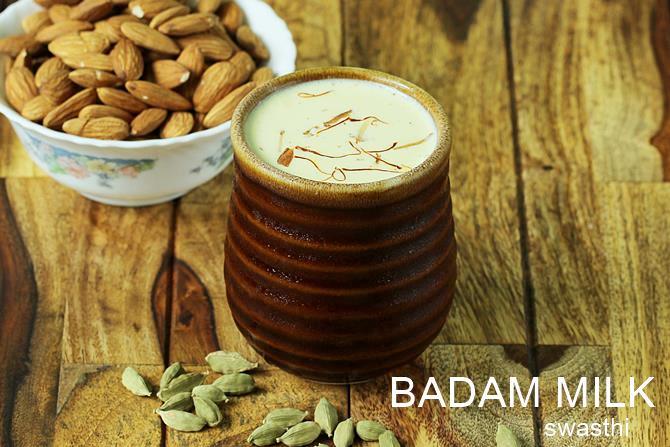 Serving Tips for kids and toddlers
* Tastes good when served with cornflakes or beaten rice (poha/ aval) or even with plain cooked rice and additional jaggery.
* Can use this milk to cook kheer /payasam /puddings.
* Can use this milk even for cooking chicken, baking moist cakes and muffins, which i will be posting shortly.
*Update:
* You can make the almond paste enough for a week and store it in the freezer in tiny boxes and defrost one per day in the refrigerator and use the following day to make fresh badam milk. This has worked out for few readers.