How to make aloe vera juice at home – This detailed post will help you to make your own aloe vera juice at home with simple and basic ingredients. Making juice at home is more hygienic & economical so we never drink any kind of juice either in eateries, cafes or juice bars. This aloe vera juice is one such beverage we drink at times when on a health spree.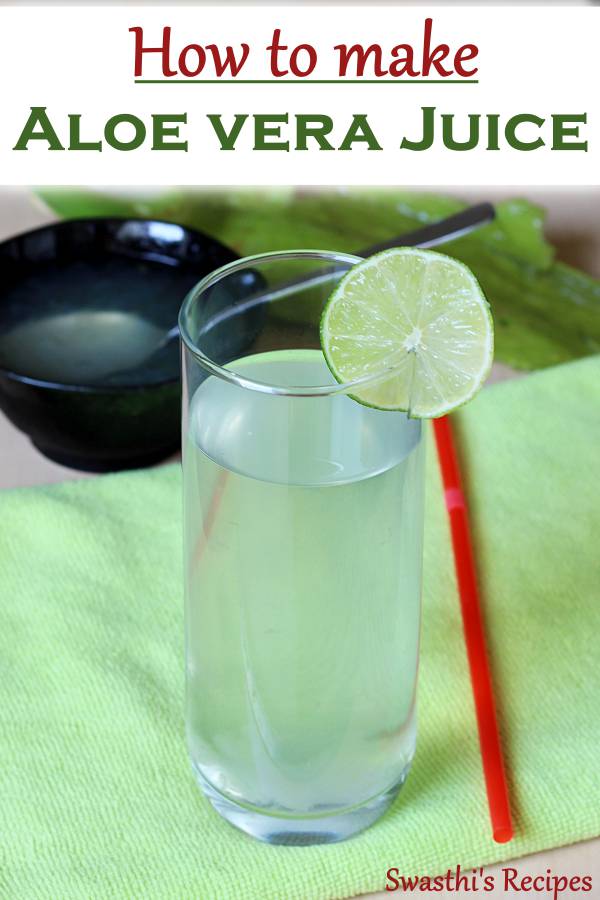 ---
Growing up I would see the middle aged and the elderly women in our neighborhood knock our doors asking for a leaf from the aloe Vera plants in our backyard.
My mum would always pamper these along with the Tulsi plants as both of these are considered to be great for the body and the environment.
When I began to make aloe vera juice, I made it from the fresh leaf as they are easily available in the food stores in Singapore. Since I was familiar with the leaf, identifying the correct one and using it the right way was very easy for me.
If you are not familiar with aloe vera then it is good to use the bottled gel readily available from a trusted brand.
So you can make the juice with either fresh aloe vera leaf or using store bought gel. In this post I have shared how to extract the aloe gel from the fresh leaf to make your aloe vera juice.
Preparation
1. Wash Aloe Vera leaf under running water to remove mud and dirt.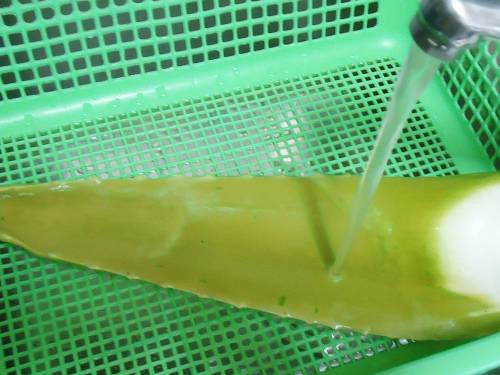 2. Dry it with an absorbent cloth and let the rind dry completely.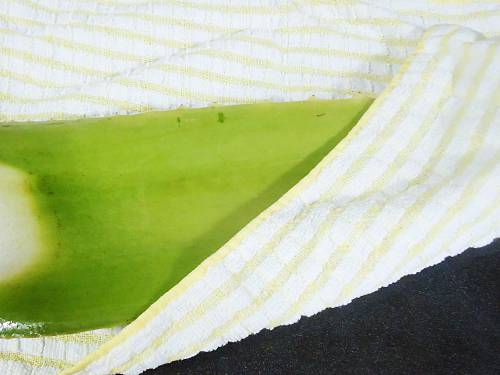 3. Take a kitchen scissor and cut down both the sides to remove the thorny parts.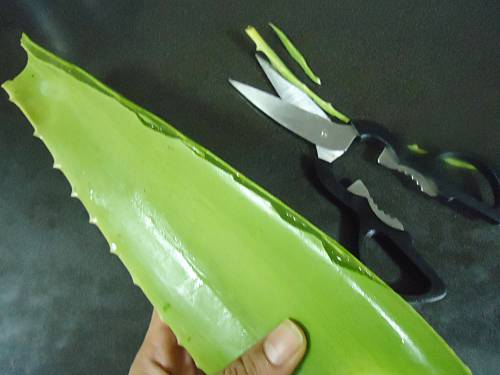 4. With a sharp knife, fillet the leaf to two. Gently scrape the gel to a bowl. The inner gel must look clear free from any yellow or green parts as these are highly toxic.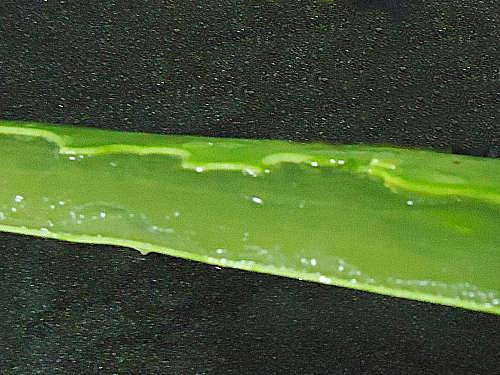 5. Fillet the gel with a knife or take a spoon and extract the gel. Make sure you don't scrape the rind at the bottom. You aloe vera gel has to be crystal clear & white in color without any green or yellowish rind.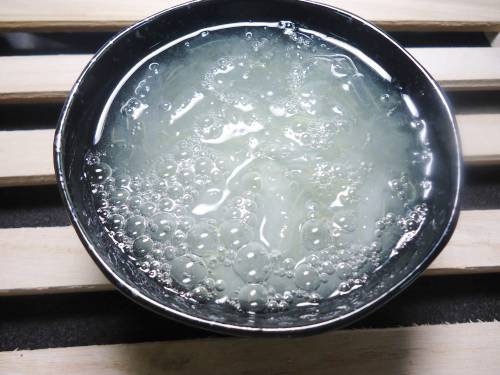 Important: Please do not use substance like this that is either greenish or yellowish as it is highly toxic and can cause stomach cramps.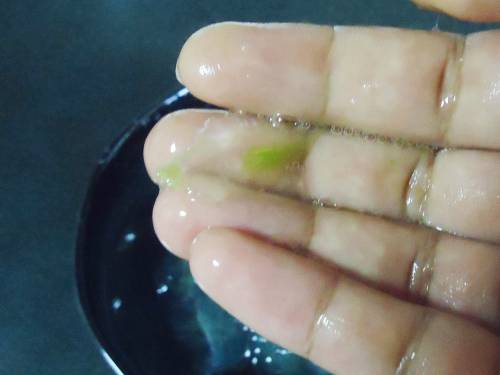 How to make aloe vera juice
Your gel is ready. Need ideas on how to use this? You can blend the recommended amount of aloe vera gel (as mentioned by your doctor) with plain water or with dates or with orange juice or with coconut water or barley water or with just lemon juice and add your desired sweetener. Absolutely refreshing, soothing and cooling.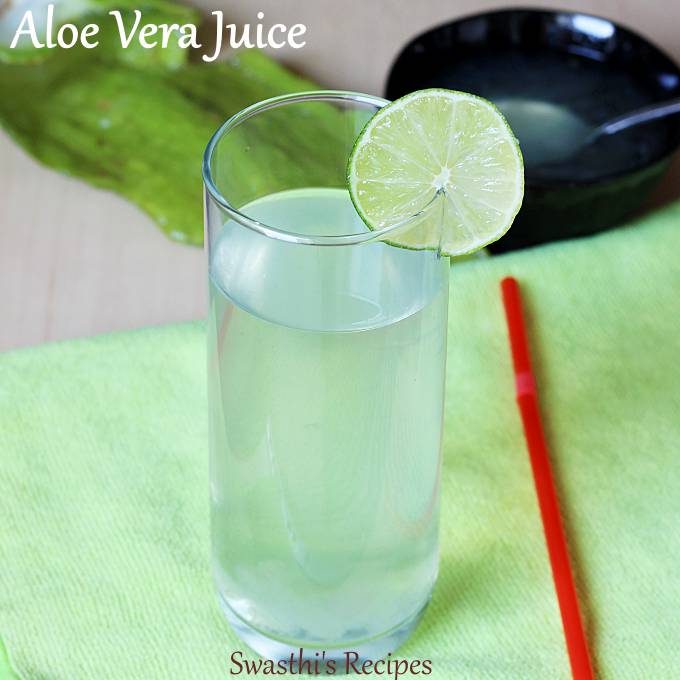 Tips to make aloe vera juice
1. Identify aloe vera: There are many varieties of aloe vera and it is very important to identify the correct one for consumption. Choosing the wrong kind can be extremely toxic to the body. If you do not know how to choose the leaf yourself then please buy the ready gel from a trusted brand.
Here is the picture of the one I used during 2013. These days many food stores sell organic aloe.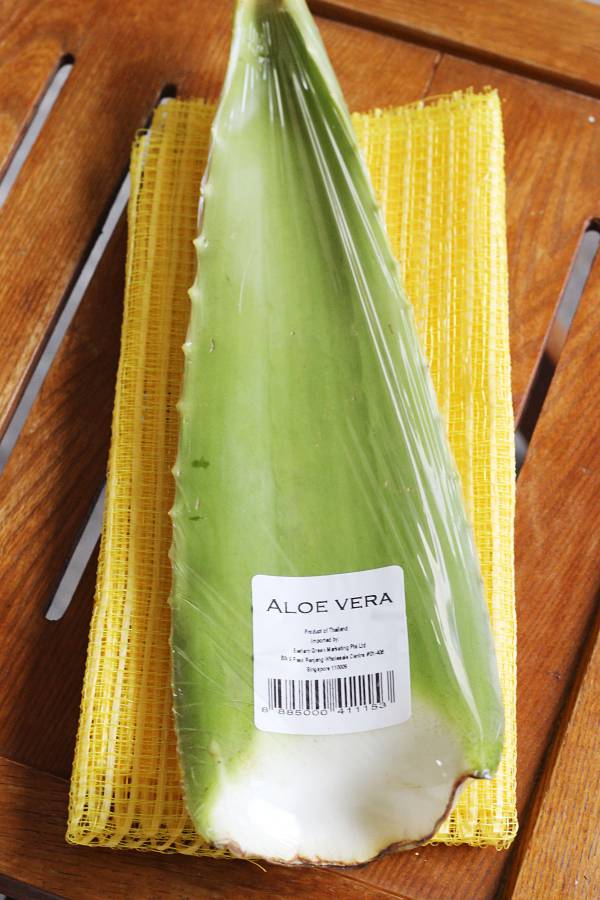 2. Identify the parts of the leaf : Only the gel in the leaf is edible and other parts are extremely toxic. So extracting the gel with utmost care is very important. You can check the step by step photos below on how to extract it properly.
3. How to use aloe vera: I usually add to smoothies & Fruit juices. There is no rocket science to make aloe vera juice. Just add it to lemonades or any fresh fruit juice like this pomegranate juice, carrot juice, orange juice, pear juice or apple juice etc.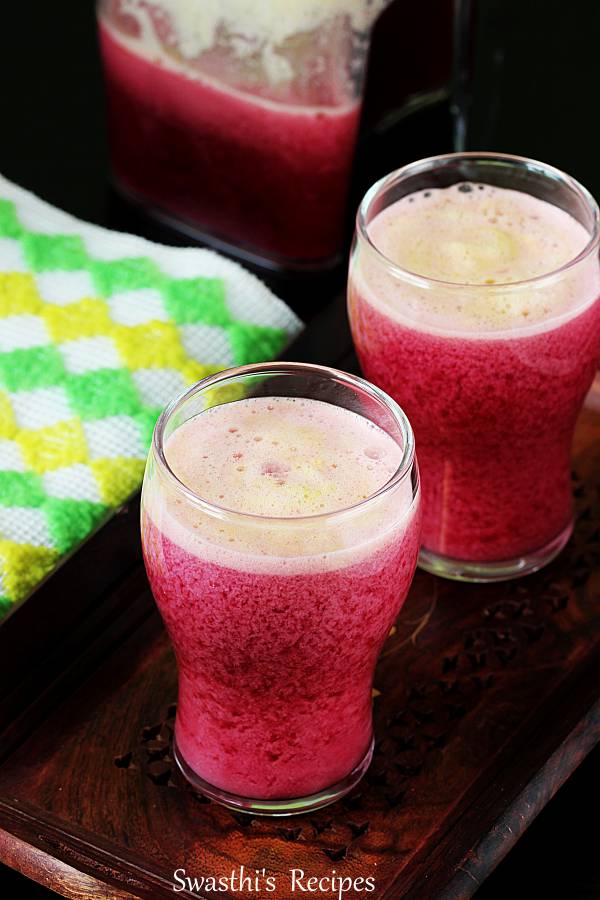 4. How long can you store the gel: If you like to extract the aloe vera gel and preserve it, remember that the extracted gel gets oxidized and medicinal benefits will be diminished within a short time, though you refrigerate it.
However if you think this is better than the bottled one that is sold in the stores, proceed with the steps mentioned below to make your homemade aloe vera juice or gel.
5. Test first : Many people may be allergic to aloe vera. So it is very important to consult your physician or Ayurvedic expert before you consume it. Then do a test by consuming only half a teaspoon of it.
For more healthy how to posts, check
how to make almond milk
how to make dry dates juice
how to make dates syrup
how to make barley water
How to make aloe vera juice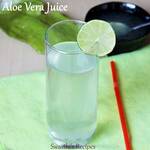 How to make aloe vera juice at home | Aloe vera juice recipe
Making aloe vera juice at home is simple, easy and economical. But consult your physician first before you consume it.
Pin Recipe
Print Recipe
For best results follow the step-by-step photos above the recipe card
Ingredients (US cup = 240ml )
To extract gel (optional)
to make juice
aloe vera gel

as suggested by your physician or ayuveda expert

1

cup

fruit juice

or lemonade or vegan smoothie (any)

sweetener

as desired

1

tbsp

lemon juice

as needed (optional)
Instructions
If you pluck a fresh aloe vera leaf from a plant then keep it aside for 1 hour. There is a yellow liquid that comes from the leaf which is toxic.

Wash aloe vera leaf under running water. Pat dry with a clean cloth.

Cut both the sides with a scissor and then fillet the leaf to 2 in the center. You will have 2 pieces.

Scrape off the white gel to a bowl ensuring there is no yellow or greenish rind in the gel.

This greenish or yellow rind is extremely toxic and is unfit for consumption.

The white gel has to be clear and not with specks of green or yellow rind in it.

Store the clear gel in a dry jar and refrigerate for further use. (read the complete post for details)

Add the gel as suggested by your physician or Ayurveda expert. I add 2 tsp gel to any fruit juice and blend.

Serve immediately as it oxidizes.
Notes
Disclaimer : Please consult a physician or Ayurveda expert before you include aloe vera in your diet. This post only covers details on how to extract aloe vera gel from the leaf along with ideas to use it in your juice.
Aloe vera can cause severe reactions so please consult your doctor before you drink it.
Nutrition values are approximations only.
Alternative quantities provided in the recipe card are for 1x only, original recipe.
For best results follow my detailed step-by-step photo instructions and tips above the recipe card.
NUTRITION INFO (estimation only)
Nutrition Facts
How to make aloe vera juice at home | Aloe vera juice recipe
Amount Per Serving
Calories 19
Calories from Fat 9
% Daily Value*
Fat 1g2%
Sodium 73mg3%
Carbohydrates 5g2%
Protein 1g2%
Vitamin C 5.8mg7%
Calcium 160mg16%
* Percent Daily Values are based on a 2000 calorie diet.