How to make aloe vera juice at home – Aloe vera juice recipe & simple ideas to include it in your diet. Aloe Vera is considered to have many medicinal benefits and has the ability to cure many ailments, right from small burns & cuts to detoxifying the body and building immunity. Though some say it is beneficial even in cancer treatments there is yet no scientific evidence on it.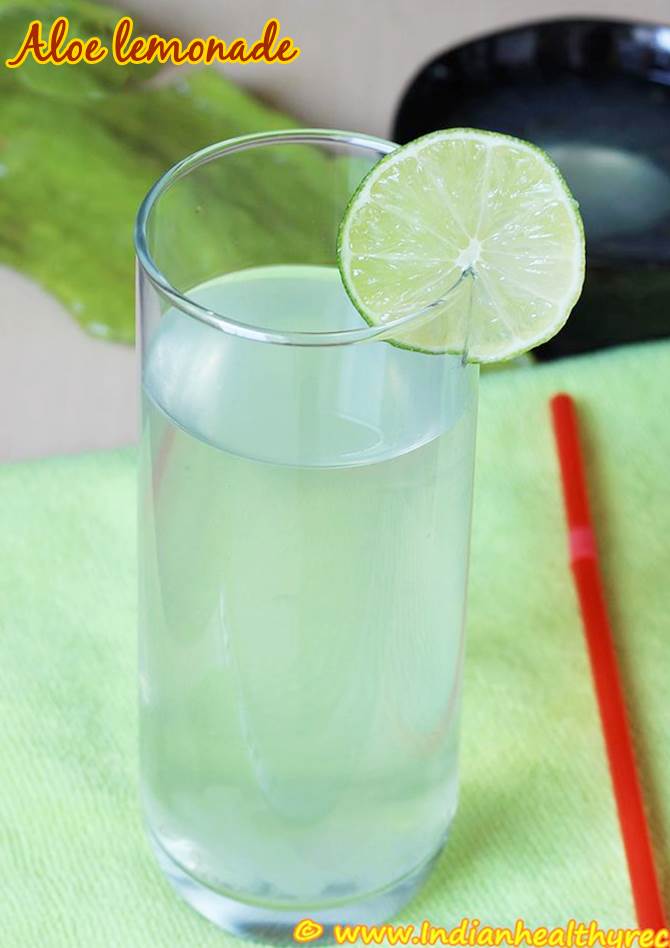 Aloe vera is highly alkaline and can reduce the acid in the body naturally. Human body tends to turn acidic due to diet or life style habits. A highly acidic body can cause many health issues including cancer. Aloe vera removes acid from our body and creates an alkaline environment where cancer and many other organisms cannot thrive.
Aloe Vera can be added to smoothies, Fruit juices or drinks, Wheatgrass shots and Fruit Wheatgrass juice. But before I proceed forward on how to extract the gel or make the juice, I would like to share with you some useful tips and info.
1. Aloe Vera has the ability to detoxify our body, but it doesn't mean it is not toxic. Aloe Vera leaf has a toxic part which has to be removed safely, properly & discarded, before you use the gel. Please read this article. I have heard many people make use of whole aloe Vera leaf including the rind to make curries and stir fries which is absolutely toxic. Sometimes can even lead to diarrhea and stomach cramps. If you are in the habit of making such curries, please avoid in future
2. Do not exceed 1 to 2 tsp of gel a day when taken internally. How long can this be taken safely? I suppose none of the herbal plants other than categorized as vegetables and fruits must be consumed for more than 5 to 7 days as they will result in unknown side effects.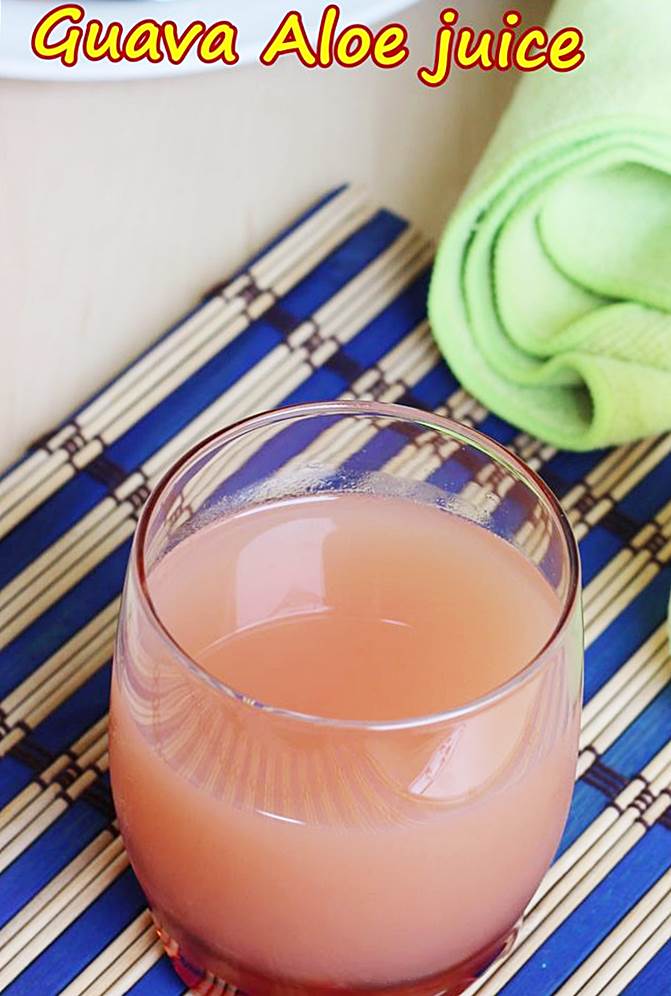 If you like to make your own gel and preserve it, remember that the extracted gel gets oxidized and medicinal benefits will be diminished within a short time, though you refrigerate it. However if you think this is better than the bottled one that is sold in the stores, proceed with the steps mentioned below to make your homemade aloe vera juice or gel.
If you have a cold press juicer, you can also add a piece of aloe vera to your juicer tube. Make sure you scrape off the skin or the rind of the leaf before using it.
How to make aloe vera juice recipe below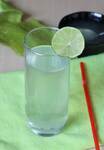 How to make aloe vera juice at home | Aloe vera juice recipe
Extract aloe vera from and make juice
Ingredients (1 cup = 240ml )
to make juice
2

tsp

aloe vera gel

1

cup

water

or any vegetable or fruit juice

sweetener

as desired

lemon juice

as needed (optional)
How to make the recipe
Wash aloe vera leaf. pat dry with a cloth

Slit one of the edges with a scissor and open up the outer layer.

Scoop off the gel, discard any greenish gel.

Store it in a dry jar and refregerate for further use. (read the complete post for details)

Add 2 tsp gel to any fruit juice and blend.

Serve immediately.
NUTRITION
Calories:
6
kcal
|
Sodium:
15
mg
Notes
Please read the entire post
For more healthy how to posts, check
how to make almond milk
how to make dry dates juice
how to make dates syrup
how to make barley water
How to make aloe vera juice with step by step pictures
1. Wash Aloe Vera leaf under running water to remove mud and dirt.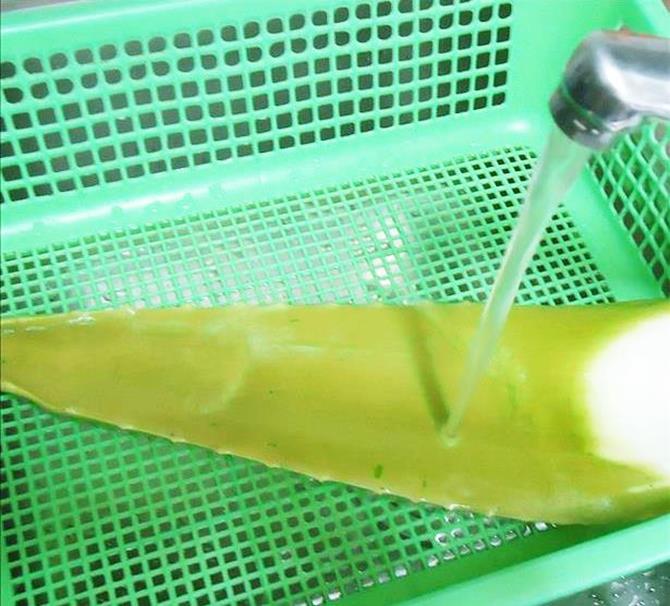 2. Dry it with an absorbent cloth and let the rind dry completely.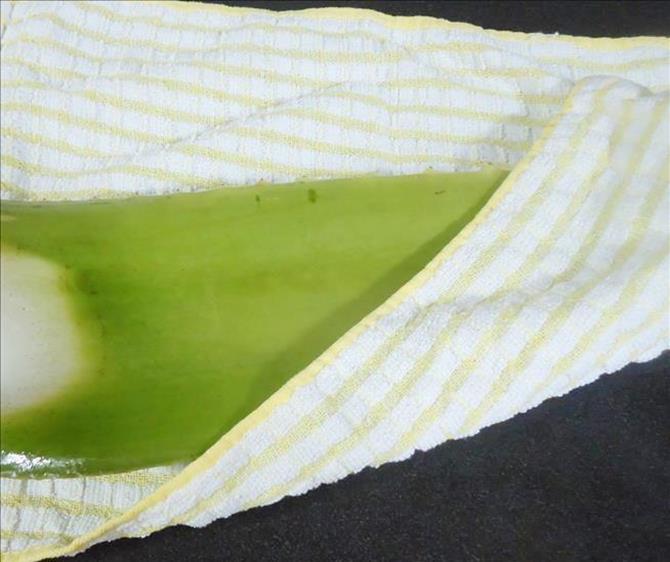 3. Take a kitchen scissor and cut down the edges to remove the thorny parts and to open up the leaf.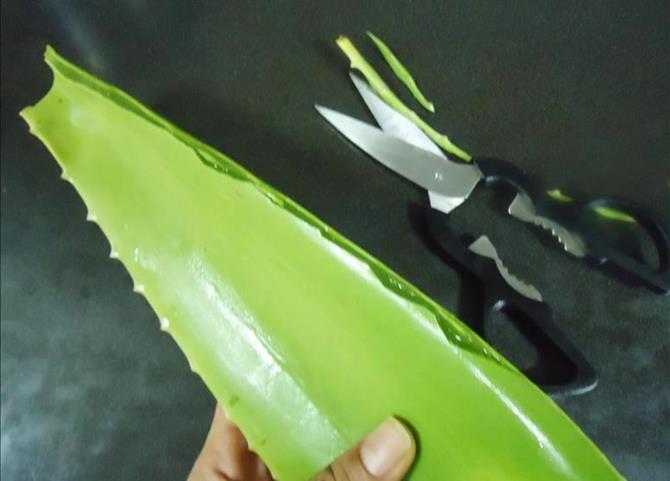 4. With a sharp knife, you can remove the rind on one side, along with the inner yellowish part. The inner gel must look clear free from any yellow or green parts, if you see just scrape them off.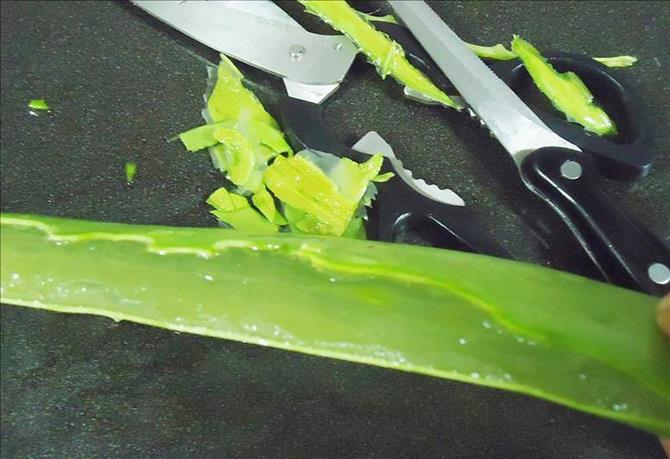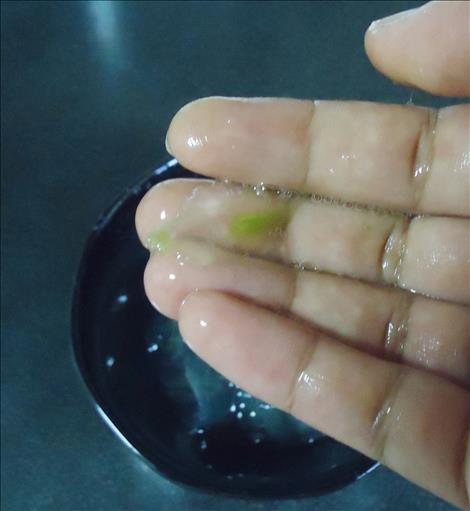 5. Fillet the gel with a knife or take a spoon and extract the gel. Make sure you don't scrape the rind at the bottom.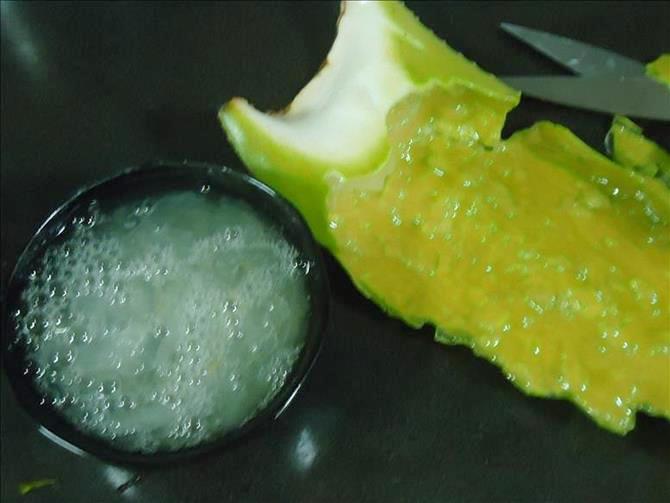 Your gel is ready. Need ideas on how to use this? You can blend 2 tsps. of this gel with plain water or with dates or with orange juice or with coconut water or barley water or with just lemon juice and add your desired sweetener. Absolutely refreshing, soothing and cooling.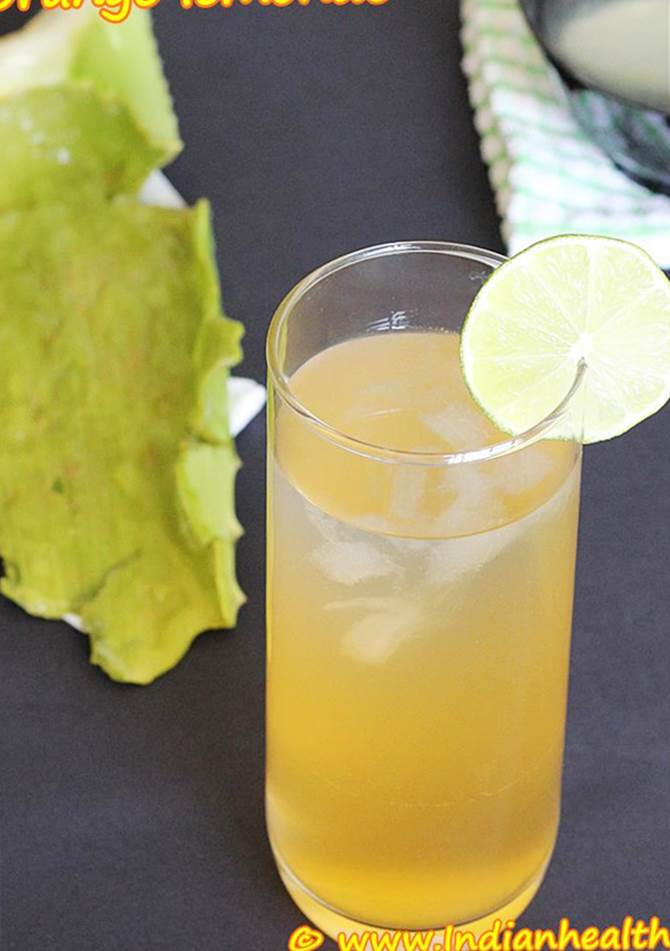 If you have a aloe Vera plant in your back yard, raid it this summer to grab the health benefits and to keep your body super cool.
Note: Some people could be allergic to aloe Vera