Veg biryani recipe with pot, pressure cooker & Instant pot options. Vegetable biryani is an aromatic rice dish made by cooking basmati rice with mix veggies, herbs & biryani spices. Traditionally Biryani was made by dum cooking marinated meat with basmati rice & spices. Making a vegetarian version becomes much simpler as the veggies need no marination.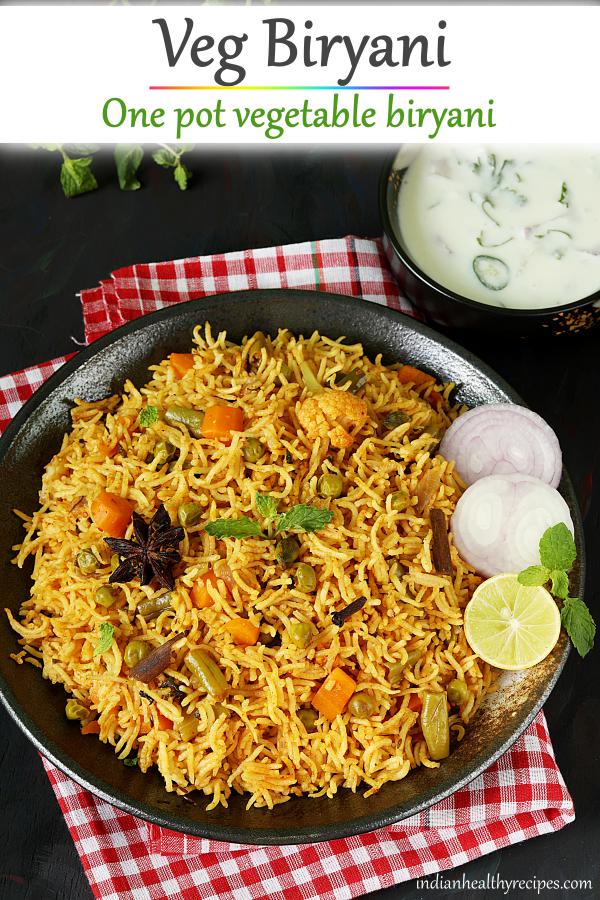 I have shared 2 recipes in this post. First one is a home style dish and the second one is a restaurant vegetable biryani. Scroll down to the end of the post to find the second one.
This recipe yields a perfect lightly spiced & aromatic veg biryani loaded with veggies. It only takes 30 minutes to prepare & makes a perfect meal for your entire family. It's kids' friendly and also goes well in the office & school lunch boxes.
This veg biryani can be made in a regular pot, traditional pressure cooker or even in a Instant pot. This recipe is one that's made at home time and again for years. So I have the instructions for all the 3 methods.
If you have the time and patience to make a elaborate dum biriyani, then you may try this delicious Veg dum biryani. Usually a dum biryani takes more time to prepare and cook. So often I resort to this simple one pot vegetable biryani.
The difference between this one pot dish and a veg pulao is that there is no yogurt and spice powders used to make a pulao. But both are used in a biryani recipe.
It is flavorful on its own and can be served without any side dishes. On occasions I do make them with a simple dish like sherva/ shorba, bagara baingan, mirchi ka salan or raita. You can find a collection of raita recipes here.
For a complete meal serve vegetable biryani with shorba, raita or lassi & papads.
More similar biryani recipes
Chicken biryani
Egg biryani
Kuska or plain biryani
Preparation
1. Add 1 cup basmati rice to a bowl and rinse well a few times until the water runs clear. Soak it for 20 to 30 minutes. Meanwhile rinse and chop vegetables & herbs. After 20 to 30 mins, drain the water from the basmati rice completely & keep aside.
How to make veg biryani
You will see double the quantity of all ingredients in the pictures as I had doubled the recipe.
2. Heat a pressure cooker with 1½ to 2 tablespoons oil or ghee. Add whole spices
1 bay leaf
1 inch cinnamon
3 green cardamom
3 cloves
½ teaspoon shahi jeera (or cumin seeds)
1 star anise (optional, but recommended)
1 strand mace (optional)
little stone flower (optional)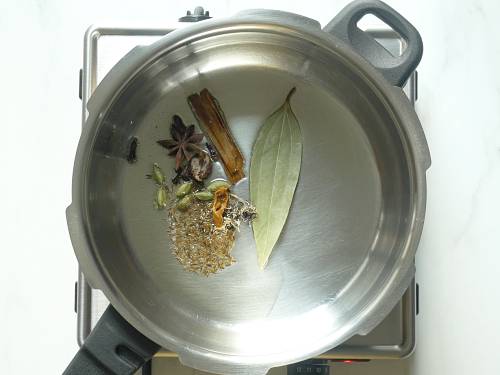 3. When the spices begin to crackle, add 1 sliced onion (½ cup) and 1 chopped green chili. On a medium heat, saute until the onions turn deep golden. Keep stirring often to fry evenly.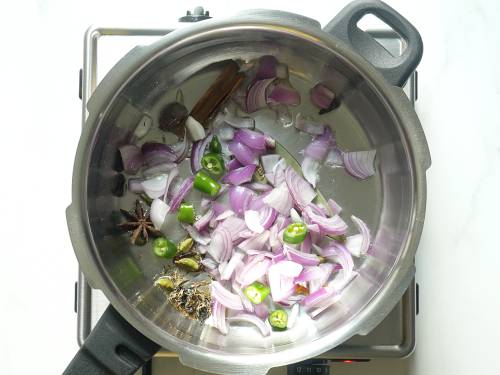 4. Next add 1 teaspoon ginger garlic paste. Saute this for 1 to 2 minutes or until the raw smell goes off.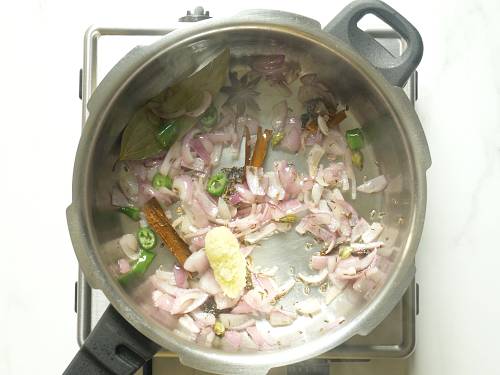 Frying veggies for veg biryani
5. Transfer 1 cup chopped mix veggies. Saute on a medium to high flame for 2 to 3 minutes. I have used potato, peas, onions, carrots, cauliflower and french beans.
You can also add soya chunks if you like. To add soya chunks, soak them in hot water until soft. Squeeze up the water. Rinse a few times and squeeze them completely. Then add here.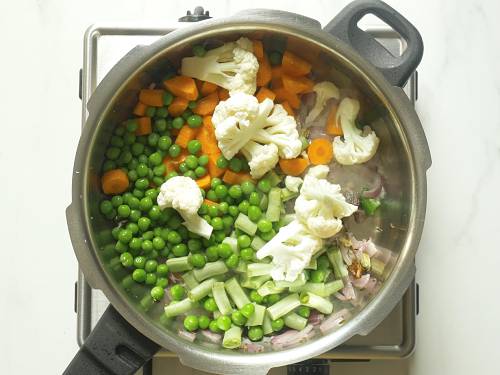 6. Next add the following
2 tablespoons mint leaves (pudina)
2 tablespoons coriander leaves
½ teaspoon red chilli powder
1/8 teaspoon turmeric
1/8 teaspoon salt
¾ to 1 teaspoon garam masala (or biryani masala powder)
1 small finely chopped tomato (optional)
3 tablespoons yogurt (curd or dahi).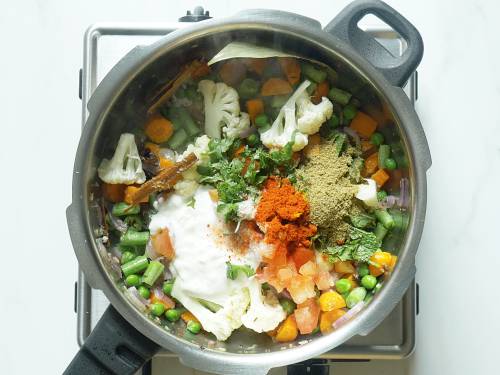 7. Mix and fry again for another 2 to 3 minutes on a slightly high flame until the tomatoes break down. Do not burn it. The mixture turns aromatic after frying. Regulate the flame to low and spread the veggies to a single even layer.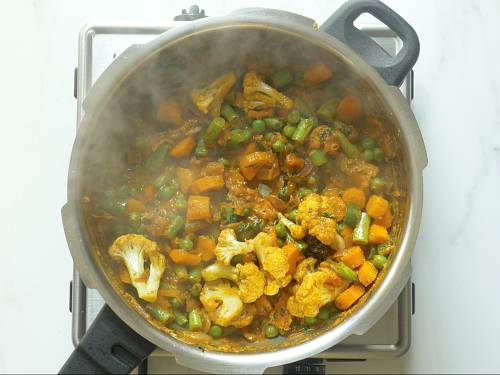 Cooking vegetable biryani
8. Add the drained rice. Spread it evenly to another layer.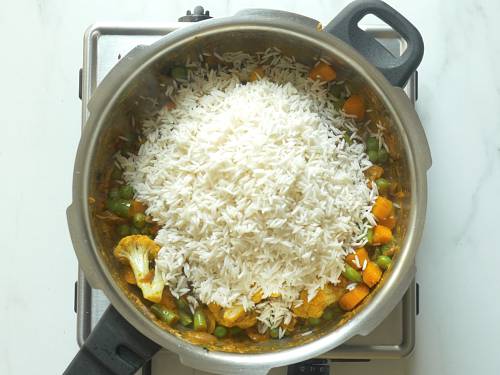 9. Pour water to a separate bowl and add ¼ teaspoon salt. Mix and taste test the water. It has to be slightly salty. If needed add more salt. Pour the salted water around the edges of the pot or cooker. Level the rice. This method gives you layered vegetable biryani. (check video to understand)
OR you can also just pour the water and mix everything and cook.
You will need 1¾ cups water for cooker, 2 cups for regular pot.
Optional : You can also add a tbsp of ghee, sprinkle some fried onions and then 1 pinch of saffron soaked in 2 tbsps milk.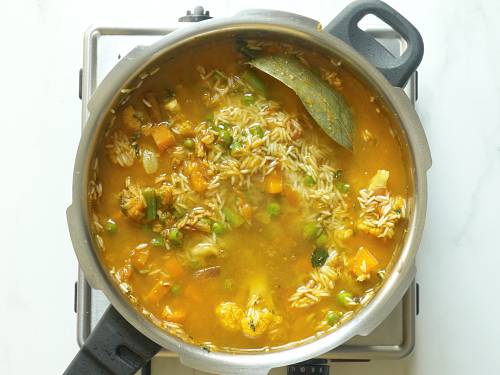 10. Cover the pot or pressure cooker with the lid.
Pressure cooker – Cook on a medium high flame for one whistle.
To cook in pot – cook on a low heat until all of the water is absorbed and the rice if cooked fully. Once done turn off and rest for 15 minutes.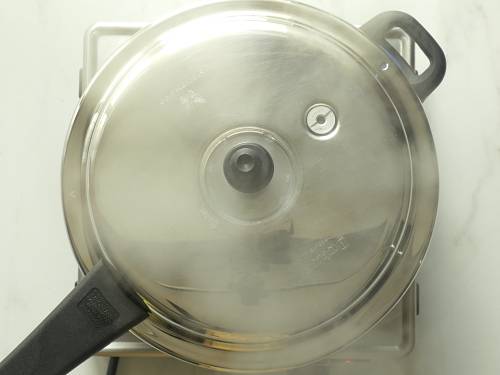 11. When made in pressure cooker, I manually release the pressure with the help of a wooden spoon after 1 to 2 mins.When the pressure releases, open the lid. Lastly gently fluff up the vegetable biryani with a fork. Let it cool down a bit and then squeeze lemon juice if desired. Do not stir it vigorously otherwise biryani will turn mushy.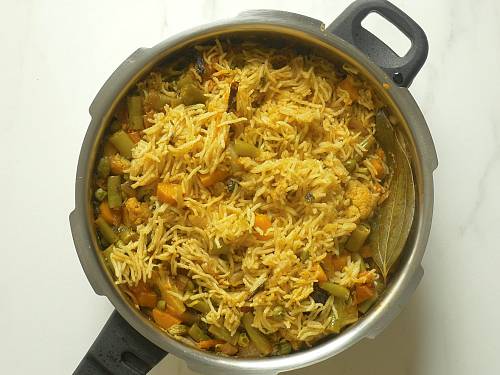 Serve veg biryani with raita or biryani gravy.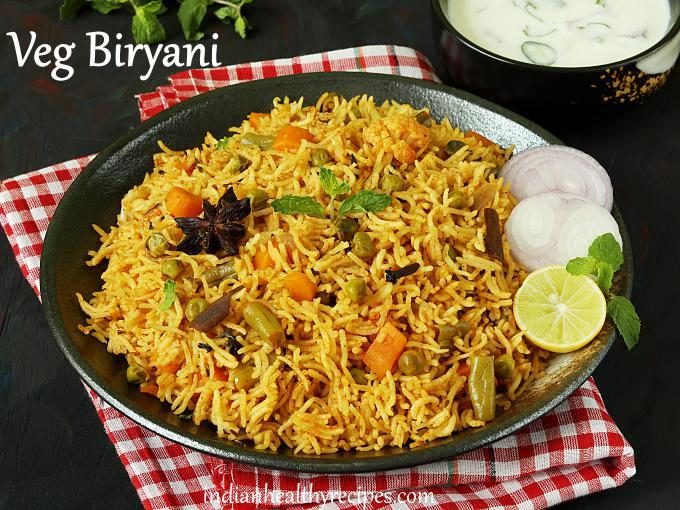 Recipe 2 – Vegetable biryani
Most restaurants serve vegetable biryani that is not dum cooked since it is not economical to make it in large quantities. So they come up with so many quick versions of serving biryani to the customers. This is at least true in South India and even in Singapore especially when it is vegetable biryani.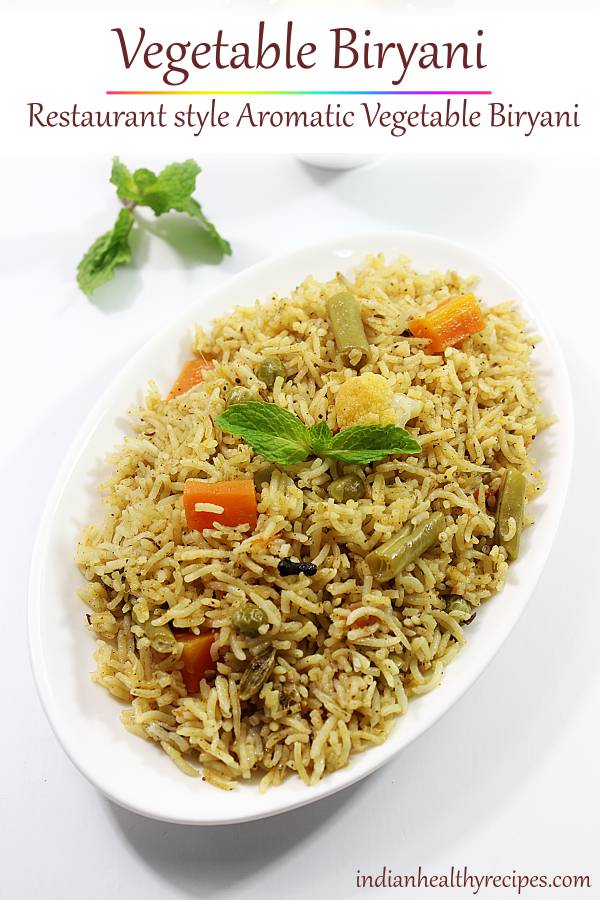 The most common method used is to make a very good vegetable gravy in bulk and cook the basmati rice in bulk. When ever they get orders, they either layer or mix the vegetable gravy with the al dente cooked rice and serve. There is no dum process involved yet they taste great and very aromatic.
This is one such easy recipe, that is very flavorful and tasty. It includes fresh ground masala paste and masala powder. I have posted several vegetable biryani recipes on this blog each with their own specialty. But this recipe is a keeper for its simplicity, great taste and amazing aroma.
Restuarant style vegetable biryani
Restaurant style vegetable biryani made with fragrant basmati rice, yogurt, spices & mixed vegetables. This recipe will give you one of the best vegetable biryani.
Prep Time: 12 minutes
Cook Time: 38 minutes
Total Time: 50 minutes
Servings 4
Author: Swasthi
Ingredients
To powder
2 pinch nutmeg (or jaiphal)
4 to 5 cardamoms (or elaichi)
½ tsp Pepper corn
5 to 6 cloves (or laung)
2 inch cinnamon piece or dalchini
1 tsp fennel seeds or saunf
½ tsp stone flower (optional) ( kalapasi / dagad phool)
To make a fine paste
handful mint leaves (or pudina)
handful coriander leaves or cilantro
1 inch ginger
3 large garlic or 6 small cloves
2 green chilies
1 large onion cubed
To temper
1 bay leaf (or tej patta)
1 small black cardamom optional
4 green cardamoms (or elaichi)
4 cloves (or laung)
1 small Cinnamon (or dalchini)
1 Star anise (or biryani flower)
1 strand mace (or javitri)
½ tsp shahi jeera
Other ingredients
2 cups mixed vegetables chopped (carrots, beans, cauliflower,peas)
2 cups aged basmati rice
3 ½ cups water (or coconut milk or broth)
3 tbsp Oil (or ghee)
Salt as needed
1/8 tsp turmeric
¼ tsp red chili powder
1 medium tomato
½ cup yogurt (or curd)
1 tsp kewra or rose water (skip if you don't have)
Preparation for vegetable biryani
Soak rice for at least 20 mins.
Wash vegetables under running water. Drain the water chop them to bite sized pieces.
Chop tomatoes, slice onions, and slit chili. Keep them aside for later use.
Wash mint and coriander leaves in lot of water. Set them to drain.
Powder all the ingredients mentioned under "To powder" in a blender. Make a fine powder. Keep it aside.
Add green chilies, onions, mint, coriander leaves, ginger and garlic to a blender jar. Then make a fine paste.
How to make vegetable biryani
Drain the soaked rice in a colander. Ensure there is no water left in the rice.
Heat a heavy bottom pan with oil. Add dry spices and sauté till they begin to sizzle
Add the ground paste and fry for about 3 to 4 minutes
Add tomatoes, yogurt, red chili powder, turmeric and salt.
Cook or fry till the tomatoes turn soft. If needed cover the pan and cook till the tomatoes soft. Fry till the oil begins to leave the sides of the pan.
Add powdered masala and fry till it becomes fragrant
Transfer carrots, peas, cauliflower and beans. Fry for 3 to 4 minutes
Next pour water and adjust salt. Check the salt, the water must be slightly salty. Bring it to a rapid boil, not just hot.
Add rice to the boiling water. Then cook till very little water is left. Stir occasionally. At this stage the rice is under cooked or 3/4 cooked. Drizzle the rose water or kewra water. Cover the pot with a tight lid.
If cooking in a pot:
Cook on a low flame till rice is fully cooked. Stir everything well. Cover. Then switch off the stove and keep covered. Do not open the lid for at least 15 to 20 minutes.
For the dum:(optional)
Place the boiling rice pot on a hot tawa and then cook for about 10 minutes. Turn off the stove and leave it on the tawa for some more time.
If using pressure cooker: (optional)
Close the pressure cooker lid and cook for about 5 minutes on a low flame. Do not let the cooker whistle. Off the stove. Fluff up the rice after 20 minutes.
Serving
Leave the biryani pot undisturbed for at least 20 minutes. Open the lid just before you serve to retain the flavors
Serve vegetable biryani with raita and lemon wedges
Related Recipes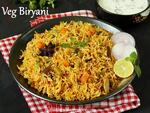 Veg biryani recipe | How to make vegetable biryani
veg biryani is an aromatic rice dish made with basmati rice, spices & mixed veggies. This quick recipe will give you a flavorful vegetable biryani that you can make just under 30 mins. Recipe instructions for IP, pressure cooker & pot.
Pin Recipe
Print Recipe
For best results follow the step-by-step photos above the recipe card
Ingredients (US cup = 240ml )
1

cup

basmati rice

(soaked for at least 20 mins)

1

medium

onion

(½ cup thinly sliced)

1

green chili

(slit or chopped) (skip for kids)

1

teaspoon

ginger garlic paste

2

tablespoons

mint leaves

chopped (pudina)

2

tablespoons

coriander leaves

chopped (cilantro)

½

teaspoon

red chilli powder

(or paprika, adjust to taste)

¼

teaspoon

turmeric

¾ to 1

teaspoon

garam masala

(adjust to taste) or Biryani Masala Powder

1

small

tomato

(optional) chopped

1¾

cups

water

or thin coconut milk (1¼ cups water for IP, 2 cups for regular pot)

1½ to 2

tablespoons

Oil

(or ghee)

3

tablespoon

curd or yogurt

⅛

teaspoon

salt for veggies

+ ¼ tsp for water
1 cup mixed vegetables
1

small

potato or beans

cubed

1

medium

carrot

chopped (gajar)

⅓

cup

green peas

(matar)
Whole spices for vegetable biryani
1

bay leaf

(tej patta)

1

inch

cinnamon

(dalchini)

3

cloves

( laung)

3

green cardamoms

(elaichi)

½

teaspoon

shahi jeera

(or cumin seeds)

1

star anise

(optional, but recommended)
For garnish & serving
10

fried cashews

for garnish (optional)

1

tablespoon

lemon juice

(optional)
Instructions
Preparation for veg biryani
Soak rice for at least 20 minutes. Drain the water and set aside.

Chop all the veggies, coriander and mint leaves. Keep these aside as well.

If using cauliflower keep them slightly larger.
How to make veg biryani
Add oil to a hot pressure cooker or heavy bottom pot.

Next add bay leaf, star anise, shahi jeera, cloves, cardamoms & cinnamon. Saute for 1 to 2 mins.

Add sliced onions and slit green chilies. Fry them stirring often until the onions turn evenly golden or light brown.

Next add ginger garlic paste and saute for about a minute or until the raw smell has gone off.

Add all the chopped vegetables and fry for about 2 minutes.

Next add tomatoes, ⅛ teaspoon salt, yogurt, coriander leaves, mint leaves,red chilli powder, turmeric and garam masala.

Mix all of these and fry on a high flame for 2 to 3 mins. The tomatoes should break down completely and the raw smell disappear.

Reduce the flame to low. Drain the water from the rice completely and spread it in a layer evenly over the veggies.

Measure the water or coconut milk to a separate bowl & add ¼ tsp salt. Mix well and taste the water. It has to be slightly salty.

Pour the salted water across the sides or edges of the pot.

If you do not mix up everything then the veg biryani will cook in layers. (However you can also mix up everything and cook just like it is done normally.)

Optional – Sprinkle 1 tsp ghee, 2 tbsps chopped mint leaves, handful of fried onions & saffron soaked milk. (refer notes)

For pressure cooking: Cover the cooker and pressure cook for 1 whistle on a medium high flame.Turn off the stove. For al dente non mushy veg biryani, I release the pressure manually after 1 to 2 mins using a wooden spatula. When the pressure releases, open the lid and fluff up veg biryani with a fork.

If cooking in a pot, cook covered on a low flame until the water is absorbed and the veg biryani is cooked fully. Turn off the stove & rest for 15 mins. Serve veg biryani with raita or salan.

Optionally squeeze lemon juice while serving.
Instant pot vegetable biryani
Press the SAUTE button on your IP and pour oil or ghee to the steel insert.

Add thinly sliced onions. Spread them to a single layer and saute occasionally until uniformly deep golden. Remove half of these and set aside for later.

Then add the whole spices and green chili. Then add the ginger garlic paste and saute until a nice smell comes out.

Add tomatoes, chopped veggies, mint, coriander leaves and sprinkle ⅛ teaspoon salt. Saute until the tomatoes breakdown. This takes about 1 to 2 mins.

Stir in the garam masala and red chilli powder.

Press CANCEL button & add yogurt. Deglaze by scraping the bottom of the pot with a spatula. This releases any bits of food stuck there.

Spread the veggies to a single layer. Next layer the drained rice and level it.

In another bowl, stir in ¼ teaspoon salt & 1¼ cup water and taste it. It has to be slightly salty. If needed add more.

Pour the water starting from the sides and then in the center. Do not mix. Ensure all of the rice is under the water.

Secure the IP with the lid. Position the steam release valve to sealing position.

Press pressure cook/ manual (set to high pressure) & set the timer for 5 mins. If you double or triple the recipe then set to low pressure with the same cook time. (Alternately you can pressure cook for 4 mins on high pressure setting and wait for 8 mins. Then release the rest manually.)

When the IP finishes, for aldente cooked vegetable biryani quick release the pressure manually. For softer rice, wait for 5 to 7 mins (natural pressure release) and then release the rest manually with the help of a spoon. Garnish with fried onions. Serve with Raita.
Notes
2x of this recipe has been tested & retested countless number of times in a 6 QT Instant pot. It can throw a burn sign if you use lots of potatoes. Measure the veggies in cups for accurate results.
To double the recipe, use 1 bay leaf, 1 star anise, 6 cardamoms, 6 cloves, 2 inch cinnamon & 3/4 tsp shahi jeera or cumin seeds.
You can pour 1 tbsp ghee, 1 pinch of saffron (7 to 8 threads) soaked in 2 tbsps milk and 2 tbsps of fried onions after pouring water to the cooker or pot.
If you wish to garnish with fried cashews, fry them first in the same oil or ghee before you begin making the biryani. Keep them aside and garnish later.
Troubleshooting tip: If rice is not cooked fully, just sprinkle some water and cover with a loose lid and cook for few more mins.
If it becomes mushy, reduce the qty of water the next time you cook.
You can use store bought biryani masala powder. Using too much of masala powder can make your veg biryani bitter. So adjust the powder according to your taste.
You can also use frozen mixed veggies like carrots, beans, peas & corn. Or any of these. It is good to rinse them and then drain completely or let them come to room temperature before using. Using cold veggies directly may let out excess moisture and make the biryani mushy.
For 2x recipe, use 3 tbsps oil. For 3x recipe, use 4 tbsps oil. Once done, if your rice turns out too dry, sprinkle some ghee on top and mix gently.
Alternative quantities provided in the recipe card are for 1x only, original recipe.
For best results follow my detailed step-by-step photo instructions and tips above the recipe card.
NUTRITION INFO (estimation only)
Nutrition Facts
Veg biryani recipe | How to make vegetable biryani
Amount Per Serving (1 g)
Calories 420
Calories from Fat 99
% Daily Value*
Fat 11g17%
Sodium 96mg4%
Potassium 413mg12%
Carbohydrates 70g23%
Protein 7g14%
Vitamin A 115IU2%
Vitamin C 16.7mg20%
Calcium 67mg7%
Iron 3.6mg20%
* Percent Daily Values are based on a 2000 calorie diet.