Vinayaka Chavithi Recipes – 2023
Vinayaka Chavithi, as it is known in Andhra Pradesh and Telangana, is a Hindu festival celebrated every year in the name of Lord Vinayaka. This year Vinayaka Chavithi is celebrated on 19th September 2023. Known by 108 various names, such as Ganesha, Vigneshwara & Ganapati, this Elephant-headed God's birthday is celebrated in the South Indian states as Vinayaka Chavithi, Vinayagar Chaturthi & Pillayar Chaturthi.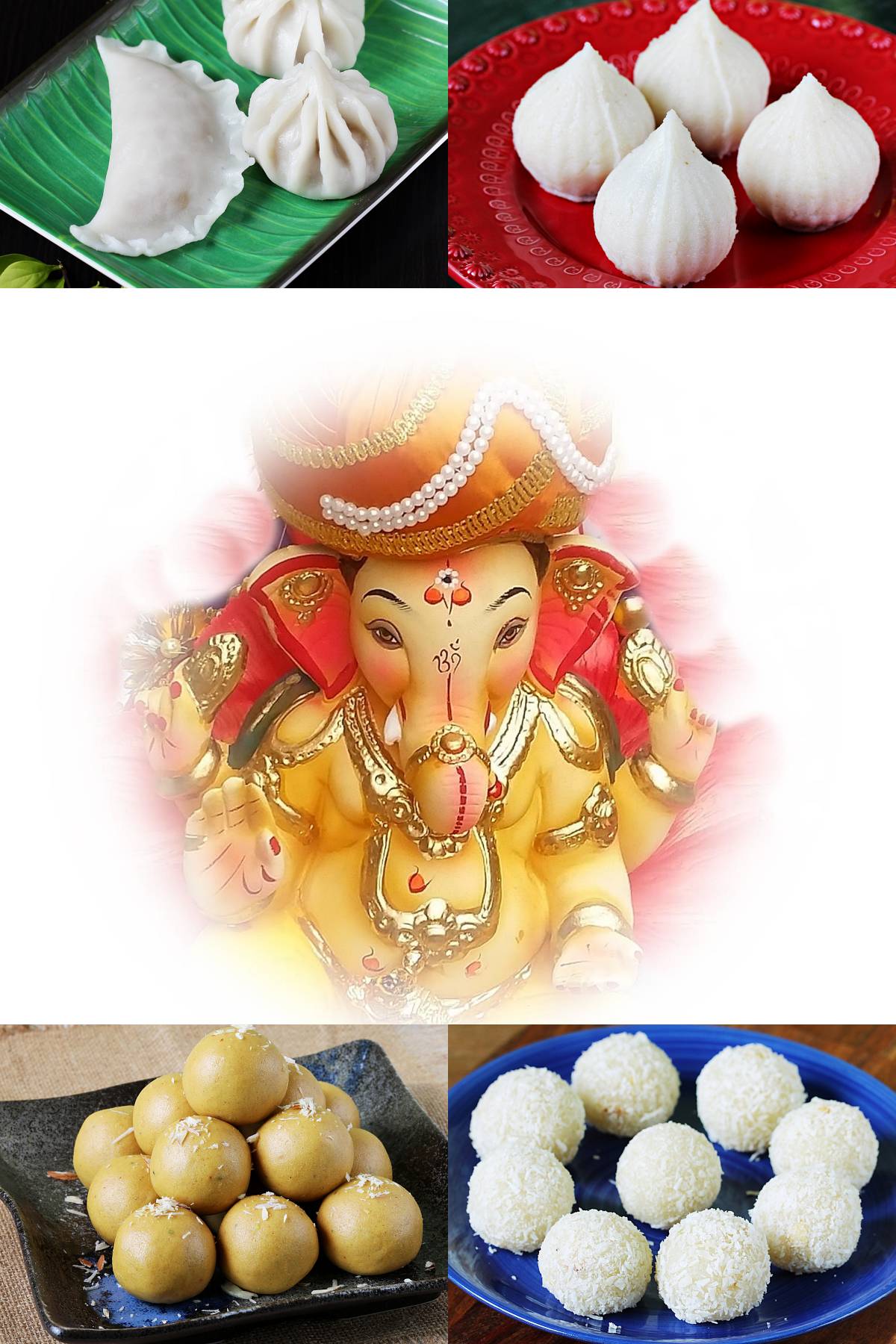 Vinayaka Chavithi
Everywhere else, the same is celebrated as Ganesh Chaturthi. This 10-day festival is rejoiced with immense devotion and grandeur not only in the Households but also in the Community places.
Lord Ganesha, the God of wisdom, prosperity, the remover of obstacles and sorrows is welcomed with much devotion every year on the day of Chavithi/ chaturthi, which falls in the Month of Bhadrapadam.
Though this festival is celebrated in many states, customs, traditions and foods offered to the Lord during the Chavithi puja are much different.
Making Turmeric Vinayaka, decorating the Palavelli, listening to the Vinayaka Katha are the key among the numerous traditions from Andhra Pradesh & Telangana.
Ganesha is Gajamukha, meaning he is elephant-headed. So fruits that are loved by elephant like Wood-apple (Velakkaaya), Bananas, Coconuts, Sugarcane and Pomelo (Pampara Panasa) are offered to the Lord.
Various foods like Kudumulu, Undrallu, Palathalikalu, Payasam, Panakam, Pachi Chalimidi undrallu, and Vadapappu are the main traditional dishes made and offered to the Lord Vinayaka on this day.
Vinayaka is a Child-like God, so spicy and deep fried foods are usually not offered and they are reserved for the next days for the festive meal. Steamed foods are most commonly offered.
In this post I have put together many traditional Vinayaka Chavithi Recipes which qualify for naivedyam. There are also a few you can make during these days for your meal/ snack.
I have shared how we celebrate or follow the naivedyam making procedure towards the end of this post as many readers had asked me to share it.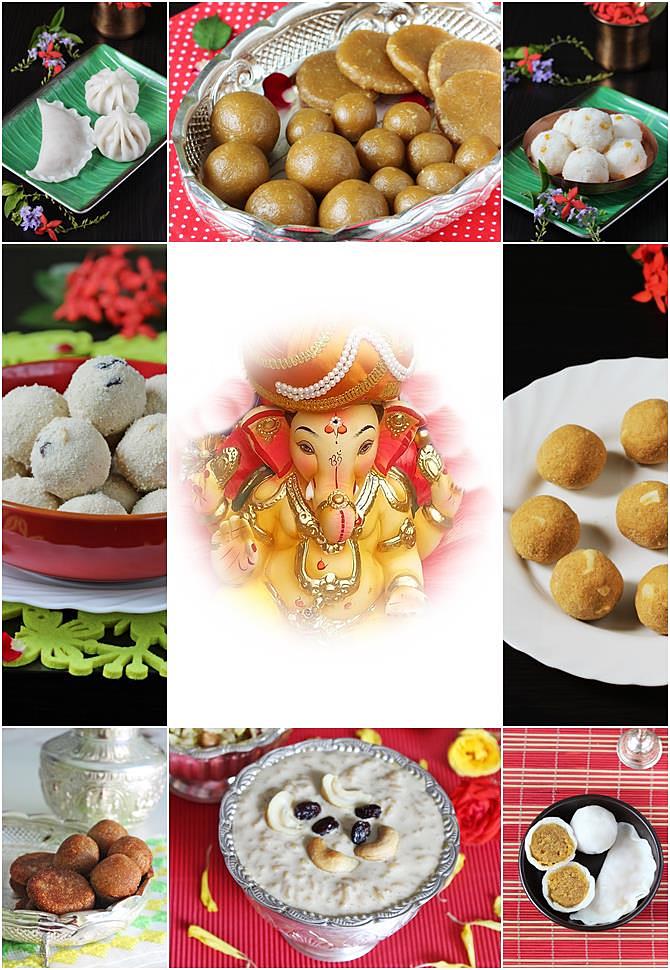 Vinayaka Chavithi Naivedyam Recipes
Sweets Recipes
Snacks Recipes
Meal Recipes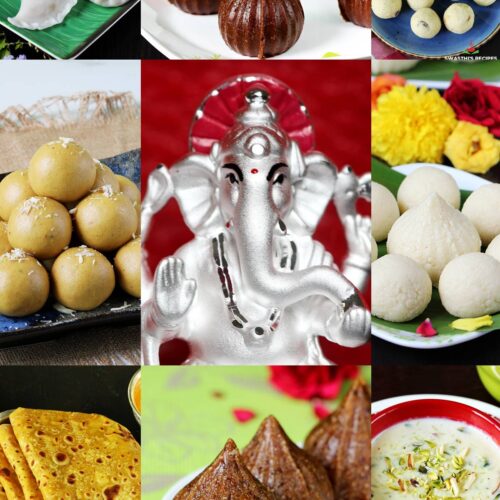 Ganesh Chaturthi Recipes – 5 Modak and Ladoo Varieties
5 Delicious recipes to make awesome Modak & Ladoos for Ganesh Chaturthi. This post shares recipe to make outer covering for Modak along with 5 different kinds of stuffings you can make. You also can also make some of these stuffings to Ladoos.
Print Recipe
Pin Recipe
Jump to Comments
For best results follow the step-by-step photos above the recipe card
Ingredients (US cup = 240ml )
For the outer covering
1¼

cup

rice flour

fine flour (refer notes to make flour)

1¼

cup

water

2 to 3

tbsp

water

for kneading if required

1

pinch

salt

1

tsp

ghee

1

tbsp

ghee

if needed for greasing
Option 1 – Coconut jaggery stuffing or ladoos
2

cups

grated fresh coconut

1

cup

jaggery grated or powdered

1

tsp

ghee

½

tsp

cardamom powder
Option 2 – Peanut mixture for stuffing or ladoos
1

cup

peanuts

¾

cup

jaggery

grated

½

tsp

cardamom powder

3 to 4

tbsp

water

¼

cup

coconut

(optional) (I used copra)
Option 3 – chana dal stuffing
½

cup

chana dal

1

cup

water

¾

cup

jaggery powdered or grated
Option 4 – Sesame stuffing or ladoos
1

cup

sesame seeds

1

cup

grated jaggery

½

tsp

cardamom powder
Option 5 – Dry fruits stuffing or ladoos
¼

cup

cashews

¼

cup

almonds

¼

cup

pistachios or walnuts

10

dates

8

apricots

or replace with some dates

3 to 5

dried figs or anjeer
Instructions
Option 1 – Coconut jaggery stuffing or ladoos
Heat ghee in a pan and add coconut and jaggery.

Cook stirring often – jaggery melts and the entire mixture turns gooey.

Continue to cook until the mixture turns thick and all the moisture evaporates.

Add cardamom powder and cool this.

Either use this as stuffing or make ladoos and then roll them in dried coconut for garnish.
Option 2 – Peanut mixture for stuffing or ladoos
Dry roast peanuts on a medium flame until golden & begin to smell good. Cool them and remove the skin.

Coarsely crush them in a mixer.

Then add jaggery & cardamom powder. Then blend just until mixed. Use this as filling or make ladoos
Option 3 – chana dal stuffing
Cook chana dal in water until just cooked without making them mushy.

Drain the excess water and mash or blend the dal to get a smooth or slightly coarse texture.

If you want to make hayagreeva with this, then do not blend or mash it.

Add jaggery and cook until the mixture turns gooey and then turns thick.

When done the entire mixture turns to a mass. Add cardamom powder and mix.

Or make hayagreeva by heating 2 to 3 tbsps of ghee and fry 10 cashews and 10 raisins.

Transfer the prepared chana dal sweet to the ghee and turn off.
Option 4 – Sesame mixture for stuffing or ladoos
Toast the sesame seeds on a low heat until they begin to smell aromatic. Do not over roast as they may turn bitter.

Cool them and add to a blender along with cardamom powder. Make a fine powder.

Then add jaggery and blend until all the ingredients blend well.

To make the ladoos blend until the mixture begins to release oil.

Use it as a stuffing to make modak or kozhukattai. Or make ladoos.
Option 5 – Dry fruits stuffing or ladoos
Chop and toast the nuts & dry fruits one after the other until warm.

Cool and add the nuts to a blender. Make a coarse powder.

Then add the dry fruits and blend until well mixed.

Use this as a stuffing to make modak, kudumulu or kozhukattai. You can also simply roll small portions of this to balls.
Making outer covering
Heat water in a pan. Add 1 tsp ghee and a pinch of salt. Bring the water to a boil.

Next add the rice flour and turn off the stove. Mix well to make a crumbly dough. Cover and set aside until the temperature comes down.

When the mixture is warm begin to knead and make a smooth dough. You can dip your fingers in water and knead if it is crumbly. You can use up to 3 to 4 tbsps.

Divide the dough to 11 parts. Roll to smooth balls. Keep them covered.

Make a dent in the center of the ball with your thumb. Moisten your fingers and begin to spread the dough with your fingers to make a even thin puri. The edges may crack it is common, just dip your fingers in water and join the cracks.

Place the prepared stuffing mixture in the center and bring the edges together making little pleats like we make for a paratha. They may break just stick them back.

Join all the edges & seal. From the center pinch little dough slightly to give a modak shape. You can also pinch off a bit of the dough on the sides to give a nice look.

Alternately you can grease a modak mould and press down the rice flour dough first and make space in the center. Put the peanut mixture. Seal the bottom with more dough.

Keep the modaks covered with a moist cloth.
Steaming
Bring 2 cups water to a rolling boil in a cooker or steamer.

Place all the modaks in a greased steamer bowl or plate. You can also line the plate with a moist cloth and place the modaks on it.

Steam just for 8 to 10 mins on a high flame.

Cool them and offer to the Lord Ganesha for ganesh chaturthi pooja.
Notes
Making rice flour
If you do not have rice flour, then soak 1.5 cups raw rice in a large pot for 2 to 3 hours. Drain the water and spread the rice on a clean cloth.
When the rice is slightly moist, then add them to a blender jar and make a fine powder. Sieve the flour using a fine flour sieve plate and grind the coarse grains again. Repeat the sieve.
Fresh made flour will need less water as it is moist, you can use 1 cup water for the above recipe. Then if needed add more while kneading.
This flour will be slightly moist. If you wish to use it the next few days, then transfer to a large plate and allow to air dry for few hours. Then refrigerate.
Nutrition values only for peanut stuffed modaks.
Alternative quantities provided in the recipe card are for 1x only, original recipe.
For best results follow my detailed step-by-step photo instructions and tips above the recipe card.
NUTRITION INFO (estimation only)
Nutrition Facts
Ganesh Chaturthi Recipes – 5 Modak and Ladoo Varieties
Amount Per Serving
Calories 222
Calories from Fat 81
% Daily Value*
Fat 9g14%
Cholesterol 4mg1%
Sodium 8mg0%
Potassium 119mg3%
Carbohydrates 30g10%
Protein 4g8%
Calcium 20mg2%
Iron 0.8mg4%
* Percent Daily Values are based on a 2000 calorie diet.
Vinayaka Chavithi Naivedyam Procedure
This section is for those who wanted to know the procedure I follow at home.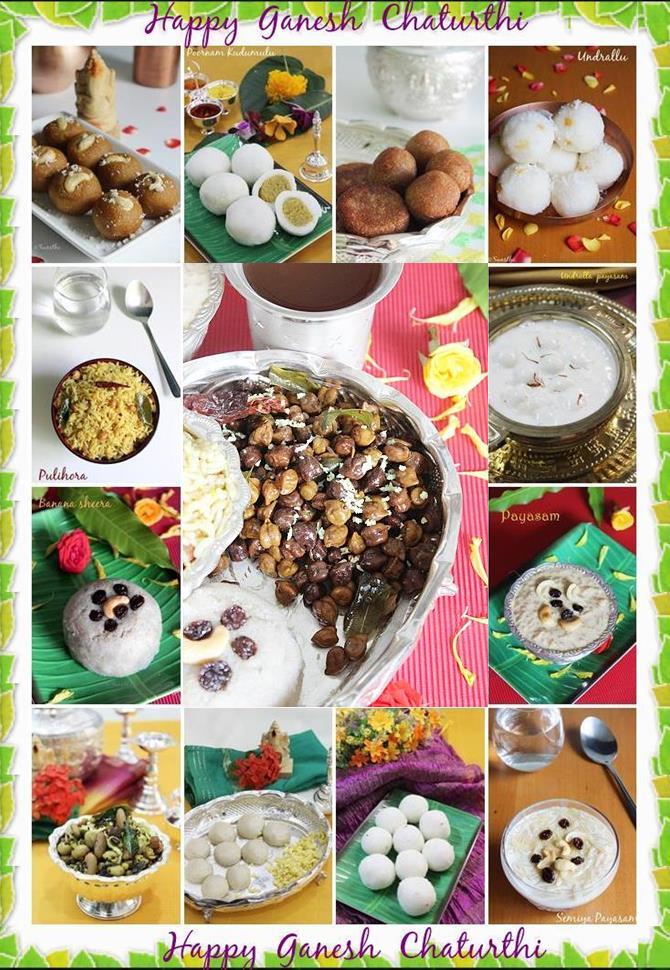 I do not use any stock that exists in the pantry especially the opened packs of rice or jaggery or anything of that kind. We buy all new stocks right from dry fruits to rice, jaggery and everything else we need for the naivedyam and pooja.
I make my own rava and flours at home and do not prefer to buy store bought since it is for the Lord Vinayaka. However there are foods which i also made with store bought flour and offered to the Lord, breaking my rules when my kids were babies.
I have mentioned that where ever used. I make rice flour and rice rava for kudumulu and undrallu, one day ahead of the festival after a shower. Sometimes I also grate the jaggery and refrigerate, powder the cardamoms and these are meant exclusively for naivedyam only.
Rest all is prepared fresh on the day of puja like preparing jaggery syrup, making the flour for chalimidi etc.
On the day of chavithi, First thing after a shower would be to prepare large quantity of jaggery syrup and set aside for cooling for the payasam recipes else the payasam can curdle. I proceed further with the rest of the cooking.
Happy Ganesh Chathurti. May Lord Ganesha Shower his blessings and remove all the obstacles in life and keep you healthy, wealthy and happy.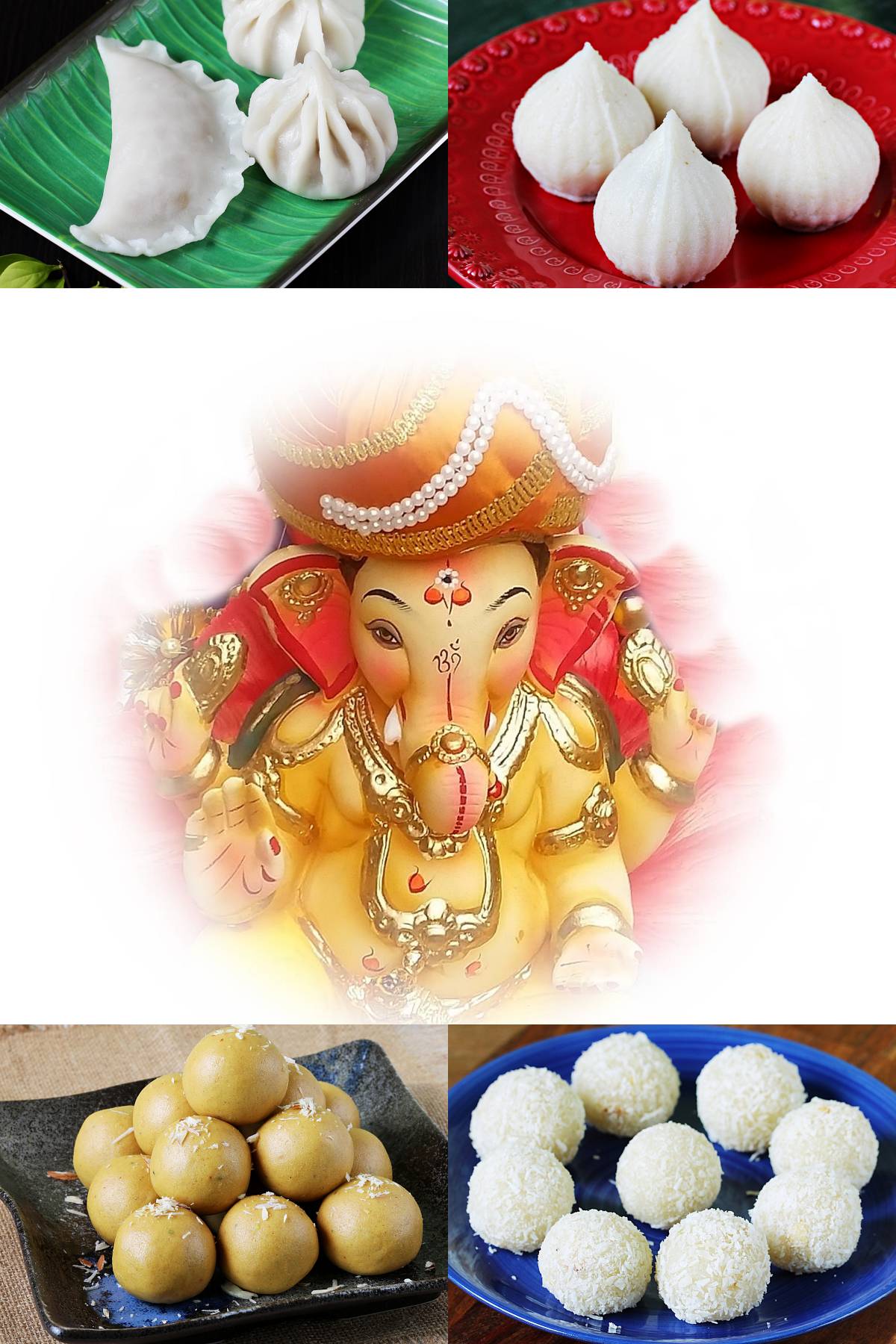 About Swasthi
I'm Swasthi Shreekanth, the recipe developer, food photographer & food writer behind Swasthi's Recipes. My aim is to help you cook great Indian food with my time-tested recipes. After 2 decades of experience in practical Indian cooking I started this blog to help people cook better & more often at home. Whether you are a novice or an experienced cook I am sure Swasthi's Recipes will assist you to enhance your cooking skills. More about me
Follow Swasthi's Recipes