Navratri Recipes (Prasadam Recipes)
Navratri Recipes, a collection of 50+ south Indian Navaratri Prasadam Recipes and some snacks recipes to make during this festive season. Navratri is a Hindu festival that is celebrated for 9 nights and 10 days. During this time Goddess DURGA or SHAKTI is worshiped in 9 different forms known as NAVADURGA. It is believed that worshiping the Godess during this period also called as shardiya navratri brings in prosperity, wealth and wisdom to her devotees and destroys the evil. The 10th day is celebrated as "VIJAYADASHAMI" also known as "DUSSEHRA" or "DASARA", a day of victory of the good over the evil.
---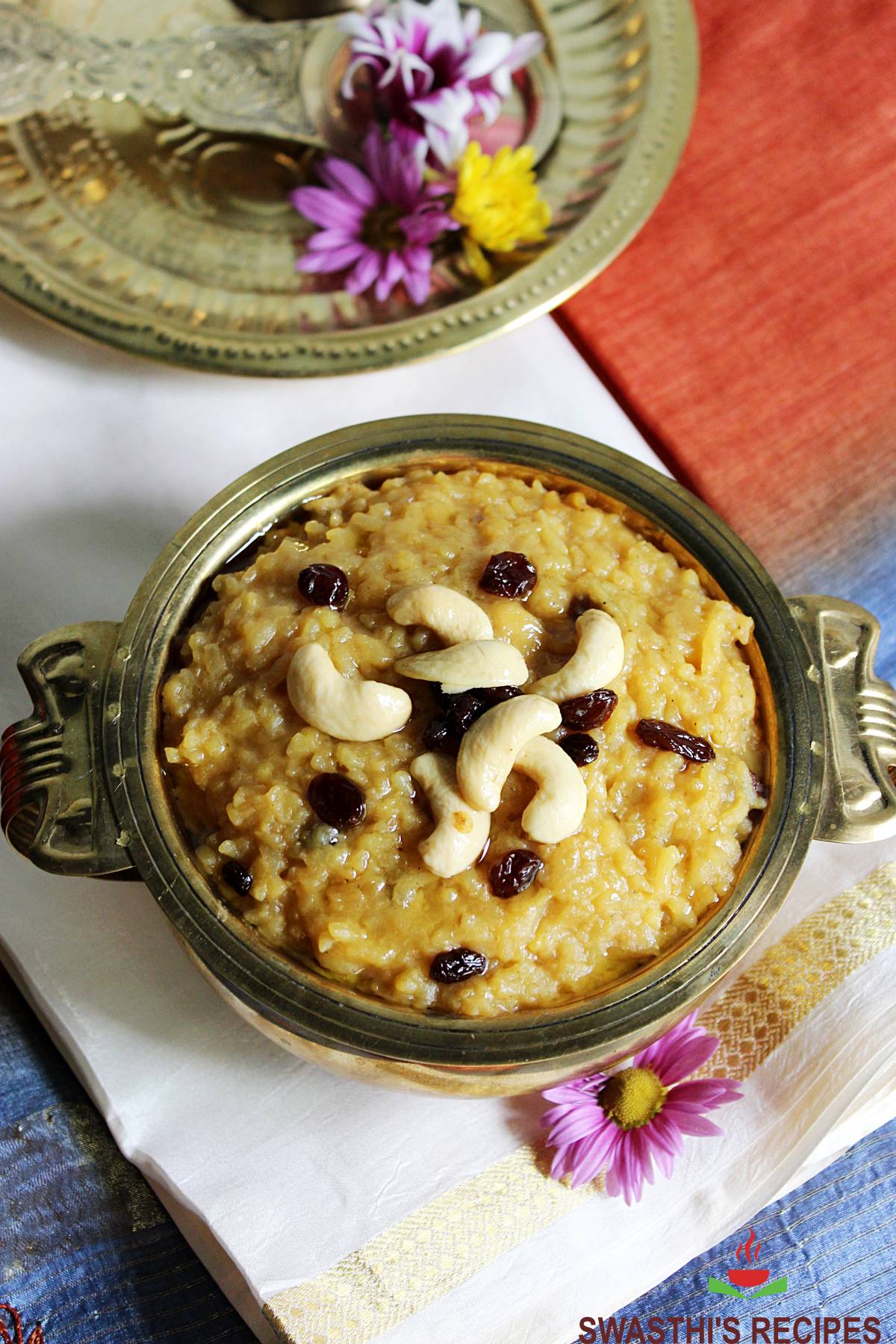 This year navratri is celebrated from 26th September to 5th October 2022. Vijayadashami is celebrated on 5th October 2022.
Each state has their own way of celebrating Navratri, Offering different kinds of foods to the Goddess, fasting , decorating golu/kolu/koluvu , inviting friends and relatives is a part of the 10 day festival celebrations.
The fasting that we ever did at my mum's home was to consume 1 to 2 cups of milk or fruits during the day abstaining from all other foods and break the fast after the evening puja, with a meal that was offered to the Goddess as naivedyam or prasadam.
As a family tradition, Devi Bhagavata puranam was recited with much devotion during the 9 days and late in the nights. Special naivedyam foods are prepared to please the Goddess Durga and it is also a way of expressing our devotion.
I have compiled some common South Indian navaratri recipes which includes Andhra recipes that are offered to the goddess as navratri naivedyam or prasadam during these 9 days. However these could differ from each family , community or region. I have also included some snacks that can be made during these 10 days.
Some people do not use sabudana or sago for naivedyam as they are processed heavily. I have used them for making payasam recipes in the past which are included in the list below, if you have a tradition of not using them, just skip it from the recipe.
Navratri naivedyam
Sweet pongal, ven pongal, rice payasam (made with cow's milk & jaggery), curd rice (daddojanam), kesari, medhu vada / garelu, poornam burelu, black chana sundal, panakam, vadapappu and chalimidi are mainly offered to Goddess Durga during these 9 days as naivedyam.
Chilies, ginger & garlic are not used in any of the foods. Pepper corn can be used in vada, ven pongal and curd rice. These depends on family customs and beliefs. Please check with your family for the same.
Navratri recipes
Pongal, payasam, panakam, kesari varieties
You may like to check these collections
50 Snacks recipes
20 Payasam recipes
34 Ladoo Recipes
21 Halwa recipes
17 Burfi Recipes
Fruit Juice recipes
Sundal – guggilu and ladoo recipes
For the peanut ladoo, i have used cornflakes, replace it with poha or skip it.
Snacks – deep fried food recipes
We don't use green chili, onions and garlic for naivedyam foods. If you make mixed dal vada and alasanda vada, use your judgement whether to use or no..You can skip them from the recipes
Kudumulu chalimidi recipes
About Swasthi
I'm Swasthi Shreekanth, the recipe developer, food photographer & food writer behind Swasthi's Recipes. My aim is to help you cook great Indian food with my time-tested recipes. After 2 decades of experience in practical Indian cooking I started this blog to help people cook better & more often at home. Whether you are a novice or an experienced cook I am sure Swasthi's Recipes will assist you to enhance your cooking skills.
Follow Swasthi's Recipes