Capsicum Recipes | 27 Bell Pepper Recipes
Capsicum recipes – A collection of 27 healthy and quick Indian capsicum recipes. Capsicum commonly known as bell pepper or sweet pepper, goes by the name shimla mirch in hindi. They are available in 3 different colors red, green and yellow. Each has its own set of nutritional values and health benefits. Capsicum is rich in vitamins A and C hence has anti cancer properties.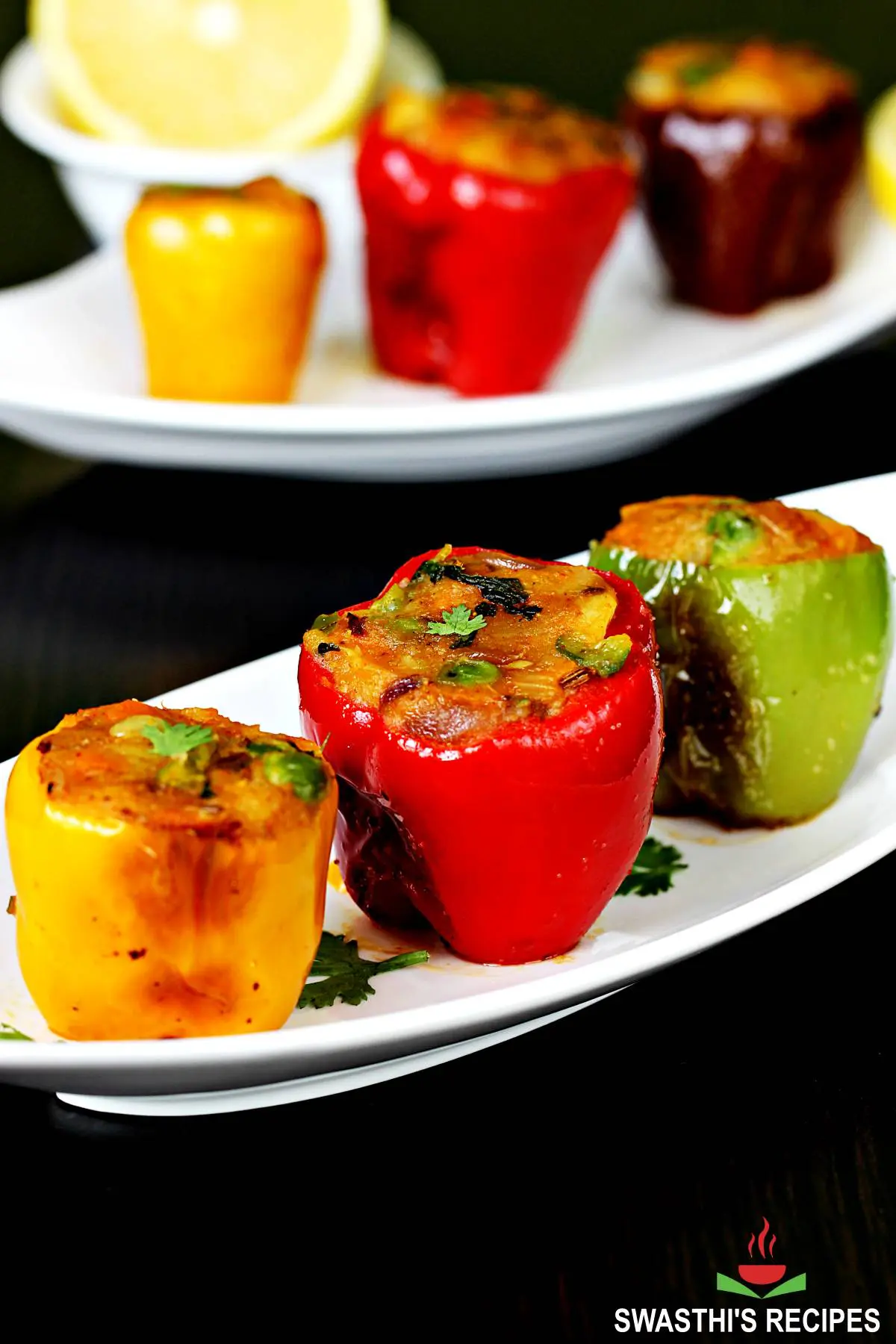 It also has nutrients that can lower the triglycerides keeping cholesterol under control. It also improves metabolism by burning fats, improves vision and is great for the digestive system.
If you haven't been using much of shimla mirch in your diet I highly recommend these yummy capsicum recipes. Capsicum is easily digestible and can also be included in a baby's diet after 10 months. I would often add them in my babies khichdi.
There are so many ways capsicum can be used in Indian food. You can include them in pulao, biryani, salads, stir fry, fried rice varieties, curries, chutney, dip or just stuff them with your favorite ingredients and pan roast or grill them.
They can be used in most curries since they lend a unique flavor to the dish. I also add them to my dal or biryani salan recipes.
They taste great when cooked with eggs, prawns or chicken as well. I have shared a lot of capsicum recipes on the blog, complied them all here for easy access. There are also few recipes which are loved at home but haven't shared it here due to time constraints. I am sharing two of them here at the end of this post.
More collection recipes,
Paneer Recipes
Spinach Recipes
Mushroom Recipes
Potato Recipes
Collection of Capsicum Recipes
Capsicum Egg Bhurji
1. Wash and chop 1 large bell pepper to ½ inch bites or thin slices. You must be having 1.5 to 2 cups chopped.
2. Heat 1 tbsp oil and saute half tsp cumin/ jeera for a minute.
3. Add 1 tsp ginger garlic paste or 1 tsp finely chopped garlic. Saute until you begin to smell good.
4. Add capsicum. Sprinkle little salt and a generous pinch of turmeric. Saute on a medium heat until the capsicum is half done but still crunchy.
5. Add ½ to ¾ tsp garam masala and ¾ tsp red chili powder. Saute just for a min.
6. Break 2 eggs to a bowl. Beat it well until frothy. Pour that to the pan. Stir well for the bell pepper to be coated well with egg. Cover and cook on a low flame until the egg is cooked completely.
7. Add coriander leaves and lemon juice. Serve with plain rice, roti or plain bread or pav.
Boiled Eggs in red capsicum gravy
1. Boil 2 eggs and shell them. Prick them with fork and set aside.
2. Heat a pan with 1 tbsp oil. Saute 2 red chilies, 1 large cubed onion and 1 large bell pepper until the peppers are half cooked. Set aside to cool.
3. Add these to a blender and make a smooth puree with half cup water.
4. Heat the same pan with little more oil. Fry the eggs for 2 to 3 mins. Add 1 finely chopped green chili, 1 ½ tsp chopped garlic or ginger garlic paste. When it smells good, add the capsicum puree. Cook until the gravy thickens, if needed add more water to bring it to a consistency.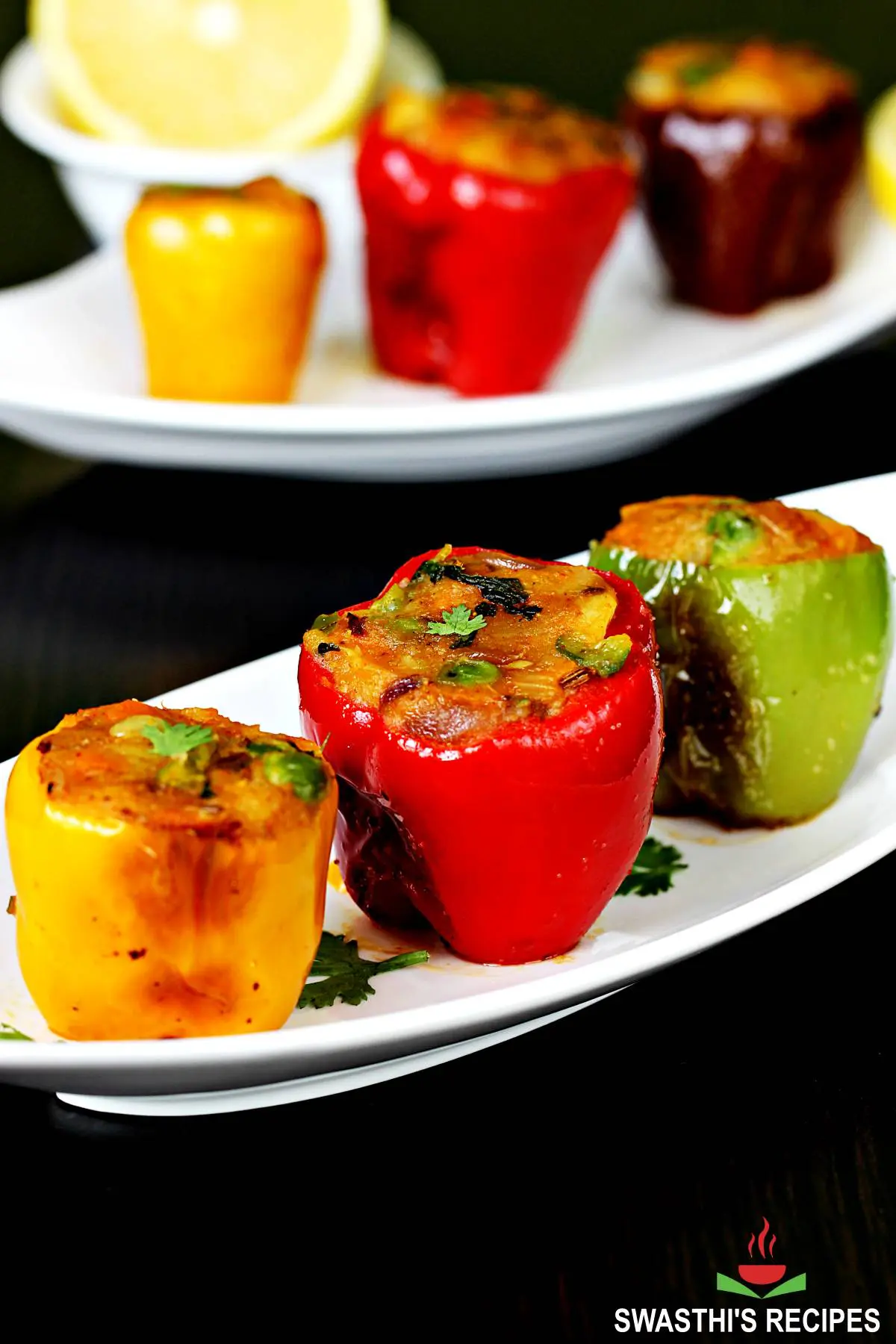 About Swasthi
I'm Swasthi Shreekanth, the recipe developer, food photographer & food writer behind Swasthi's Recipes. My aim is to help you cook great Indian food with my time-tested recipes. After 2 decades of experience in practical Indian cooking I started this blog to help people cook better & more often at home. Whether you are a novice or an experienced cook I am sure Swasthi's Recipes will assist you to enhance your cooking skills. More about me
Follow Swasthi's Recipes